If you are a musician, singer, or simply a music enthusiast, then you have probably thought about creating your own website. But how can you make sure that it's interesting and engaging for your audience to browse it? Here are ten tips to help you create a creative music website for your needs.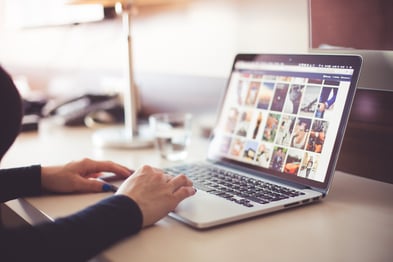 #1 Get a Domain Name That Represents You
The first step in creating your own website is quite obvious. You will need to get a domain name that represents you and your brand. Do you want to be a singer, musician, or music blogger? What genres do you specialize in? What kind of audience do you want to target?
Your domain can be tied to your name (e.g. Aaron's Music Blog) or it can be something completely unrelated to your name but directly related to your niche. Make sure that it perfectly fits who you are and your brand. After all, it will stay with you for a long time.
#2 Plan Out Website Structure Beforehand
Next, you will need to plan out your website structure before you actually create your website. You can come up with the pages you want to have, but these should definitely be on your website:
Home – This is the main page where a site visitor finds themselves when using your website URL.
About – This is the page where you talk about who you are and what you do. Think of it as a bio page.
Discography – This is the page where you list all your music releases (if you are a singer or musician).
Multimedia – This is the page where you include any relevant multimedia or links to it (e.g. music videos, live performance recordings, photoshoots, and so on).
Contact – This is the page with all your contact information, including your email address, phone number, and social media profiles.
Schedule – This is the page where you provide the dates of your live performances, interviews, music releases, etc. to keep your fans informed.
Blog – This is the page where you can make posts about your daily life, experiences, and anything else you want to talk about.
#3 Set Up a Professional Email with Your Domain
One more thing you should think about when starting to set up your website is the email address you will be using. More specifically, you need to set up a professional email using your domain name. This will show that you are truly serious about keeping your website. You can add the email address to your Contacts page and encourage people to reach out to you (e.g. to interview you).
#4 Use a DIY Platform for Building Your Site
To make the process of creating your website easier, use a DIY platform like WordPress, Squarespace, Wix, etc. Such user-friendly platforms are ideal for those who don't have pro-level website-building skills. You can also check writing agency reviews at Rated by Students to find experienced writers who can help you create content for your website and fill it out faster.
#5 Choose a Theme to Go with Your Brand
When building your website, you will likely have different options for its theme. Try to choose the one that goes well with your brand. You will have many customization and optimization options, but it is still necessary to have the right theme as a starting point. With an appropriate theme, you can stay true to your visual branding.

#6 Create All the Pages (and Your Shop)
Create all the pages on your website and fill them out step by step. And once you have done that, you might also consider setting up your shop. This will be particularly useful for musicians and singers who want to sell their music and merchandise. You can either set up your shop as a page on your website or set it up on a different platform (e.g. Redbubble, Etsy, or Shopify depending on your needs).
#7 Optimize Your Website for Search Engines
Before you launch your website, make sure that it is properly optimized for search engines:
Make Navigation Easy
Build Internal and External Linking
Test the Page Loading Speed
Optimize Visual Content
Choose Keywords to Target with Content
#8 Hire Professional Content Creators
Speaking of targeting keywords, you will need to do it continuously by publishing content on your blog. If you don't have enough time to write this content yourself (and optimize it for search engines), you can hire professional content creators to do the job for you. Check the writing services reviewing site Top Writing Reviews to compare different options and find the right writing company and writer for your goals.
#9 Link to Your Social Media Accounts
It goes without saying that you need to provide your contact details on the appropriate page, but you should also consider linking to your social media accounts elsewhere. More specifically, you can add these links in the footer of your website to make them available on every page.
#10 Engage with Your Audience
Lastly, you should aim to engage with your audience as much as possible. To build a dedicated and loyal reader base, you will need to show your genuine interest in your audience. Here are some ways you can do this:
Enable Comments and Respond to Them – Let users leave comments under your blog posts and respond to them.
Encourage People to Share Your Content – Ask your readers to share your content to spread the word about you and your website.
Include an Email Signup for Your Newsletter – Create an option to subscribe to your mailing list. You can send out newsletters regularly or even simply inform subscribers about new releases.
Give Interviews Elsewhere and Publish Q&As – Give interviews to different media outlets to get backlinks and exposure. You can also publish Q&As of your own on your blog by collecting questions from your audience.
Final Words
All in all, once you set up your website, running it won't be very difficult. Decide what you need your website for and then create all the necessary pages and content. Consider promoting your website elsewhere and update information on it regularly. Use the tips in this article to help you with the process!
Bio
Kristen Bray is a professional writer and blogger. She mainly covers topics such as blogging, digital marketing, and self-education. In her free time, she practices yoga and also travels.