There are many social media platforms that are used to promote music. However, Instagram is a great platform for musicians to use since it provides a way for them to share their music with others and build a fan base. The number of users on this platform is increasing exponentially which provides a wider reach to your target audience, making it ideal for the promotion of your music. It is also a great way to connect with other musicians and other music-related businesses. If you are looking for some tips on how to promote your music on Instagram, keep reading to find out more.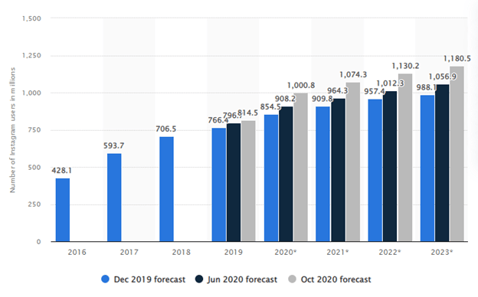 Number of Instagram users worldwide from 2016 to 2023 - Source
1. Create A Individualistic Brand
Whether you're a country singer, a jazz pianist, a pop writer, a rapper, an EDM producer, or a church choir member, you're probably aware of your genre's aesthetic. You don't want to confuse anyone, no matter how much you want to stand out. Unless you're a rock guitarist, you really shouldn't use grunge-inspired filters. If you're an acoustic singer-songwriter, you might want to avoid the intense, crowded fonts. And please, please do not assume that typing in all lowercase letters is the best option for you.
The best Instagram material (much like the best music material on W. A. Production) is authentic, true-to-life, and relatable. Post humorous photographs with funny captions if you're funny. Don't be scared to be eccentric and do an artsy photoshoot with your buddies every other day. You're promoting your music on your own Instagram, so be yourself rather than who you think you should be. And, if promoting music as a business owner; creating an Instagram business account is the best choice to grow business globally.
2. Maintain An Active Presence On Instagram
Because Instagram is a visual-based social networking site, this is an obvious point. While many individuals simply post photographs, Instagram can also be used to post videos and GIFs. These forms of Instagram material will help you become more creative and display your work. Various Instagram post templates can help to design Instagram posts easier and faster.
Try to provide some great visual stuff to your viewers, such as:
Posters
Song or album cover art
Photographs taken at a concert
Photos taken aboard a tour bus
Merchandise sneak peek
Fans dressed in the merchandise
Images of you singing live at a concert
Interactions with fellow musicians and fans
Pictures of the studio
3. Go Live During The Launch Of The Music
One of the most efficient ways to promote your music is to go live on Instagram. You can stream whenever you wish. Remember that going live and offering your viewers some behind-the-scenes footage is a great way to increase engagement. It's also the simplest approach to promote your solo, album, or music tour. Before going live for the event making a music poster from templates to attract the attention of a new audience. See the music poster example below.

Source : designcap.com
During your live streaming, you can also hold a Q&A session or make some major announcements. Aside from that, addressing your live stream listeners by name can help you build a solid bond with them. You may also purchase Instagram comments to help your relationship. If you can live stream on Instagram on a regular basis, you will notice an exponential increase in your fan base.
4. Innovate With Reels and Remix
Instagram launched Reels, a new tool that allows users to create and discover short, entertaining movies. It's a new method to make and find interesting short videos. They are 15-second to 1-minute video clips that exist in their own section and maybe edited in-app or any Instagram video maker software with music, text, effects, and varying speeds.
Create dance videos and hook steps for your song and make reels to encourage your fans. You can either remix with them or repost their content on your feed. This will send your engagement rate through the roof. The algorithm pushes reels a lot and consistent use of music is the key to making your post go viral. It will get you on the Instagram explore page and promote your music with ease.
5. Create Crisp Stories
Posting on your standard feed too frequently is actually somewhat tiresome; if you want to keep your admirers up to date, try posting on your Story instead. Because there isn't any protocol for Stories, you can create them as lengthy or as short as you wish. It's also by far the ideal spot on Instagram to communicate, make jokes, or build a daily series without annoying your followers. People that watch your Stories already like whatever you do, so show them everything from cooking to bonfires to new music. You're more than simply a musician; you're a genuine person and a pretty cool one at that.
Another element of Instagram Stories is the music sticker; if you release music through companies that distribute to Facebook and Instagram, the rest of the world will be able to attach your music to Stories, with lyrics, cover art, and full, unimpeded audio. It's a huge benefit that few indie musicians are taking advantage of, so if you want to promote your music on Instagram, get on board now before it's too late.
6. Add Relevant Hashtags On Your Posts
Almost every model and influencer understands the significance of hashtags on Instagram. Hashtags are the most powerful method for increasing the exposure of new content. Through your hashtags, the Instagram system will promote your material to appropriate audiences.
You can use up to 30 hashtags in a single post. This means that each post should have 15-20 hashtags. Many experts recommend using at least 30 hashtags. Although it is not illegal, ensure that the hashtags you use are relevant to your content.
You may also boost your exposure by using trending music hashtags. However, don't expect to become famous overnight after utilizing hashtags; the Instagram algorithm is a sophisticated process that will take some time to produce engagement on your posts.
7. Showcase Behind The Scenes On IGTV
IGTV enables us to publish lengthier video content, up to 10 minutes for regular users and up to 60 minutes for verified accounts. In addition, IGTV is specifically intended for vertical videos.
IGTV is a relatively new addition to the Instagram ecosystem, having launched just over a year ago. However, it is largely regarded as YouTube's strongest challenger as a video streaming platform, despite the fact that it is still a long way off at the present.
Depending on your goal, you can submit a full song or even a full music video on IGTV. You can also post content such as Q&A sessions, vlogs to illustrate the behind-the-scenes process of a song/album, and other methods to engage your audience.
8. Collaborate With Relevant Influencers
The global size of influencer marketing is $13.8 billion. Connect with various Instagram influencers and use them to promote your music on Instagram. One of the most well-known marketing tactics on Instagram is influencer marketing. They will assist you in increasing brand awareness among a large number of people. A platform such as ifluenz, helps you to create an influencer marketing campaign.
However, be cautious while selecting your influencer because they come in a variety of shapes and sizes. Check to see if they have a sufficient number of followers. Aside from that, consider whether the influencer's audience is related to your niche. The basic purpose of employing influencer marketing is to get your music in front of the right people.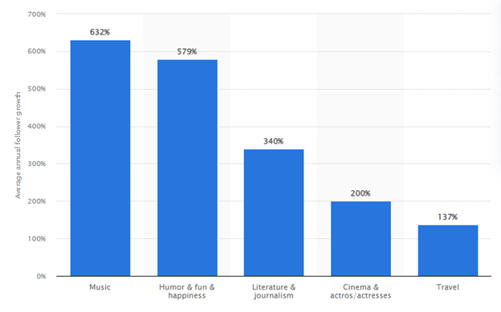 Most popular Instagram influencer topics worldwide in 2020, based on average annual growth of followers - Source
9. Try Ads And Sponsored Posts
This is one of the most significant Instagram features that many newcomers overlook when advertising their music. Marketing revolves around sponsored posts. When considering uploading music to Instagram, employing Instagram advertisements to promote it is incredibly advantageous.
Many individuals believe that Instagram ads on music do not function. This, however, is a wholly ludicrous assumption. If you have a Spotify account or a pre-sale promotion, you can use that platform to create visitors. Furthermore, the adverts will assist you in raising revenue and increasing visibility for live streaming, concerts, and other events.
However, in order to reap the benefits of Instagram ads, make sure your Instagram account is set up as a business profile. Setting up adverts on Instagram isn't straightforward, so make good use of the Instagram ad maker.
10. Maintain a content calendar
This cannot be overstated: always be prepared to post for at least the next two weeks. If you take your craft seriously, things like new photoshoots, release hype visuals, and in-studio or on-stage shots aren't too difficult to stock up on to promote your music on Instagram. Of course, you'll want to leave room for spontaneity (after all, you're fairly funny, and your life is interesting enough to justify a few spontaneous updates each week), but when things are slow or you're getting ready for a release, it's always better to be prepared.
Be smart with your backlog as well; you won't always remember to write every day, so plan your posts ahead of time and schedule post using Instagram scheduling tool (Such as Hopper HQ) according to your calender. While I'm at it, here are the optimum times to post each day, simply to ensure that your hot stuff goes up at the right time.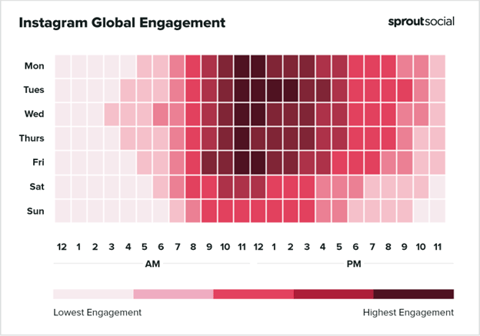 Best times to post on Instagram - Source
Final thoughts
We hope you enjoyed our article about how to promote your music on Instagram. We tried to make this post as actionable as possible for you. We know that it's a lot of valuable information, but we urge you to try out some of the Instagram marketing strategies we talked about and to go into depth follow the Instagram marketing guide by SendPulse. It's important to focus on building your brand and growing your business, and we hope that this blog post helped you to do that.
-------------------------------------------------------------------------------------------------------------------------------
Author bio:
Chaitanya Patel is an ardent writer at SaaS Brothers, who generates best-in-class posts on a wide range of music marketing tools and techniques. He also produces well-researched and factual posts on music promotion strategies for musicians.