A SHORT HISTORY OF REVERB
Reverb, one effect to rule them all. Whether you're shredding away on a guitar solo, banging that snare, or belting the high notes, a little bit of reverb can make any raw audio come alive and fill up a track's sonic landscape.
Reverb is ever present in today's recorded music, but few people know the history behind the sound effect. In this article, we recount a few of the most iconic moments from the history of music to showcase the power and dynamics of reverberation.

What exactly is reverb anyway?
It's all-natural, man. That's right, reverb has existed in nature long before it made its way onto your pedalboard. Reverberation is the result of any space's natural acoustics when the sound hits a hard surface and is directed back at the listener. Hello? Is there an echo in here?
Reverbs naturally roots are obvious once you take a look at some of the "standard" reverb settings in today's beginner and advanced music production platforms. Artificial reverb effects are often developed and named for real places such as rooms, cellars, halls, etc.

Reverb and Humankind
The first widely available artificial reverberation effect was developed for Hammond Organs in the mid-1900s. From there, artificial echoes, delays, and reverb effects slowly became standard for music production hardware and software.
In case you forgot, musicians and producers are some of the most creative people in the world. With electronic effects at their disposal for the past 50 years, musicians have slowly evolved reverberation from simply a spatial tool into an instrument in itself.
Great Moments in Reverb History
So let's get to it! Although it appears that we may have missed your lofi indie mixtape, here are some of the most recognizable and iconic moments of reverb in music history in which artists have used the effect to create a noise uniquely their own.

Dub-Reggae
How do you make a dub-reggae song? Turn up the reverb, and put an echo on the snare, of course! Originating on the island of Jamaica, the unmistakable sound of dub-reggae would not be possible without reverb. In fact, the genre is one of the first to pioneer reverberation beyond simple acoustics.
In 1975, King Tubby "The Dub Master" presented The Roots of Dub to the world, and the reverb-heavy mixes found their way into the hearts and souls of music (and marijuana) lovers all over the world.
The sound would be replicated and modified for eras. From Bob Marley to the Clash to whatever Sublime's Doin' Time is trying to accomplish, King Tubby's scientific approach to reverberation defined a genre of music and opened the doors for experimental production across the global industry.

Classic Rock
Let's jump ahead to the '80s, for a little bit of real classic rock action. Known to some as "psych-rock," "pop-rock" or now "dad-rock," some of the most powerful ballads of the stadium rock era have reverb to thank for making their songs sound as if they should be playing to a million adoring fans.
Take a listen to Phil Collins In the Air Tonight, or just watch The Hangover and wait for Mike Tyson to show up. The entire first three minutes of the song sounds like it was recorded in a cave filled with synthesizers and microphones thanks to the deep and pulsating reverb effects. Stick around for the drum fill at 3:15 to really hear the reverb do its thing.
Once smash-hits featured heavy reverberation, audiophiles began enjoying inventive takes from some of the industry's most electric geniuses. Take, for example, Erotic City by Prince. The track opens with funky robot noises that perfectly complement the song's vocal effects in beautiful reverb pools.
Funky robots, you say? Yes, we feel as if Prince's (and many other rock act's) inventive uses of reverb have heavily influenced the recently retired Daft Punk. Take for example the band's One More Time. The modified vocal track becomes isolated with heavy reverb in the middle of the son providing rich electronic texture mixed with the backing synths,

Ambient & New Wave
As new and interesting producers continued to use reverb in increasingly creative ways, many new styles of music began to emerge. Unmistakably his own, few producers have used reverb with the same style and tenacity as English musician Brian Eno.
Through the '70s and '80s, Eno coined the phrase "ambient music" claiming that his dense sonic landscapes should be both equally interesting and ignorable. With this, Eno's echoing soundtracks have been specifically featured in both film and live art exhibitions.
As a pop music producer, Eno's reverberating touches are firmly displayed in the Talking Heads song "Once in A Lifetime". As David Byrne shouts his half-nonsense, listeners are free to tune in and out of the melodic madness that is enveloping around the lead vocals.
Brain Eno's effect on music continues to inspire generations of creative people. In fact, the reverb-heavy band MGMT named a song after Brian Eno, praising his innovation of sound. We can't help but think the opening line is a lyrical nod to reverberation as the heavily-modified vocalist announces "I followed the sounds to a cathedral / Imagine my surprise to find that they were produced by Brian Eno''.

Modern Rock, Pop, and Hip-Hop
Today, every song on the radio has most likely been fine-tuned with the exact right amount of reverb to give it a nice full sound. Reverb is now more of a creative tool than ever, with musician's specific instrument settings often defining their sound and genre.
10 years ago, the XX released their self-titled album which kicked off with the instantly recognizable song "Intro". The deep, reverberated synths ring in a sense of awe before the drums echoing bass kicks begin to march. As an epic introduction to the band's unique style, the song has widely been used in sports stadiums around the world.
Today, psych and groove music are some of reverb's most heavy hitters. Take for example the song In Its Infancy (The Waterfall) by My Morning Jacket. The lead vocalist has a way of singing "into" the reverb effect, using the reflections to fill the space between the track's dramatic notes and rhythms. With this, My Morning Jacket achieves the same distant, groovy vocal tones now popular with bands like Tame Impala, and Youth Lagoon.
Hip-hop and trap music have also been transformed by the depths of reverb chambers in the past decade. If you can make it through the skits, Drake's Hold On, We're Going Home ft. Majid Jordan is one of the best examples of vocal reverb effects that have defined the 20 years in hip-hop, trap, and R&B music.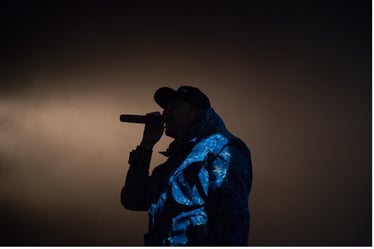 Slowed & Reverbed
In the world of ASMR and chopped & screwed mixes, DJs and producers have invented yet another remix-genre of music called "slowed and reverbed." And yes, it is exactly what you think it is. Slowed and reverbed has been often labeled as the "discount" version of "chopped & screwed" mixes, as the tracks do not need an incredible amount of skill to produce.
Popular in trap music and modern takes on old classics, Slowed and Reverbed songs simply turn down the metronome and increase the depth of tunes like Ice Cube's Today Was a Good Day.
Final Thoughts
In conclusion, reverb's presence in music has helped shape the sounds of both profiling artists and entire genres of the past 50 years. Although our society has been considering reverb in the construction of performance areas for 100's of years, artificial reverb effects have drastically changed and improved the versatility of modern recorded music.
Today's producers can access get reverb, with a pedal, synth effect, and more post-production filters to fine-tune the sound of the desired effect. If you are a producer, feel free to use our reverb cheat sheet for tips, tricks, and all of the technical information that you need to know to use the effect to its fullest.