This article has only one topic and one purpose. Ableton.
There are many different D.A.W.s (Digital Audio Workstation) out there. They all perform the same basic functions and share similar features, however, the uniqueness of each one is what kind of musician they accommodate and appeal to.
Why Ableton and what can it do to help me produce music?
Ableton Live appeals to the musician who wants to create and play live. It is the ideal situation for improvisation. You can play MIDI and audio loops of different lengths without stopping the music. You can now use Capture MIDI to record notes after you've played them, turning your most spontaneous ideas (and accidents) into music. By using the "warping" feature you have the ability to change the tempo and timing of any audio in real-time. Use warping to mix and match loops from a variety of tempos, fix timing errors in recorded performances, or reshape any audio into new sound design directions. Another feature is Link. A collaboration tool that will sync over a network connection with software such as Reason, Serato, and some iOS apps.
Ableton also comes with effects, instruments, sounds and all kinds of creative features—everything you need to make any kind of music. The sounds for making any kind of music are part of Live. The Library, included with all editions of Live, comes with collections of vintage synths, analog drum machines, mufti-sampled drums, electric pianos and other acoustic instruments. Plus there are Curated Collections, tool-kits of curated sounds from Instrument Racks, clips and samples, designed to be molded and shaped into something new.
GET ABLETON
To test the waters of Ableton they do offer a free 30-day trial. You can obtain this version by visiting this link.
If you have come to the conclusion that Ableton may be or is the right D.A.W. for you then let's start answering a few questions you may have such as, what is the latest version? How much is it and how do I get it?
The most current version available is Ableton Live 10. Live 10 comes in 3 different tiers. Each tier has additional features to it.
The Intro version is $99
The Standard version is $449
The Suite version is $749.
All downloads come with an installer, a users manual in PDF format, and some sample packs. You can compare the 3 versions and make your purchase through their website.
Another great feature of Ableton is the installation process. There is nothing to it. Just a few clicks and in as little as a few minutes you can open up and use the program.
SET UP ABLETON
Once the installation has completed you can go ahead and open Ableton. When you do you will be greeted by the interface screen.
While it does look a little complicated the great thing about Ableton is they offer so much information on how it operates. As you can see on the right side of the interface they make this information very easy to access.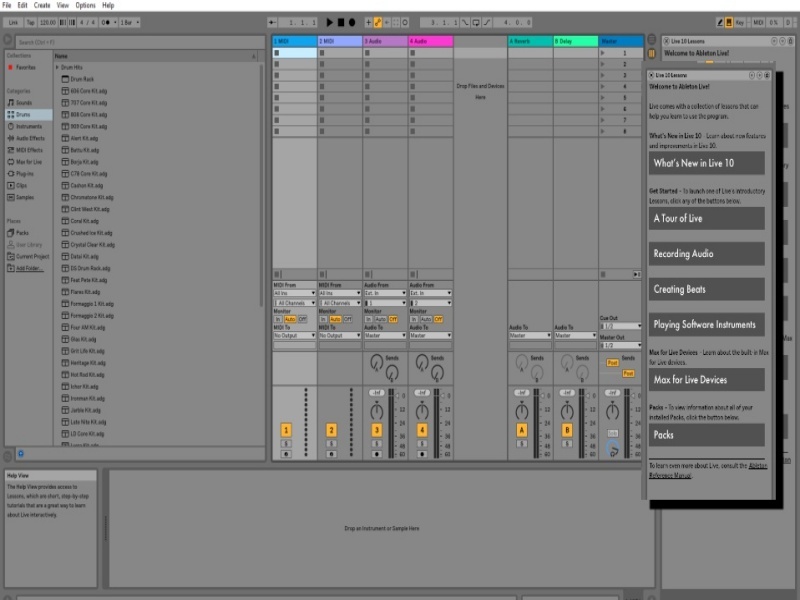 They also offer video tutorials on their website. Good ones. Not some guy in his messy bedroom with bad audio and dim video moving so fast you cant keep up.
Before we dive into the music we need to ensure your audio settings are good to go. If you are using an audio interface device follow these steps to ensure its ready to use with Ableton.
Go to the upper left and select:
Options
Preferences
Audio

When you select audio input device you should see your interface device, make sure you have it selected. Then for your audio output you can choose the device that will be your playback device.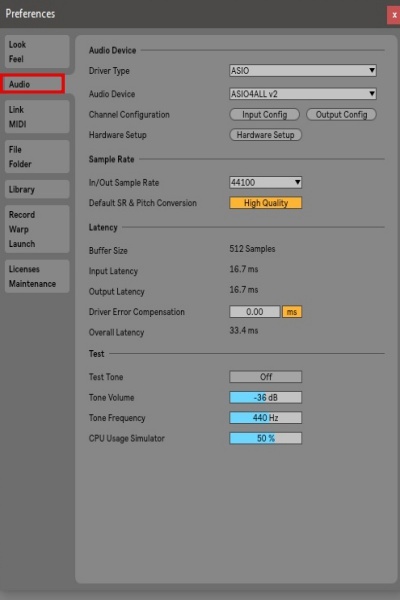 If you are using a MIDI control device, from the same menu as above select MIDI Link. Your device should appear and should automatically be detected. If it is not you simply select it from the list and turn on the buttons associated with your device as seen below.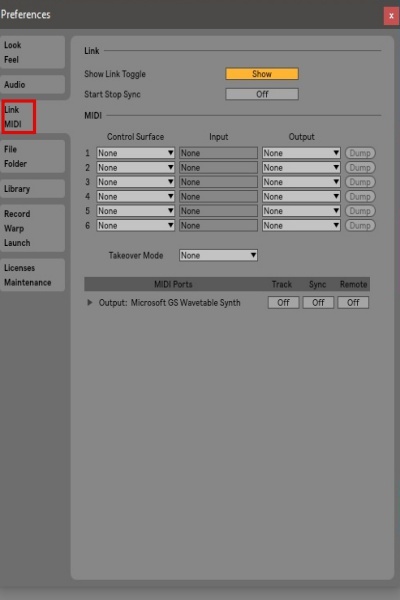 Now that your audio is all set up let's take a look at the interface.
INTERFACE
Since there are so many features, Ableton comes with a 748-page manual, I will briefly highlight some of the main functions that you will need to produce music. To expand on each section in depth links will be provided to video tutorials offered directly from Ableton.
Welcome to the interface at startup.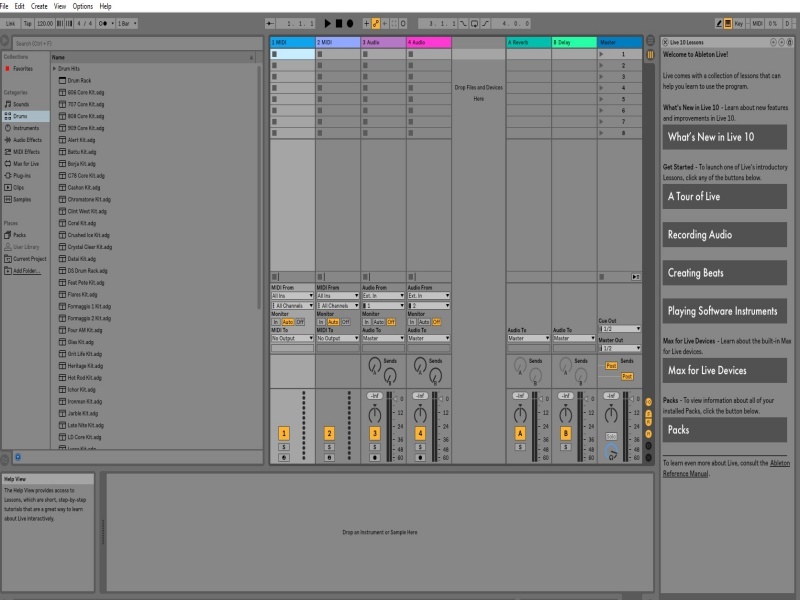 In the lower left hand corner you will see the "Help View."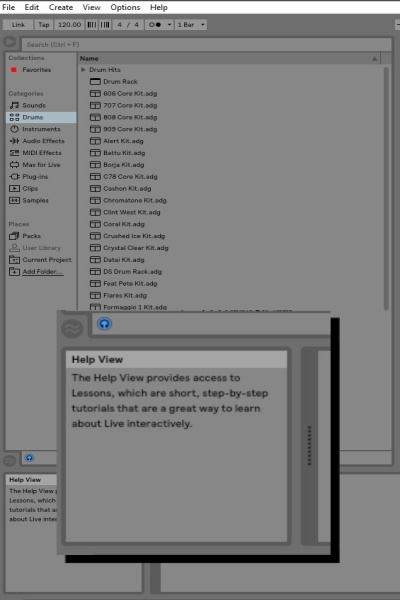 I recommend while you are starting out you leave it open. Ableton created all the tabs so that they are locked into position. While you can close and reopen any tabs, the cool thing about the help view is that a bubble doesn't pop up every time you hover over something then disappear when you are halfway through reading it or pop up when you don't want it to.
Above the help view is the browser.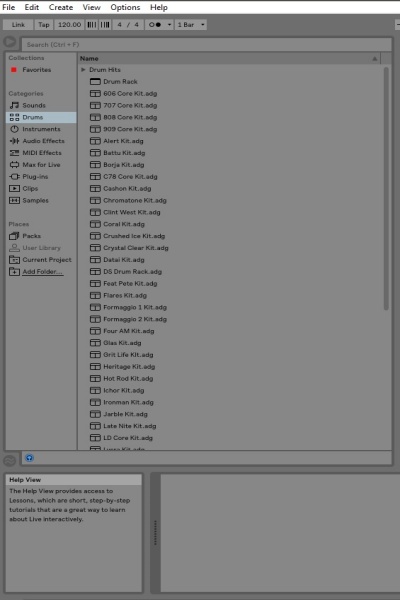 The browser tab is where all of your sounds, samples, instruments, and effects are located. To hear a preview of any sound you just click once on it, and it will preview.
SESSION VIEW
There are 2 main screens you will be using the most, the session view and the arrangement view. First, we will look at the session view.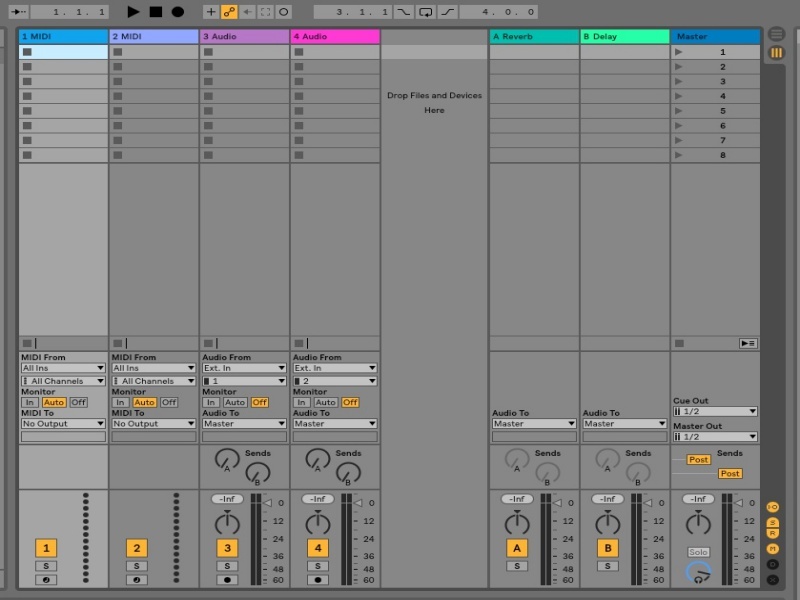 Think of the Session view as a scratch pad. Nothing here is final. It is simply a playground for experimenting.
You have midi tracks, audio tracks, effects tracks, and a master track.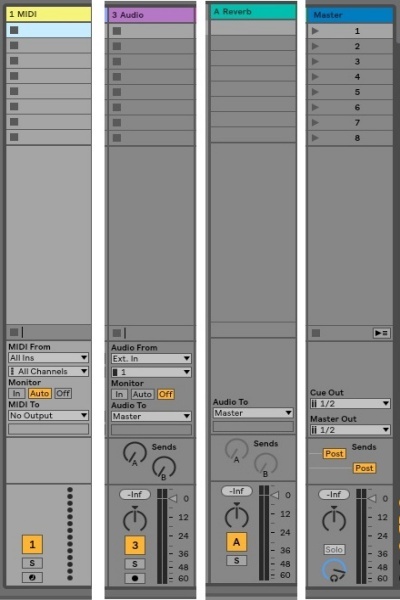 At any time you can click on the track (that is made obvious by their color), right click and delete.
CREATE A BEAT / SESSION VIEW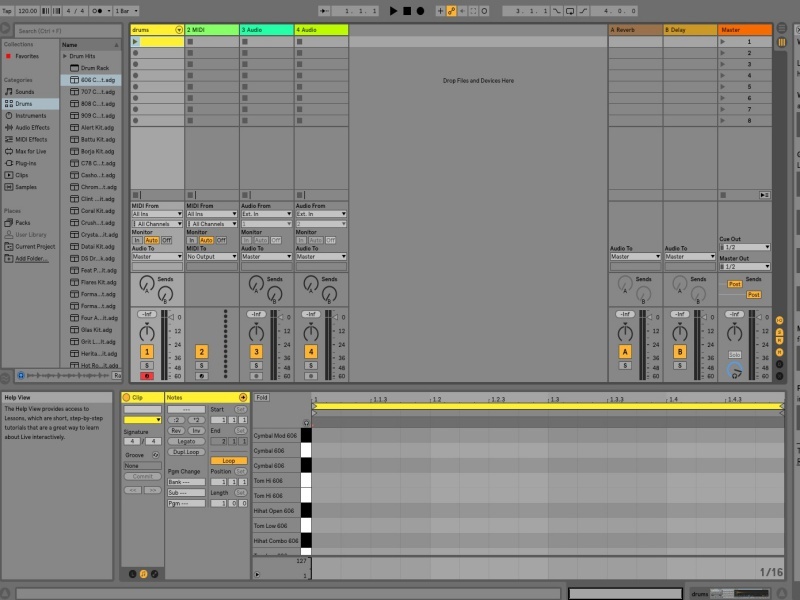 To sequence, a beat from the provided drum kits, click on the first slot in the MIDI channel. In the browser menu select
drums, the second option after the drum rack are all preconfigured drum kits. Once you find the one that you like, double click and it will load to the MIDI slot.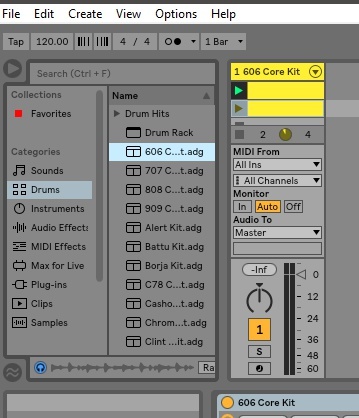 The slot now has its own play button. If you double-click on the slot the clip view will open up below.
In the clip view, you will need to click on the small headphone button in order to hear the sounds as you play them.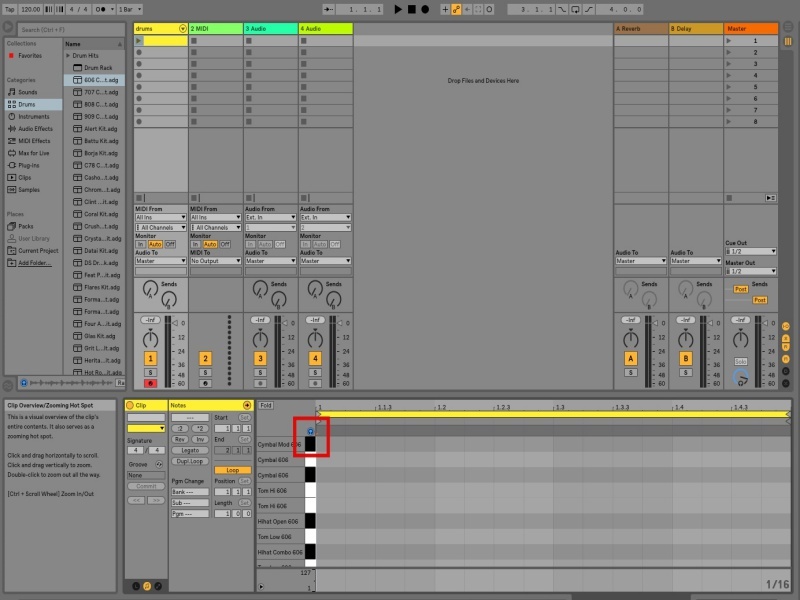 Clip view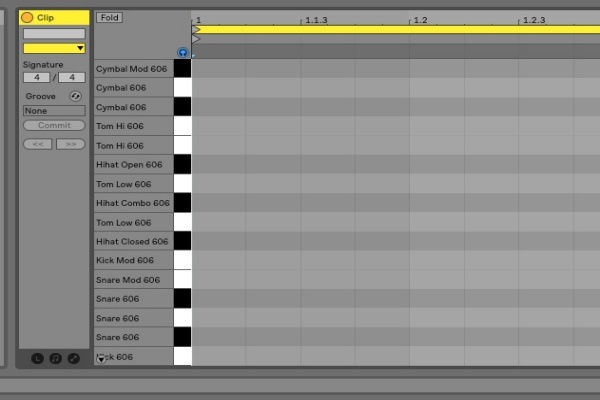 In the clip view you have the following options:
Adjust time signature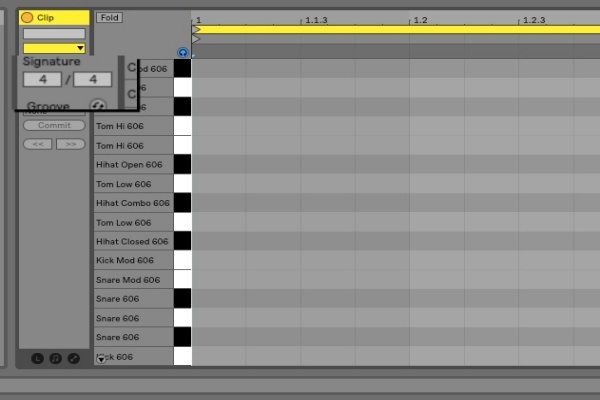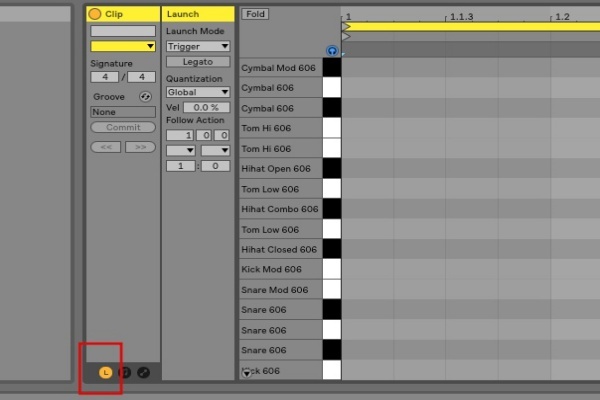 Launch box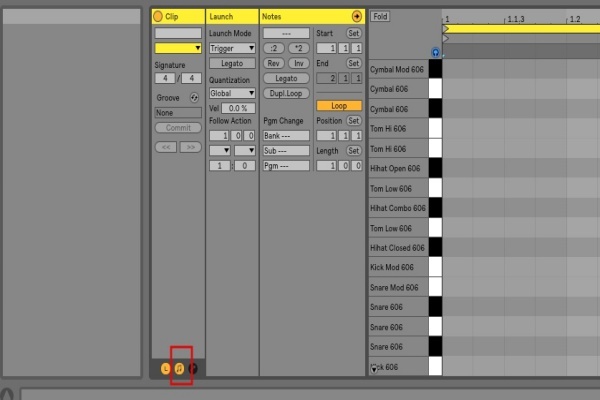 Notes box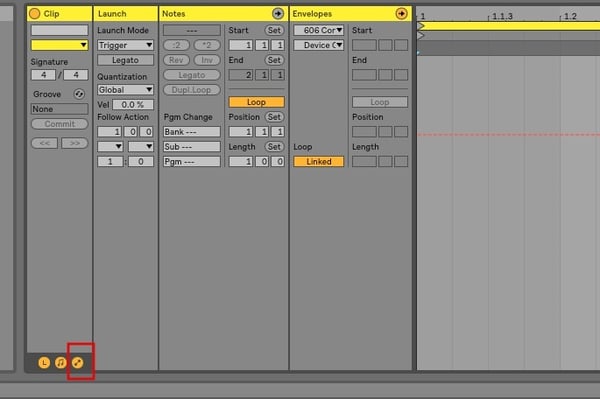 Envelope
You can deselect the buttons to make the menu disappear or reappear.
Back to the clip. You can see the keys are labeled with what sounds they represent. By double-clicking, you can insert a sound. By selecting a sound you can delete it by selecting delete on your keyboard or double clicking it again.
I've gone ahead and made a simple beat within 4 bars utilizing multiple sounds within the drum kit.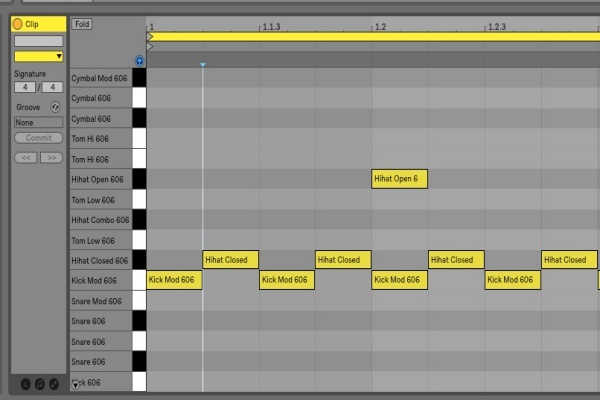 You have the option to turn on or off if it is on a continuous loop, as well as edit the time signature at any point, nudge it faster or slower in real time without making permanent changes to the original.
What Ableton Live offers is an end to the fixed timeline in a playlist. Meaning that when you play live, you control what comes next, it isn't pre-determined. Rather than standing up on stage and standing there while a pre-programmed track is playing, you are controlling the function, the sound, the level, and the timing in real time. Live.
For more detailed information about the Session View you can watch this tutorial.
ARRANGEMENT VIEW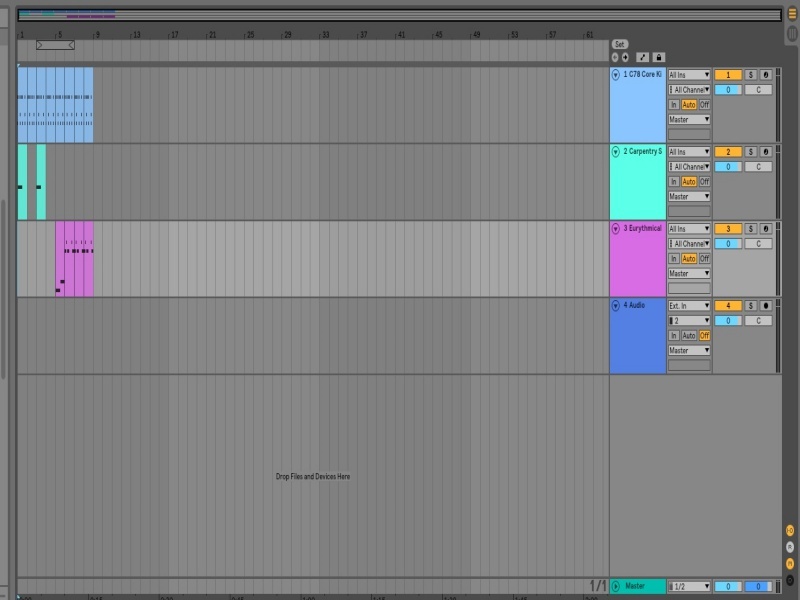 You can get to it by clicking the button in the upper right corner of the Session View and that will display the Arrangement view. That icon will allow you to toggle between the two.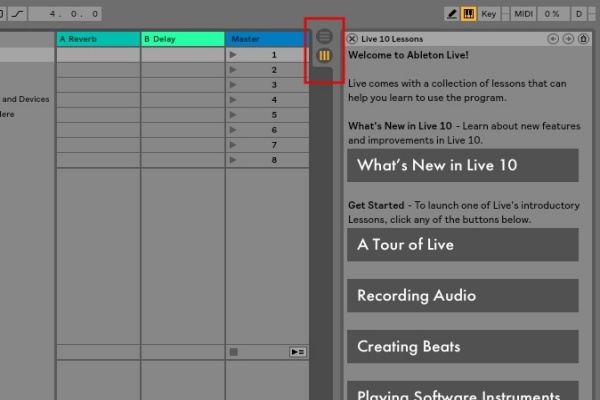 For more detailed information about switching between Session and Arrangement View you can watch this tutorial.
The arrangement view is where you can arrange your actual song. In comparison, the session view is notepad, and the arrangement view is your final document.
In the arrangement view you have some grid options. On any space right click and the following menu will appear.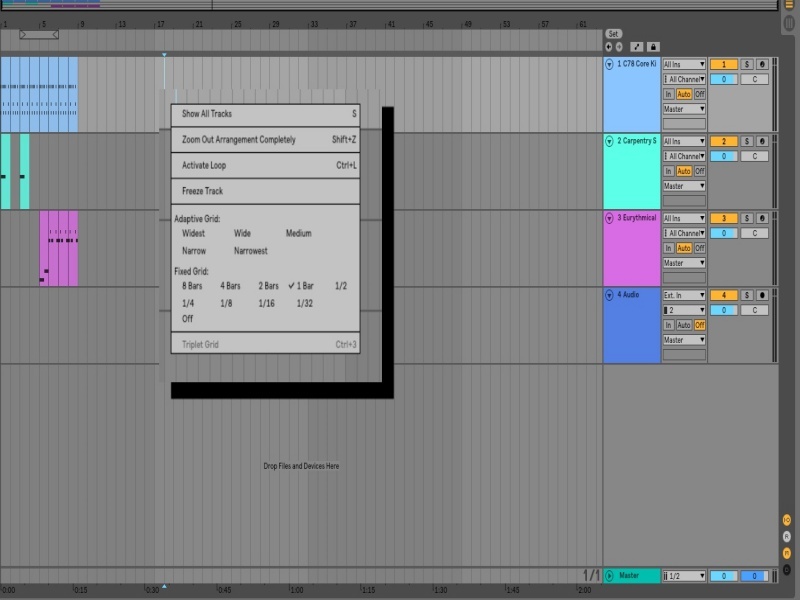 The default is an adaptive grid. Meaning the grid will change depending on if you zoom in or out.
You can right click and designate each column to be equal to 1 bar, 8 bars, and so on. You can also make the grid "fixed."
This way no matter how much you zoom in or out, it will stay the same.
To insert an instrument from the library you click on the left side clip and a drop down menu will appear.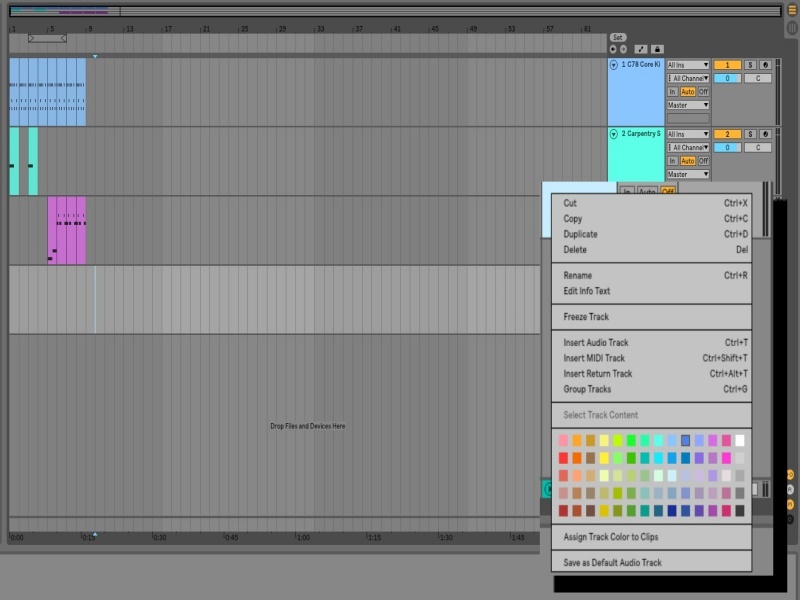 Select insert MIDI track.
You can then drag and drop any instrument or sound. To control the clip double click on the grid and below the arrangement view the clip view will appear.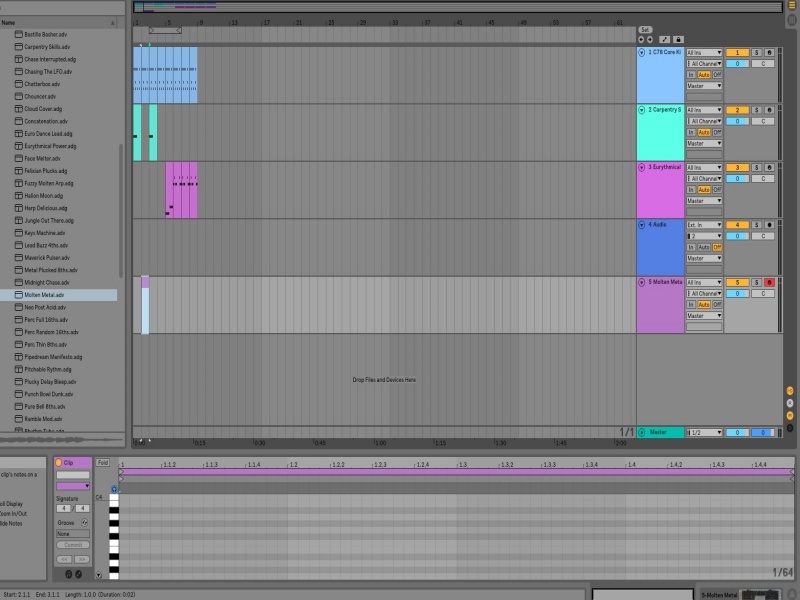 You can now use the Piano Roll to place your notes. The notes you input will appear in the arrangement.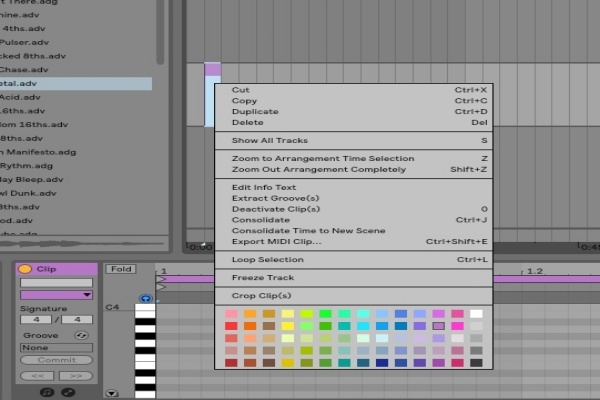 If you select the clip, and a hand icon appears, you can then right click and select duplicate rather than continue to place the same pattern.
You can then construct your song using various MIDI clips from the library or import your own.
You can import VST's and samples into Ableton. Ableton only supports 64-bit plugins. You can add plugins into the VST folder and locate them in the library by selecting
VST file folder
Plugin source
The custom option needs to be enabled
Scan
Ableton will locate your plugins and add them to the library. This process may take a couple of minutes.
For more detailed information about the Arrangement View you can watch this tutorial.

RECORDING
Using Ableton to record live instruments or vocals line in does require that your system is configured properly. Ableton will record from the input source you instruct it to. Most instruments and vocal microphones are at mic level and not line level. In order to bring them up to line level, you will need an audio interface device.
In the Arrangement view, you will need to select the I/O (input/output)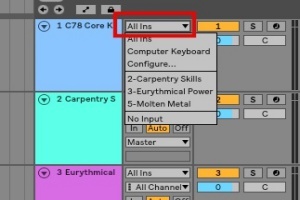 Select Configure.
You will then need to choose your input device from the list.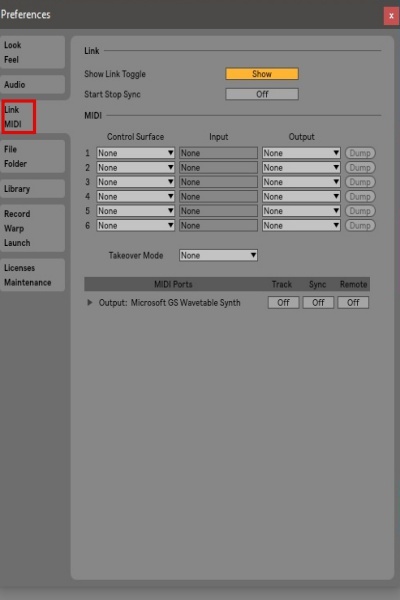 You will also need to ensure the arm record button is activated.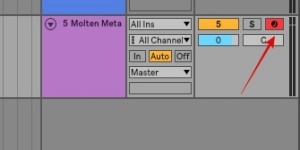 Once you have your recording you then have the option to roll it into the session view and play with effects and again experiment until you find the tools you like to customize the recording before making permanent changes in the arrangement view.
For more detailed information about the Recording line in you can visit this link.
RENDERING
Once your song is complete and you are ready to render the final version how do you get all those individual tracks into one master? What format should you use?
No problem.
First, you need to understand a little about file formats and how they affect your final version.
Lossless Audio and Lossy Audio.
Uncompressed Audio - This format means that no compression has taken place. This is a raw audio format. The file size can be rather large, however, no data has been lost due to compressing the file. One major uncompressed audio format, LPCM, is the same variety of PCM as used in Compact Disc Digital Audio. The most commonly used audio format you may be familiar with is. WAV. All though the file size can be large this is the format you would want to render your final mix. You can always create alternate formats.
Lossless Compressed - This format stores data in less space without losing any information. The original, uncompressed data can be recreated from the compressed version. These formats include FLAC and ALAC for Apple Lossless.
Lossy Compression - This format makes the file size smaller but does reduce audio quality. MP3 format is the most widely recognized lossy compression format, but the AAC format found on the iTunes Music Store is also common
To render your final version follow these steps.
Now lets go ahead and render our track.
In the upper left-hand corner select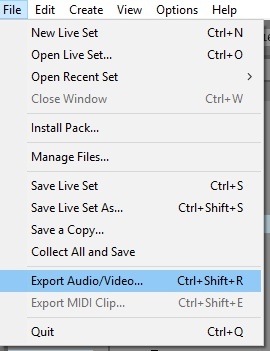 The first option is Rendered Track. As you can see you have the option to render the tracks individually, select just one, or all of the master. To render everything complete, select Master.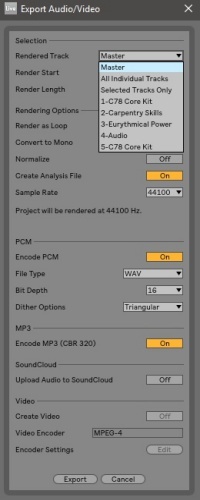 Selecting the Sample Rate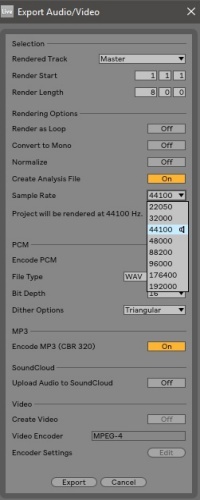 20–20,000 Hz is the range of human hearing.
Most music is sampled at 44.1 kHz, because this is the standard used for CD audio. A sample rate of 44.1Hz will accurately represent frequencies up to 22kHz. Humans with great hearing can hear up to 20kHz. This means that a sample rate of 44,1kHz is perfectly adequate to record music. 44.1kHz also eats up less storage on your computer than higher sample rates.
File Type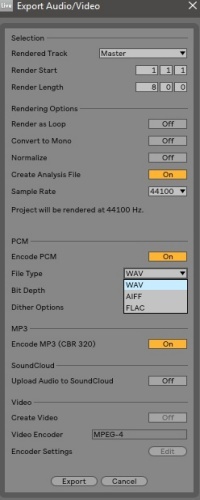 We learned earlier about file formats. WAV is the best way to go for Windows users. FLAC is the best way to go for Mac users.
Bit Depth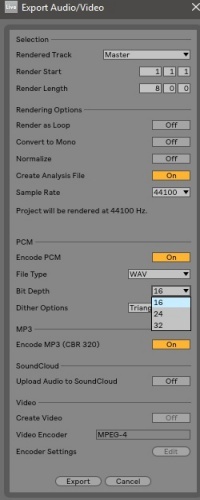 A CD will host 16-bit audio. Whereas iTunes and DVD audio support up to 24 bits. 24 bits can accommodate a larger dynamic range. For CD you can render your audio at 16 bit. When you render your audio for online distribution, go for 24 bit to capture all of the dynamics in your music.
MP3
You can choose to render an MP3 by turning on or off the button located below the Bit Depth selection. Ableton will render the MP3 at a 320kbps. The bit rate is the number of bits per second encoded in the MP3 file. Using a bit rate of 128 Kbps usually results in a sound quality equivalent to what you'd hear on the radio. Many music sites and blogs urge people to use a bit rate of 160 Kbps or higher if they want the MP3 file to have the same sound quality as a CD. 320kbps songs are crispier, loud and more detailed. Let just say they ate more dynamic.
320kbps take up a lot of memory space compared to 128kbps.
320kbps has a much wider range of frequencies than 128kbps.
Some will argue whether or not you can hear the difference when rendering at 320kbps. When you are dealing in loops, samples, and electronic music, if you plan on doing any edits to the sound, you will want to render at 320kbps. Websites that host audio and require MP3 format will require a higher bit rate. So, just to be safe, stick with 320kbps, but never use it as your final master mix.
ADD-ON FEATURES
Ableton offers add-ons to make the process easier and preform more functions. Here are some examples of other ways Ableton can help you produce music.
PUSH
Hardware that works with Live to give you a more hands-on feel when making music. Play or step sequence beats, notes, chords, and automation. Slice, play and manipulate samples. Launch clips from pressure sensitive backlit pads.
LINK
Collaborate with anyone over a local network, in real time. Connect with Link enabled software such as Reason, Serato, and selected iOS apps. You no longer have to hold band practice at a specific meeting location. Works with live instruments as well as electronic loops and samples.
For additional sample packs, instruments, tools and extensions
You can visit this link.
WRAPPING IT UP
Wow. That was an intense crash course on how to produce music with Ableton. While I haven't even scratched the surface, the rest is up to.you. The level of dedication you have in making music will determine how much you continue to learn.
To make it a little easier I have included links below that will teach you all about the vast features and functions Ableton has to offer.
We want you to succeed in producing music and we hope that this makes locating the information you need readily available.
If you have made an amazing track in Ableton Live 10 post a link in the comments section below. Show us what ya got.
ADDITIONAL RESOURCES & TUTORTIALS
SHORTCUT KEYS
Ctrl+ Alt + L = Detailed View
Ctrl+ Alt + O = Overview
Ctrl+ Alt + M = Mixer View
Ctrl+ Alt + R = Return View
Ctrl+ Alt + I = Input/Output View
Ctrl+ Alt + D = Duplicate
Direct download of Live 10 Manual as PDF
Ableton Technical Terms Glossary