The term 'LoFi'' is generally used to refer to a specific type of atmosphere or mood. While LoFi hip-hop is by far the most widely consumed form of LoFi music, some might be surprised that other genres have adopted the prefix to their own genres. You can find an abundance of electronic and live music styles that have taken pieces of the loFi approach to integrating into their own music, with delightful results. Today's article is a run-through of plugins that will help you achieve the LoFi mood that has taken so many music styles by storm.
Melodies and Moods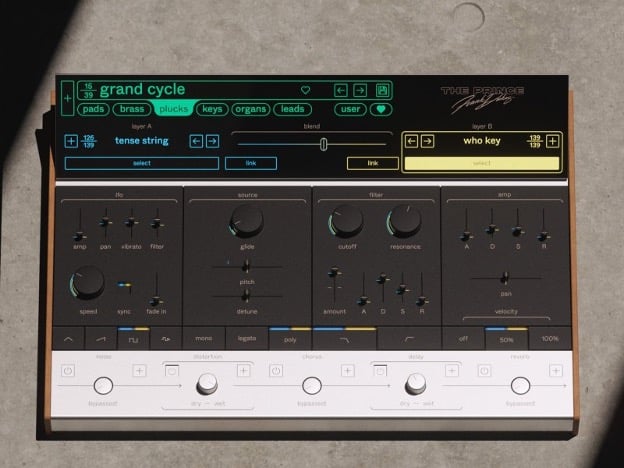 Lofi instruments have a distinctive warmth about them. Instrument choice will be almost as important as musical decisions in LoFi, as you're trying to create a sonic atmosphere that fits with your compositions. Frank Dukes has become synonymous with the LoFi texture, creating original music to sample for artists such as Drake, Camila Cabelo, and The Weeknd. The team at Cradle leaped at the chance to collaborate with Dukes to create the Prince, which is a collection of his favorite sounds compiled into one VST instrument.
The Prince operates primarily through a blending system that allows users to layer two sounds from the stock library for playing. The library is organized into pads, organs, plucks, brass keys, and leads. Every sound in the library has been sampled and recorded using Frank Duke's capturing techniques and gear. Needless to say, everything in The Prince's arsenal sounds insane. The GUI also comes with a handful of essential waveshaping functions, as well as some onboard effects such as noise, chorus, delay, and distortion for extra coloring options.
The Prince is designed with LoFi texture in mind and will save a lot of producers precious time when trying to find a sonic palette for their next beat or song. The interface is incredibly easy to use and you can also save your generated sounds for later use.
Saturation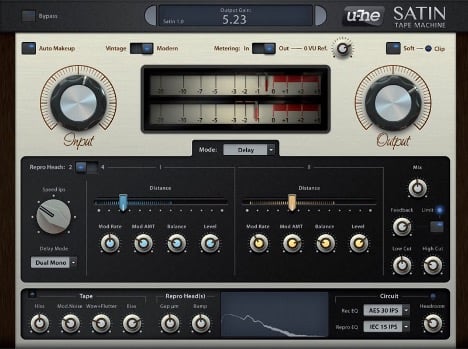 One of the most overlooked yet crucial factors that make up the LoFi mood is saturation. There are a few trusted saturation techniques that seasoned producers use to quickly achieve a LoFi character. The premise behind saturation is to enhance specific harmonics that a signal produces by overdriving all or parts of its response without raising the gain. This is similar to distortion, but with a much more colorful result.
Saturation can often be misunderstood or even misused by certain producers and engineers. Thankfully the team at U-he has created the Satin, to help streamline the saturation process for the everyday music maker. Satin is essentially a compressor modeled on vintage magnetic tape recording equipment. Users can dial in various degrees of compression to recreate some incredibly rich saturations to their signal. The plugin is perfect for adding the type of analog warmth and imperfections that are distinctive to LoFi music. You can use Satin on a variety of instruments, especially melodic elements like guitars, vocals, keyboards, or synths.
The LoFi Tape Effect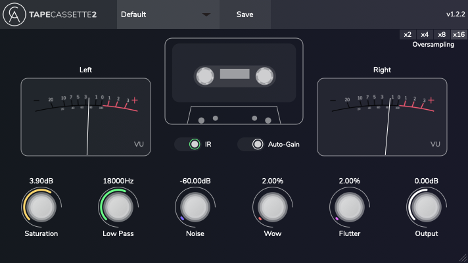 Tape and Vinyl are the two fundamental recording eras that LoFi recording techniques draw from. As mentioned earlier, both mediums have become used recording techniques and equipment that give each song or take unique imperfections. These imperfections were created by things like unsteady electronic currents, variations in magnetism during recording, and other subtle nuances that were once frowned upon and avoided.
Caelum Audio's Tape Cassette 2 is an all-in-one plugin that allows users to harness and control the characteristics of analog recording techniques. The GUI is extremely easy for most users to understand with 5 essential parameters at your disposal.
Saturation - Allows users to dial in the degree of tape saturation to your input signal
Lowpass - This control is a filter that helps to clean up your signal by removing any muddy low end from your tape processing.
Noise - introduces the signature tape hiss that old cassettes would produce after repeat use. When blended with your signal this is what adds to that ''classic'' LoFi sound.
Wow & Flutter - produce pitch and volume modulations to recreate the playback of old tape recorders. These modulations can be synced to BPM or manually set to user preference.
The device also comes with an output control, to let you blend your overall signal into the rest of our mix. Caelum's tape modeling generates some stunning modulations that can be used minimally or to extreme degrees for some very interesting results.
Erosion

Erosion is the counterintuitive effect that many engineers and producers use to enhance certain LoFi elements, or make them more interesting. As the term suggests, erosion involves breaking up the bit rate of a signal's playback and reducing the overall signal quality. This technique is also generally avoided by engineers looking to achieve a crystal clear mix, however, it's very welcome in the scope of LoFi styles.
KrushPro is probably the most attractive plugin one can use to diminish their signals for LoFi. The device is a bit crusher with extended functions and capabilities and does an incredible job of breaking up a signal without having it intrude on the rest of your mix. Users are treated to three modes of erosion
Bit Krush - A standard freeform erosion that also acts as a distortion unit to increase the harshness of your signal response.
Wave Krush - Reduces your signal's sample rate by using wavetable algorithms for rhythmic modulations. This feature is exclusive with the latest KrushPro update.
Ring Mod - Introduces external synthesis to add an extra layer of harmonic modulations. This effect can be the trickiest to dial in for most producers and is best used minimally for LoFi styles.
Included in the rest of the GUI is a series of macros to let users blend in with each of the respective modulation engines. Users can also route two separate oscillators to any of the engines for added modulation. While the interface of the KrushPro may be a bit intimidating to first-time users, it shouldn't take more than a few minutes of fiddling for most to understand its basic functionality.
Grit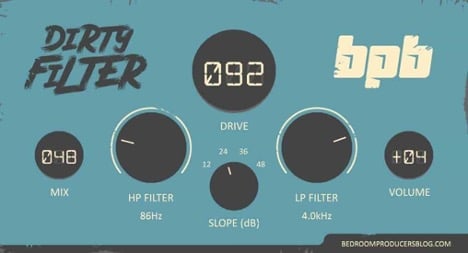 Grit is the loose term used to refer to the process of making sounds dirtier. LoFi throws the traditional sound engineer's book out the window and encourages composers to warp and distort their sounds to create unique soundscapes. LoFi drums have an especially distinctive grit or crunch on their mix, and this is usually done to enhance the damp, foggy character of the music style.
You can achieve a lot of this grit and crunch using some of the aforementioned compressors and saturation devices. However, for anyone looking to generate a more specific type of grit, there's the Dirty Filter by Bedroom Producers Blog. The plugin is housed in a stylish GUI that comes with an easy-to-use control panel. The interface centers around the Drive knob, which introduces a soothing distortion to the user's preference. This function is flanked by a low and high pass filter that lets users focus the effect on specific frequency areas of your signal. A slope function determines the response ratio of the overdrive to your signal. Finally, there are mix and volume on-hand to aid final mixing. The Dirty Filter was created for play within the LoFi subgenres and sounds amazing on drums, percussion, and even vocals.
Final Thoughts
There is an abundance of plugins on the current online market that can get producers closer to achieving a satisfying LoFi atmosphere. The devices listed above are amongst the most user-friendly, versatile and offer great value for the prices they come at. LoFi has crafted its identity out of experimentation, and a certain rebellion against fundamental sound engineering laws. In the same way, we encourage you to keep pushing boundaries with your own music and mixes. Thanks for reading through our brief guideline on LoFi production for 2022.