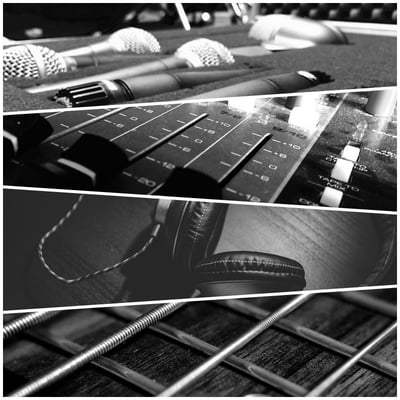 In the world of audio production its good to know about the latest and greatest gear. We have compiled a list featuring some of the newest technology to help you produce music. This list covers both the studio pro and the bedroom producer. Headphones, Audio Interfaces, Microphones and even the little things some forget like cables and adapters. We even went one step further and threw in some of the coolest gadgets and a dream list. The dream list holds some of the best and most expensive gear out there.

MUSIC GADGETS
Below you will find some of the most interesting audio tech toys.
Most of the items solve the problem of noise. Not being able to make music when you want and where you want. If you have parents, neighbors, or room mates that complain about it being too loud, some of these devices could come in handy.
AERODRUMS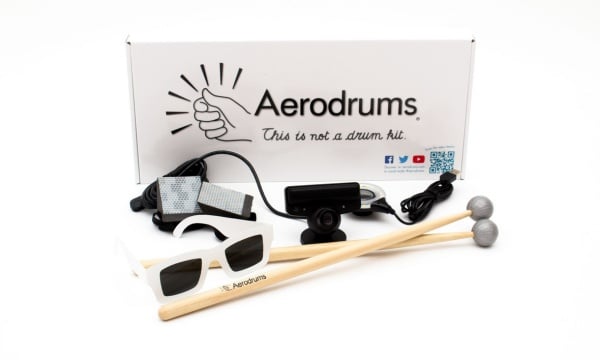 Aerodrums is a revolutionary air-drumming instrument that allows drumming without a drum set. Created for the musician who wants to be expressive and versatile while solving the problems of portability, space and noise associated with regular drum sets. Aerodrums is the perfect solution for drummers playing drums at home or on the go.
You play Aerodrums in the same way as you would any drum set – only, there are no drums! The drum sticks have reflective balls at the tip and are balanced to feel like traditional drum sticks. Pedals are replaced with a pair of special foot pieces with reflective material.
Aerodrums' comes with a lamp that shines onto the reflective material on the sticks and foot markers. The lamp is equipped with a special lens and fits neatly onto the camera. The high-speed camera plugs into an available USB port and captures the movement of the reflections made by the lamp from your sticks and foot markers into the Aerodrums software.
FEATURES
MIDI compatible, with presets for most samplers.
Use with any DAW such as GarageBand, Logic Pro, Ableton Live and Reaper.
MIDI not required thanks to the built-in recording feature
Export recordings in WAV file format
Export each drum piece separately for ease of editing.
Price: $199.00
ARTIPHON INSTRUMENT 1

The INSTRUMENT 1 is an intuitive musical toolkit that adapts to the way you want to play. It's the first MIDI multi-instrument that lets you strum, slide, tap, and drum any sound on a single interface.
Hold the INSTRUMENT 1 in multiple positions and play using a range of intuitive musical techniques. Revolutionary digital strings let you easily customize tunings, switch between fretted & fretless modes, and even control effects and string bends with pressure sensitivity.

FEATURES
Strum, slide, tap, and drum any sound on a single interface.
Connect to your favorite apps & music-making programs across iOS, Mac, and Windows including GarageBand, Ableton Live, Logic Pro X, and more.
Take your music-making on the go with built-in speakers, all-day battery life, direct iOS connection, and MIDI MPE compatibility.
Mmultiple speakers, a headphone jack,
Price: $399.99
SOUNDBRENNER PULSE VIBRATING METRONOME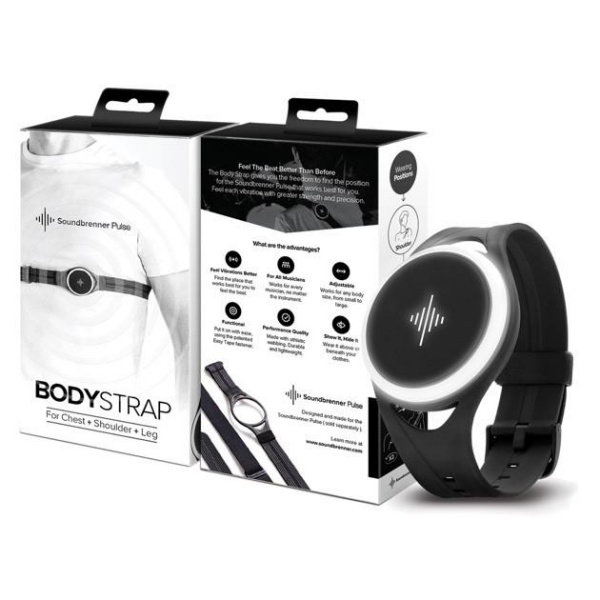 Wearable Metronome with Multiplayer Sync and DAW Integration
Practicing to a metronome is foundational to understanding rhythm and developing one's inner musician. It's also a core part of the modern recording process. The Soundbrenner Pulse is a tactile alternative to audible metronomes and click tracks, enabling live performers and session players to stay keyed in to their environment without losing time. Multiplayer sync over Bluetooth tightens up technical ensemble arrangements. And major DAW integration (macOS only) feeds tempo tracks directly to the Pulse for rock-solid drum tracks and guitar takes. Two included bands, one long and one short, give players the option to wear the Soundbrenner Pulse on the arm or leg. And an included magnetic charging station serves as a convenient, attractive home base between uses.
FEATURES
Magnetic charging station and USB cable included
Tempo range: 30–300BPM
Save rhythms and organize by setlist
Customize pulse strength and LED color (also toggleable on/off)
Price: $99.00
AUDIO INTERFACES & SOUND CARDS
iZOTOPE SPIRE STUDIO AUDIO INTERFACE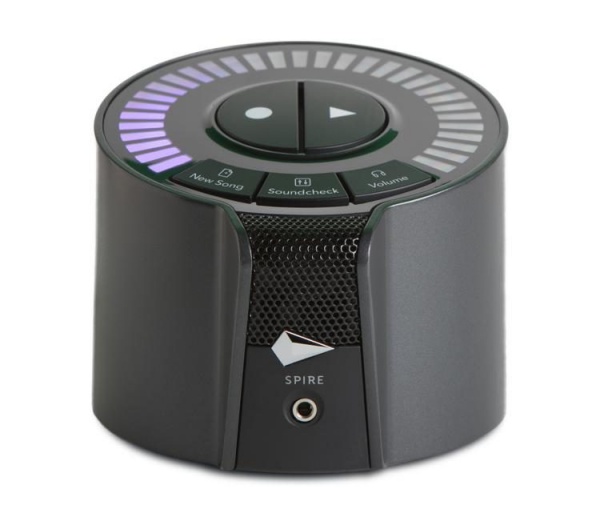 Ditch the cables and record professional-quality sound with Spire. It's the world's first truly wireless recording solution that will have you recording in seconds. Edit, mix, and share your recorded songs instantly via a built-in Wi-Fi connection between Spire Studio and the free, Spire app for iOS. Whether capturing a moment of inspiration or collaborating with bandmates, Spire delivers a new kind of recording experience.
A built-in microphone and iZotope's award-winning sound processing technology deliver professional-quality recordings. Explore your sonic possibilities with a wealth of studio-quality creative effects such as reverbs, delays, and amp models that help you dial-in your unique sound.
Now everyone can record music with professional quality on Spire, the simplest, most versatile mobile recording system ever made. Control your Spire Studio straight from the Spire app on your iPhone where you can record, edit, mix, and share. You don't have to be a professional audio engineer to sound like one.
Spire Studio goes where you go, easily fitting into a small bag, backpack, or guitar case. Whether you're in the living room or the green room, with your band or alone, you can record your music, collaborate with bandmates, and share your songs with the world.. Spire opens up a new world of music recording possibilities.
FEATURES
Internal studio-quality microphone for a professional sound
Automatically set recording levels with a single button to eliminate set-up time and distorted sounds
Record with a wealth of creative effects such as reverbs, delays, and amp models with zero-latency monitoring
Add depth to your song by layering up to eight tracks per project
Price: $349
BEHRINGER U-CONTROL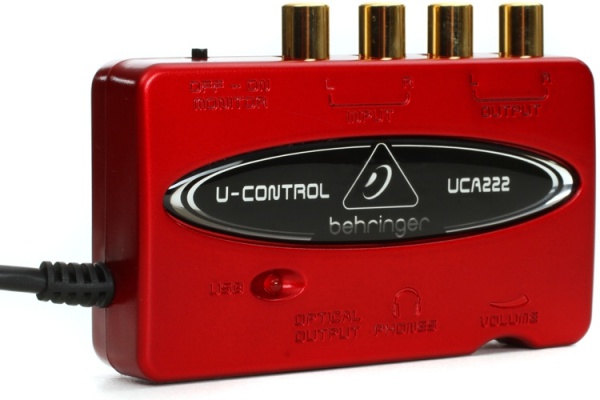 The U-CONTROL UCA222 USB audio interface lets you connect your instruments, mixer, and more with your computer for recording and playback. The revolutionary energyXT2.5 Compact music production software included boasts a feature-rich audio/MIDI sequencer that loads incredibly fast on all computer platforms. The included software bundle features Audacity audio editing software, comprehensive podcasting software, and over 150 virtual instruments and effect plug-ins. 4 inputs.
FEATURES
Includes software Audicity, Podifier, Juice, Podnova
100 Virtual Instruments
50 effect plugins
Price: $29.99
FOCUSRITE 18I20

Scarlett 18i20 puts eight natural-sounding combination inputs at your disposal. We put two on the front, where you need them most, with newly designed instrument inputs that can handle even the hottest signals. We put six more on the back, so you can leave your mics, synths, keyboards, mixers and effects processors permanently plugged in and ready to go.
All eight analogue inputs feature pristine and natural sounding Scarlett preamps, backed by 30 years of design experience and found in the world's top studios. These guarantee exceptional headroom, plenty of clean gain, low noise, minimal distortion and a dynamic range that is unrivalled in this class.
FEATURES
Scarlett 18i20 comes with Pro Tools
First Focusrite Creative Pack
Ableton Live Lite recording software suite and samples
Scarlett 18i20 works flawlessly with all major DAWs on Mac and PC
Lower latency than any other USB audio interfaces
Price: $399
SOUND BLASTER ZXR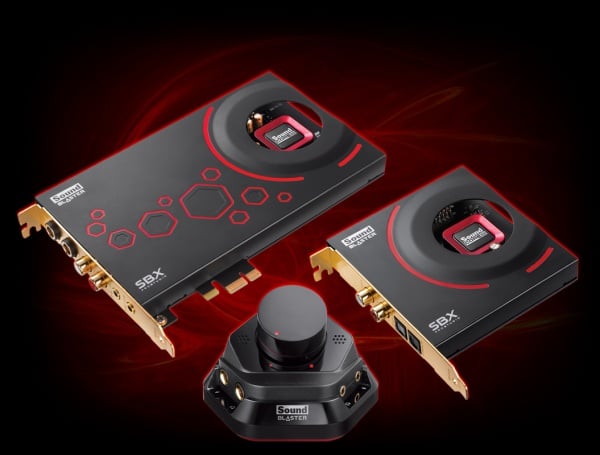 The flagship of the ultra high-performance Sound Blaster Z-Series of sound cards, Sound Blaster ZxR elevates the standards of technology and performance for the future of PC gaming and entertainment. Boasting an unbeatable SNR of 124dB, it includes a DBPro daughter board and Audio Control Module for unrivalled audio playback and content creation. A signal to noise ratio or SNR of 124dB means your audio will be more than 99.99% pristine, which is over 89.1 times better than motherboard audio. Add studio quality audio sound tracks or voice tracks to your video clips or home videos created with hardware that uses only audiophile-grade components such as 123dB analog-to-digital converters (ADCs) with RCA Aux-in and optical inputs for outstanding recording quality.
FEATURES:
24-bit / 192kHz Audio Output
Enjoy reduced latency with Audio Stream Input/Output (ASIO)
ACM that incorporates a built-in microphone array
The knob on the ACM lets you adjust the headphone levels.
600 ohm headphone amplifier
Price: $199-$299
SHURE MVi iOS & USB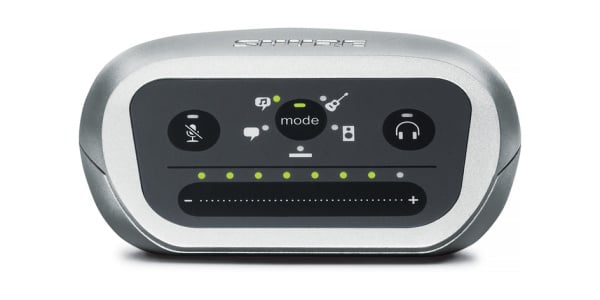 With both iOS and USB connectivity, the versatile MVi Digital Audio Interface offers content creators professional-quality audio recording in the studio and on the go.
FEATURES
Front panel touch control for DSP presets, headphone volume
Built-in headphone output for real-time monitoring
Compatible with all common iOS audio and video apps
All-metal, compact construction withstands demanding conditions
Phantom power
Lightning connector and USB cables included
Compatible with iOS, Android**, Mac and PC
Price: $129
MICROPHONES
SAMSON GO MIC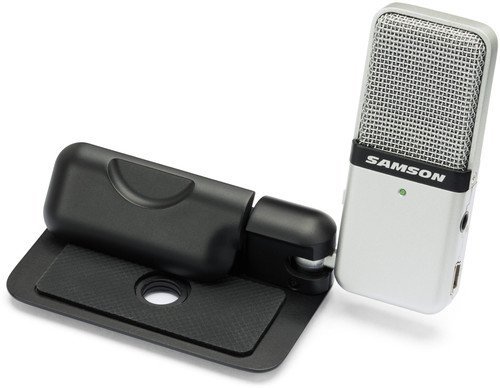 Go Mic Goes Where You Go.
Further expanding on the already diverse line of USB microphones, Samson has created the Go Mic as a versatile computer-based miking and recording solution.
Because of its custom compact design, the Go Mic can clip right onto your laptop or sit unobtrusively on your desk. Plug and play operation also means it's completely compatible with a Mac or PC, with no drivers required. Perfect for recording music, podcasts or field recording, the Go Mic's range of functionality extends beyond typical USB microphones. It's also ideal for voice recognition software, iChat, web casting and even Voice over Internet Protocol (VoIP).
FEATURES:
Portable USB condenser microphone
Mac and PC compatible, no drivers required
Switchable cardiod or omnidirectional pickup patterns
16-bit, 44.1kHz resolution
Smooth, flat frequency response of 20Hz–18kHz
Stereo 1/8" headphone output for no latency monitoring
Price: $39.99
AKG C414 XL II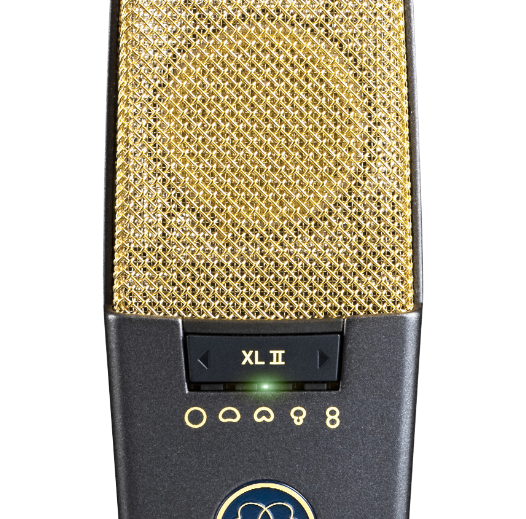 Available 08-03-2019
The AKG C 414 XL II condenser microphone is the successor to the famous AKG C 414 B-TL II mic. The AKG C 414 XL II mic shows the unique sonic signature of the highly sought after AKG C 12 which enables lead vocals and solo instruments to be placed even in a dense mix. The unrivaled up-front sound is also well-known for distant miking applications like classic music recording or drum ambience miking. The XL II mic version differs from the XLS version in one major respect-the capsule. Both the slight presence boost and the impressive spatial reproduction is similar to the legendary AKG C 12 microphones.
The AKG C 414 XL II offers nine pickup patterns for you to choose the perfect setting for every application. For live-sound applications and permanent installations, all controls can be disabled easily enabling trouble-free use. A Peak-Hold LED displays even shortest overload peaks. AKG ships the C 414 XL II microphone complete with carrying case, pop filter, windscreen, and a spider-type shockmount.
FEATURES
Analog
- Frequency response: 20Hz – 20kHz
- Max SPL: 134 dB
Connectivity: XLR
Phantom power
Nine selectable polar patterns
Three attenuation levels (-6,-12,-18dB)
Three switchable different bass-cut filters
Overload warning with audio peak hold LED
Price: $ 1099.00
SHURE BETA 58A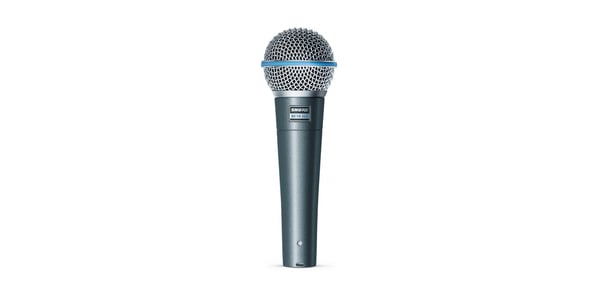 If you want your vocals to be heard, the Shure Beta 58A Mic is built to make it happen. It's a high-output, supercardioid dynamic microphone designed for professional sound reinforcement and project studio recording. This has made it a leading choice among vocalists and touring musicians worldwide. The Beta 58A maintains a true supercardioid pattern throughout its frequency range (50Hz-16kHz) and a shaped frequency response that is ideal for close-up vocals. Its neodymium magnet provides high sensitivity and output. The superb performance of this microphone is not affected by rough handling because of its rugged construction, proven pneumatic shockmount system, and hardened steel mesh grille. So whether you hold it in your hand or mount in on a stand, you'll get the kind of sound you planned.
FEATURES
Supercardioid pick-up pattern for maximum gain before feedback
Tailored frequency response specifically shaped for vocals
Neodymium magnet for greater sensitivity and higher output
Advanced pneumatic shockmount system minimizes vibration
Dent-resistant steel mesh grille Specifications Audio
Frequency response: 50Hz – 16kHz
Supercardioid
Price: $ 159.00
AUDIO TECHNICA ATR1200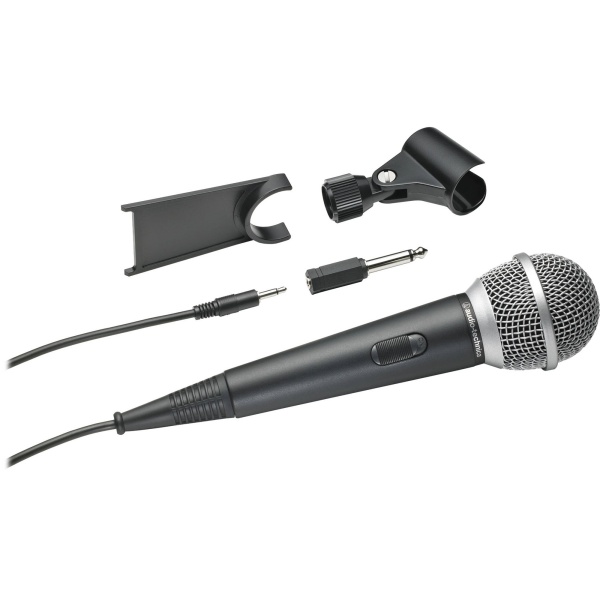 Cardioid Dynamic Vocal/Instrument Microphone
You don't have to be an audio professional to experience the remarkable microphones of Audio-Technica. Designed for advanced amateur use, the ATR1200 delivers clear, natural sound for vocals & instruments. And like the other microphones in the ATR series, it offers the astonishing clarity and durable construction that has made the Audio-Technica name renowned in the pro audio world.
FEATURES
Clear, natural sound for vocals & instruments
Focused pickup (cardioid polar pattern) helps prevent feedback
Permanently attached 5 m (16.5') cable (3.5 mm mini-plug)
Rugged construction for long-lasting performance
Conveniently-located on/off switch
Dynamic
Cardioid
FREQUENCY RESPONSE 80 – 12,000 Hz
OPEN CIRCUIT SENSITIVITY -59 dB
IMPEDANCE 500 ohms
Price: $21.95
BLUE YETI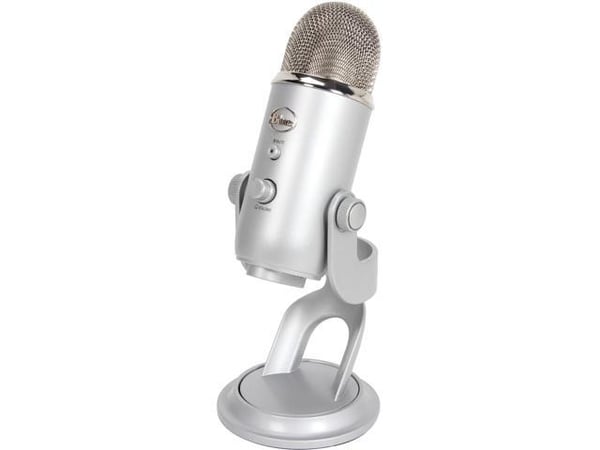 Create unparalleled recordings with your computer using Blue's best-selling Yeti family of USB microphones. Thanks to our proprietary tri-capsule technology, Yeti microphones produce pristine, studio-quality recordings with legendary ease. And four different pattern settings offer incredible flexibility so you can record vocals, music, podcasts, audio for video, interviews, or even cryptozoology lectures in ways that would normally require multiple microphones. Whether you're recording at home, on the road, or in the Himalayas, Yeti helps you produce studio-quality recordings every time.
FEATURES
The ultimate professional USB microphone
Tri-capsule array—three condenser capsules can record almost any situation
Multiple pattern selection—cardioid, bidirectional, omnidirectional and stereo
Gain control, mute button,zero-latency headphone output
Unique positionable design
Perfect for vocals, musical instruments, podcasting, voiceovers, and gaming
Plug 'n play
Mac and PC compatible
Price: $149
STUDIO MONITORS
JBL 306P MKII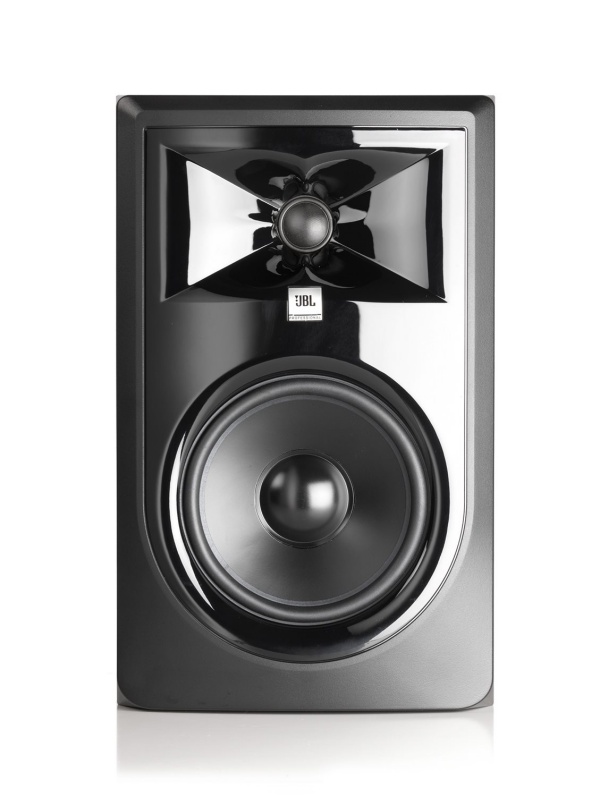 All 3 Series models incorporate JBL Professional transducer and network technologies to provide accurate frequency response, exceptional low-frequency extension and high SPL capability. JBL LSR Linear Spatial Reference design ensures greater accuracy at the mix position in acoustically varied workspaces and production environments. Delivers neutral sound across a large working space. High-frequency and low-frequency trim controls Patented low-frequency port, producing deep bass response at all playback levels
High-output Class D power amplifiers provide high Sound Pressure Level (SPL) for demanding production applications Magnetically-shielded, high-frequency transducers minimize distortion and reduce ear fatigue
FEATURES
System type: Active
Low-frequency driver: 6 inch
Mid-frequency driver: Not specified
High-frequency driver: 1 inch
Input connectors: 1 XLR, 1 TRS
Price: $199.99
BEHRINGER STUDIO 50 USB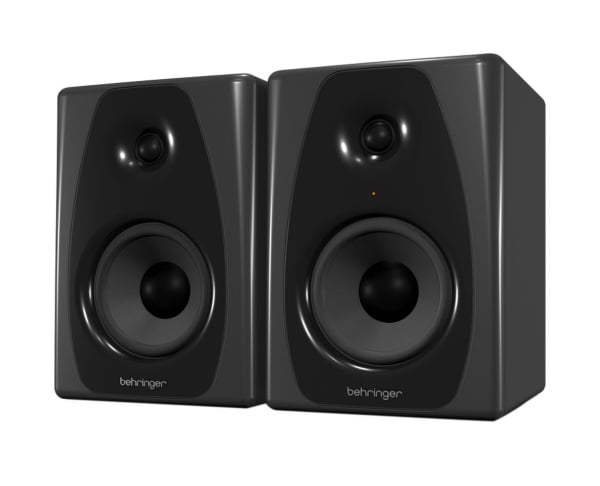 5" Powered Studio Monitor Pair with USB
Whether you're creating music or simply enjoying it, you want a serious speaker with accurate sound. The STUDIO 50USB's ultra-linear, 150-Watt digital monitor speakers combine exceptional USB and analog connectivity in a bi-amped, 2-way speaker configuration, providing the perfect sonic upgrade for any audio or video application. And when it comes time to let your creative juices flow, STUDIO 50USB delivers studio-grade performance – giving you the power to dial-in your perfect sound. Every detail of your mix comes through in all its pristine clarity, with the kind of dynamics and impact that can only come from a high-resolution studio monitor system.
Analog at the Ready
Flexibility is built into every pair of STUDIO 50USB speakers. You also have the freedom to connect either a stereo XLR or TRS device to the rear panel inputs of the STUDIO 50USB – simultaneously.
Ultra-linear 2-way digital monitor speakers ideally suited for computer studios, audio and multimedia workstations.
FEATURES
Bi-amping mode with 4 amplifiers for ultimate high-resolution sound
150 Watts of digital power amplification
Ultra-high resolution 1" silk dome tweeter
Long-throw 5" woofers with deformation-resistant cone
Advanced waveguide technology provides ultimate sound dispersion and extremely large "sweet spot"
Adjustable volume control and tweeter sensitivity to adapt to a wide range of acoustic conditions
USB input for direct connection of digital stereo audio sources
Two analog inputs featuring XLR and TRS connectors can be used simultaneously with a digital stereo source
Price: $149.99
ALESIS ELEVATE 6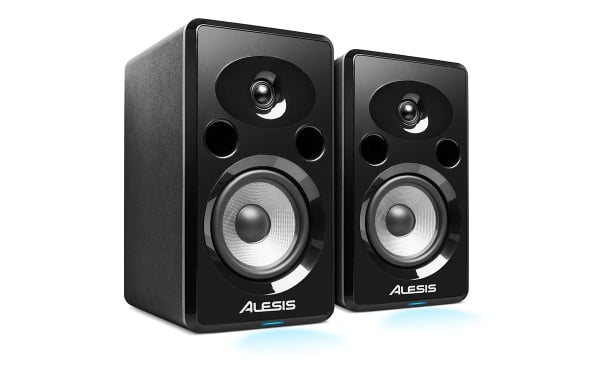 Premium Active Studio Monitor Speaker
Flat frequency response for accurate monitoring and mixing
75 Watt bi-amplified design (50+25) with active crossover
6" silver Kevlar low-frequency driver; 1" silk dome tweeter
Elliptical waveguides for a widened sweet spot
High-density wood cabinet with dual bass porting
Enhanced baffle radiuses reduce edge diffraction
(1) balanced XLR+1/4″ combo input and (1) unbalanced RCA input
HF- and LF-trim switches with -2dB, 0dB, 2dB settings
ERP-compliant with power-saving auto shut-off
FEATURES
Frequency Response : 55 Hz – 30 kHz (+3 dB)
Frequency Range : 45 Hz – 35 KHz (-10 dB)
Crossover Frequency : 2.2 kHz
HF Trim : +2 dB, 0 dB, -2 dB above 3 kHz
LF Trim : +2 dB, 0 dB, -2 dB below 500 Hz
Kevlar cone and a damped linear rubber surround
High-Frequency Driver : 1" (2.5 cm) silk-dome tweeter
Low-Frequency Amplifier : 50 W Class AB
High-Frequency Amplifier : 25 W Class AB
Maximum Output : 104 dB SPL (continuous), 110 dB SPL (peak)
Price: $149.00
HEADPHONES
MACKIE HM-4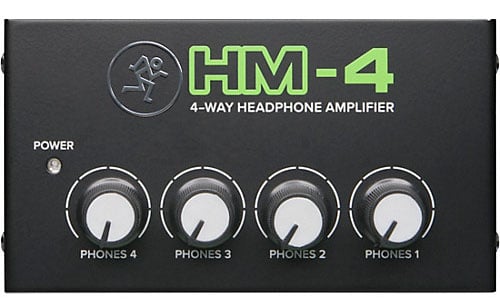 4 channel Headphone Amplifier with Individual Level Controls
The Mackie HM-4 is one of the easiest ways you'll find to increase the monitoring capacity of your studio. This desktop-friendly headphone amplifier splits a single stereo signal into four headphone outputs, each with its own level control. Premium analog circuitry ensures super-high headroom and a low noise floor, while a heavy-gauge steel chassis and long-wear potentiometers provide extreme durability. The HM-4 is a great way to expand your audio interface's headphone output and add solid cue mix distribution to your rig. The HM-4 delivers high-performance headphone amplification that's sure to become an invaluable asset in your studio.Desktop-friendly 4-channel headphone amplifier
Splits a single stereo signal into four headphone outputs
Expands your audio interface's headphone output and adds solid cue mix distribution to your rig
Each output features its own level control
Premium analog circuitry ensures super-high headroom and a low noise floor
Heavy-gauge steel chassis and long-wear potentiometers provide extreme durability
Price: $29.99
SENNHEISER HD 650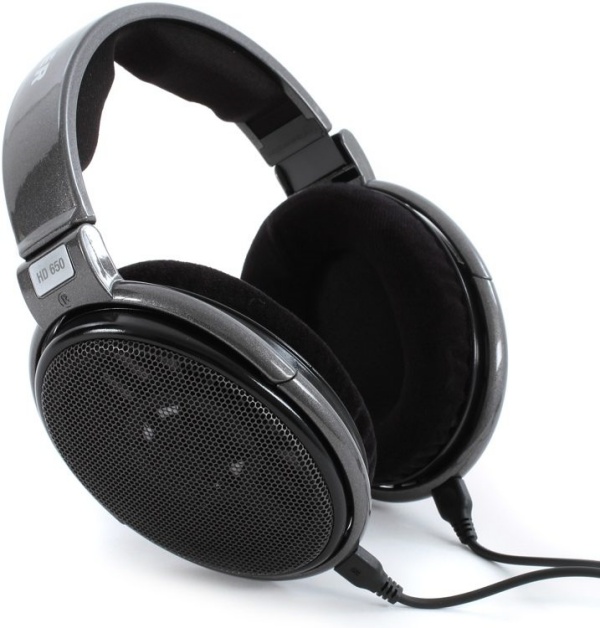 Open Back Professional Headphone
With the HD 650, audiophiles will experience truly unique natural sound. With sound this good, long concerts in the comfort of your home are a certainty, so the HD 650 also sets standards in comfort and convenience. The HD 650 is a genuine masterpiece, which will satisfy even the most demanding listener.
FEATURES
Frequency response 12 - 39000 Hz
Impedance 300 ohms
Sound pressure level (SPL)97
Price: $366.00
AKG K92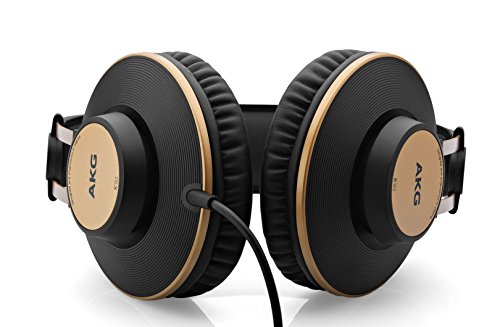 AKG K92 closed-back headphones are a great way to step up your monitoring setup. Their large 40mm drivers and closed design mean you'll hear the full sonic range from deep bass to airy highs. Engineers at Sweetwater have always found AKG headphones to be very comfortable, and K92 headphones with their self-adjusting headband are no exception. They're ideal for monitoring while tracking in the studio or producing music on your laptop. Factor in high-quality components and replaceable earcups, and you can see there's a lot of value in the AKG K92 closed-back headphones.
FEATURES
Extended frequency range from large 40mm drivers
Exceptional comfort thanks to the self-adjusting headband
Ear cups are replaceable to help maximize the lifespan of your headphones
1/8" gold plug, with 1/4" gold screw-on adapter plug included
Driver Size: 40mm
Frequency Response: 16Hz-22kHz
Impedance: 32 ohms
Price: $49.00
CABLES, ADAPTERS & CONVERTERS
ROLAND DIGITAL CONVERTER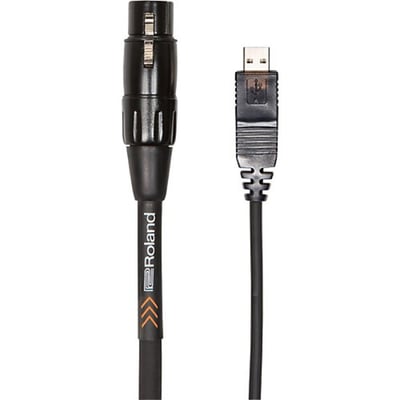 This special USB cable has an XLR plug on one end, allowing you to connect an XLR microphone directly to your computer. It works with a typical dynamic stage mic, or a condenser mic that has an onboard battery (phantom power is not supported). This cable is passive, and relies on your computer's native USB audio support for operation.
Price: $29.99
LIVEWIRE INTERCONNECT CABLE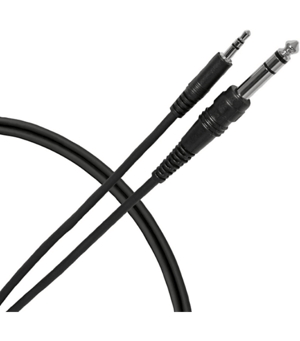 3.5 mm TRS male to 1/4" TRS male. Sturdy, reliable audio component connectors with molded strain relief.
Price: $9.99
PIG HOG SOLUTIONS BREAKOUT CABLE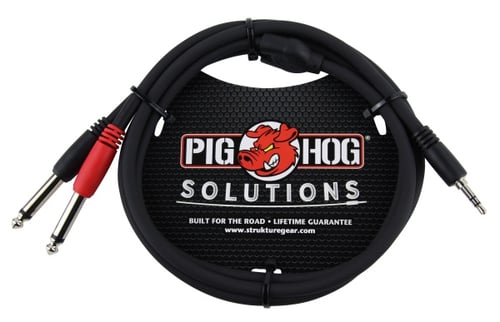 The Pig Hog Solutions line features an expanding selection of adapter and cables designed to solve common interfacing problems in the studio and on stage. Each cable is manufactured to Pig Hog's high-quality standards to insure transparent reproduction of the source audio without any coloration or distortion. 3.5mm to Dual 1/4"
Price: $7.95
DREAM GEAR
Lastly, and for fun, here is a look at some of the newest and expensive music equipment out there.
DYNAUDIO ACOUSTIC M3XE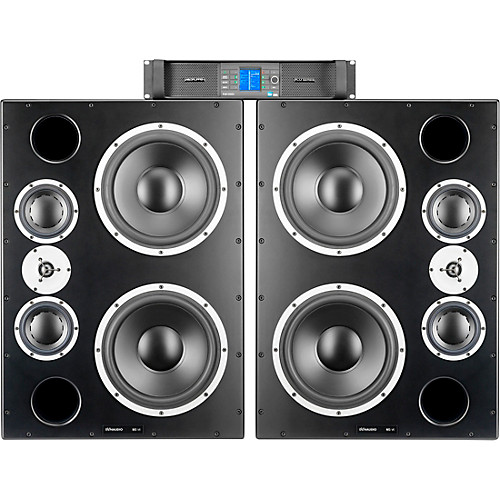 12" 3-Way Monitors with PLM 12K44 4-Channel Amplifier
M3 is the ultimate main monitoring solution, combining world-class driver and cabinet. Cutting-edge signal processing and amplification from Lab Gruppen and Lake. The Dynaudio Professional M3XE monitor system that takes monitoring to a whole new level with a significant upgrade from its predecessor
FEATURES
System type:Passive
Low-frequency driver: Dual 12 in.
Mid-frequency driver: Dual 6 in.
High-frequency driver: 1.1 in.
Frequency response:22Hz – 21kHz
Max peak SPL: 133 dB
Input connectors: XLR
Price: $35,000.00
NEUMANN U67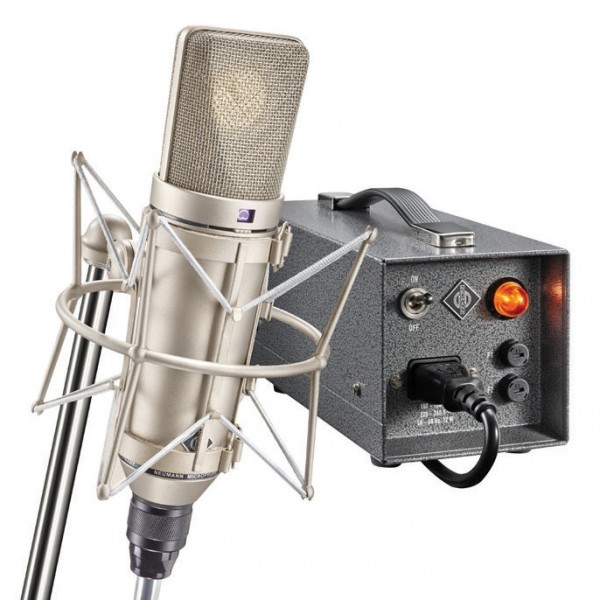 Return of the Neumann u67
The Neumann U 67 reissue comes in a handsome vintage case and includes a Z 48 shock mount, the new NU 67 V power supply, a UC 5 high quality multipin cable. All included parts, including the case, are made in Germany.
Like older power supplies for the U 67, the NU 67 V is a linear power supply with a large toroidal mains transformer, just like 1992's NU 67 A. It is important to understand that the new U 67 is not a copy or clone. It is an original Neumann U 67 microphone, made to the exact same specifications. Key parts such as the output transformer are manufactured according to the original documents and production drawings from the Neumann archive. The most crucial part, the K 67 large diaphragm condenser capsule has always remained in production, as it was later used in the U 87 Ai. While the current K 67 differs from old specimens in minor cosmetic details, its acoustic design and build quality have remained unchanged over the decades.
There are no intentional changes or modifications, either. The current U 67 is engineered to sound exactly like a U 67 microphone from the original production period. The tube circuit and the component values are identical. The frequency response of a new U 67 microphone matches that of an old U 67 made from 1960 to 1971 to the point that you could use them as a stereo pair (provided the old one is in good shape).
FEATURES
Classic tube circuit, transformer balanced
Balanced sound in three polar patterns
Meticulously reproduced to original specifications
Vintage case, handmade in Germany
With the reissue of the classic Neumann U67, you can now add a little piece of history to your mic locker. The U67 reissue is a replica of the vintage models and features 100% historical accuracy - from sonic qualities to construction of the casing and power supply.
Price: $6,999
NEVE GENESYS BLACK RECORDING CONSOLE - 24 CHANNEL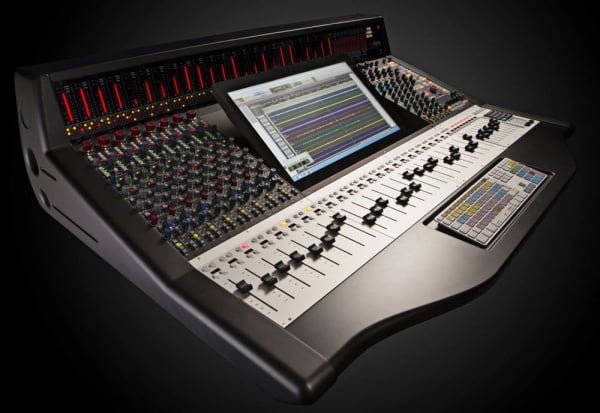 Digitally controlled analog recording console with total integration with the studio environment and the digital audio workstations of your choice.
Understanding that monitoring flexibility can be as key as I/O, Neve drew from the 88RS in designing the Neve Genesys Black. What you get are two sets each of mono, stereo, and 5.1, readying the Neve Genesys Black for a wide variety of monitoring workflows. You can even bring in a 5.1 external source into the monitoring section.
Although the Neve Genesys Black certainly knows modern, it's schooled in classic, too. The Genesys Black offers up eight channel strips, anchored by the heralded 1073 preamps. As for the EQ, it's a 4-band VCA design with a filter taken straight from the Neve 88RS console and you can even opt to fit genuine Neve 1084 Classic EQ. The optional dynamics are traditional Neve VCA and all EQ/Dynamics parameters can be easily saved and instantly recalled later. The net result? Just enough of the iconic Neve sound onboard and always at the ready, with the I/O flexibility to incorporate the other tones, flavors, and characteristics your projects call for.
Digital I/O at 192k with Neve-quality converters
On the Neve Genesys Black, digital I/O comes in the form of Firewire, AES, and MADI. Notably, there are three possible D/A I/O paths within each channel strip: two inputs and a direct output. These three paths can be sent to and from the A/D converters. Speaking of converters, they sport the same circuit as the Neve DPD, offering up 192kHz performance at the kind of precision and quality you'd expect from Neve.
FEATURES
Thirty-two faders provide a flexible workflow
Steer your DAW with OSX and Windows-ready touchscreen
Flexible I/O to meet a wide range of workflows
Premium monitor section drawn directly from the 88RS
Eight channel strips of classic Neve sound and processing
Digital I/O at 192k with Neve-quality converters
Upgradable and expandable to meet your evolving needs
Price: $89.400.00
And there you have it. Somethings new, somethings classic, somethings fun and somethings that are just amazing. These are some of the top items to have when creating music at home or in the studio. If you have seen something incredible not mentioned here, share your find in the comments section below.