This is the beef in your burger. Your Sound. You want it to be nothing short of amazing. In this article, we will walk through the specifications to look for in an internal sound card, USB mixer, and an audio interface device.
As with every other part inside your machine you must find a device that is compatible with your system. How do you know? First, it needs to be compatible with your O/S and your DAW. Next, you will need to choose your connection type. If you go with an internal sound card you need to have an available PCIe slot. If you choose a USB connection make sure that you have the proper port type as it could be USB 2.0 or USB 3.0. And lastly, Thunderbolt. The newer alternative to a Fire wire type of connection.
FEATURES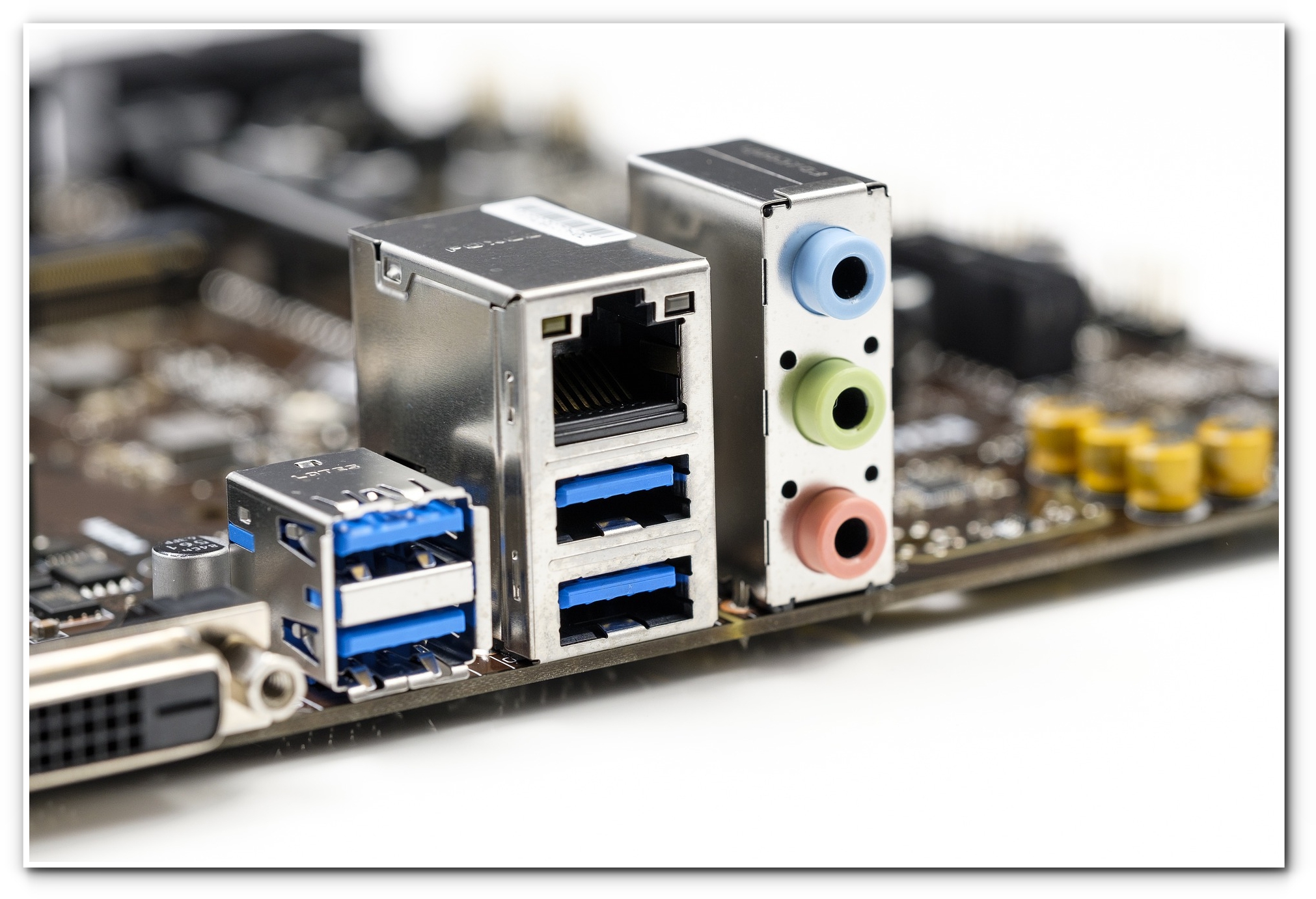 Next, you want to decide the features that are most important to you.
Some sound cards support 7.1 surround sound. This means you can make use of 8 channels. Right and left front speakers, right and left rear speakers that have been split into 4, a center speaker and of course a sub.
If you are recording multiple line inputs such as tracking drums, MIDI controllers, live instruments and vocals, you will want to pay attention to how many inputs are offered.
You will also want to look for a good "signal to noise" ratio. The number is measured in dB. So if you see 60dB you will know that the signal strength is 60dB higher than the noise level.
Be on the lookout for latency. Latency causes madness in some. It is that millisecond of delay. Imagine speaking into a microphone and then there being a delay in the time from when you spoke until the time you actually heard it. Some sound cards will offer low latency, but there is some that promise zero latency.
Other features to consider (all are based on what you need)
The number of headphone/monitoring outputs
Type of inputs (line/mic) and quantity
Type of input/output (1/4 inch, 3.5mm, XLR, RCA)
Preamp
Phantom Power
Sample rate and bit depth are also important to consider. A sample rate of 44.1Hz will accurately represent frequencies up to 22kHz. (Humans with great hearing can hear up to 20kHz.) For CD-quality audio, you will need 16-bit depth. If you want to distribute your music online, platforms such as iTunes will require 24-bit depth.
TRANSFER RATE
The transfer rate determines the speed/time in which it will take, for example, your voice, to travel from your mouth, through the microphone, the interface, to your system/DAW, to your hard drive, DAW/system output, headphone amp/audio interface or sound card output, to your headphones/speakers, to your ears.
USB is the slowest and has more possibility for latency. The average speed range for a type USB 2 connection is 280Mbps - 480Mbps, USB 3 is much faster with an average of 3.2Gbps - 10Gbps.
Thunderbolt connection types offer a whopping 10Gbps - 40Gbps. Depending on the revision option of Thunderbolt 1, 2, and 3.
A 16x PCI Express slot is capable of data transfer speeds up to 15Gbps - 120Gbps. This will vary depending upon the revision of the PCIe slot, how many slots are being used, and the type of data being transferred.
HOW DO I CHOOSE?
To determine the best option for your needs lets take a look at a few options and make comparisons. First, answer the question. What are your audio production needs? What kind of connections are available with your system?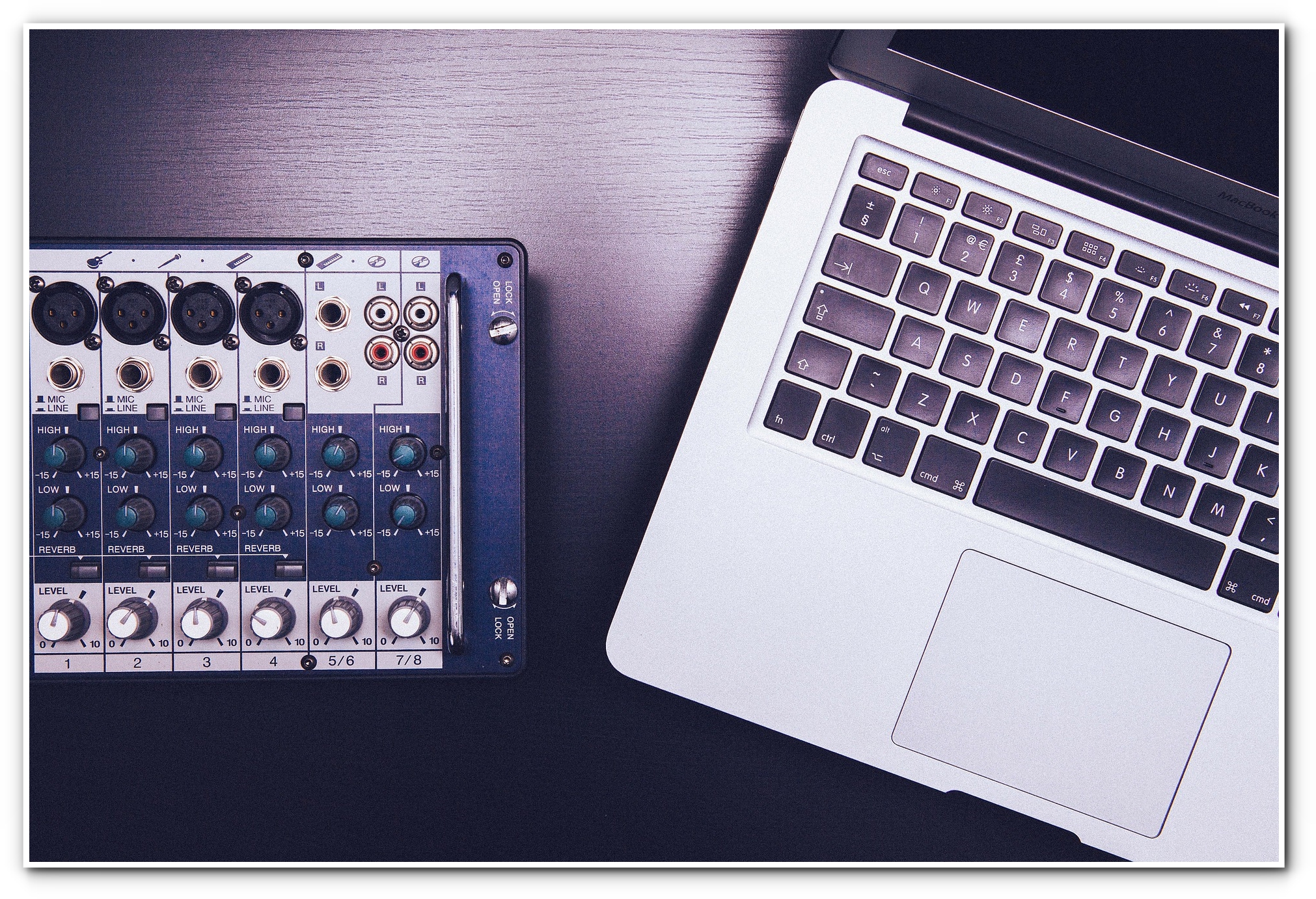 INTERNAL SOUND CARD
No pre-amp needed for single microphone input.
Fastest data transfer rate.
The best option for no latency.
Accepts 3.5mm input/output
EXTERNAL SOUND CARD
Portability
Eliminates any noise produced by your internal sound card.
Great for laptops.
AUDIO INTERFACE DEVICE
Input quantity can vary from 2 to several.
Input type can vary from 1/4, RCA, XLR, MIDI.
Some DAWs make one specifically for use with their product line.
Multiple connectivity options.
Phantom Power.
USB MIXER
Input type can vary from 1/4, RCA, XLR, MIDI.
Multi tracking multiple live instrument tracks.
Phantom Power.
Console like features, faders, panning, basic EQ.
While the quality of an on board or stock sound card is mediocre, whatever option you choose is going to be a step up. All of the options above offer basic quality to home theater surround sound.
Internal may work faster, but it will limit your I/O options and it is another element inside the case that is producing heat.
External options increase not only the number of I/O options but also the type. Fire wire and Thunderbolt connections offer faster data transfer rates than USB connections, but they can be pricey and not all systems are equipped with this type of port.
PRICING & COMPARISON
It's time to hit the store and check out some specs and pricing. Keep in mind, this is your sound. If you find the features you want/need are a little more expensive, save up. Do not settle. The better the quality and clarity, the better your final productions are going to sound to your listeners.
Sound Blaster ZxR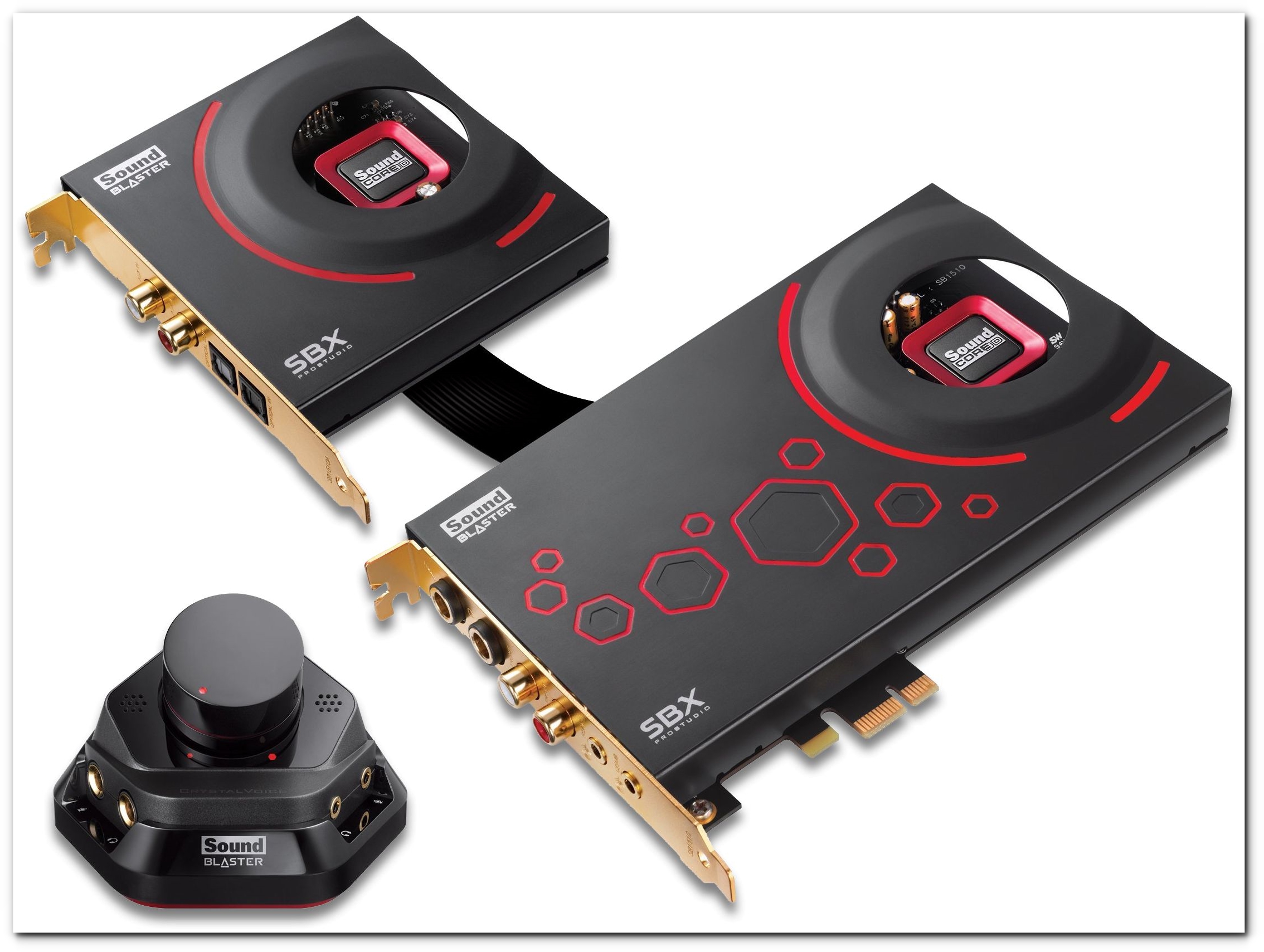 Sound Blaster has been around forever and have always proven to be reliable for both economy and professional level products. This internal sound card comes with the DBPro daughter board that focuses on pristine recording and input. The DBPro board connects via a header on the mainboard and does not require an additional PCIe slot nor additional power. In addition, it comes with an external audio control module. This provides convenient desktop access to the powerful Sound Blaster ZxR 600 ohm, 80mW headphone amp, and a rotary volume knob.
Specs:
Audio Resolution: 24-Bit
Signal to Noise Ratio: 124dB
Playback Quality: 96 to 192kHz
Frequency Response: 10Hz to 88kHz
Input/Output
Main Board
Headphone: 1 Amplified 1/4" jack
Speaker Out: 2 RCA (L / R)
2 3.5mm jacks (Rear, C/Sub)
Microphone In: 1 1/4" jack
Daughter Board
Line In : 2x RCA (L / R)
Optical Out : 1x TOSLINK
Optical In : 1x TOSLINK
Price: $229 USD
Creative Labs Sound Blaster X-Fi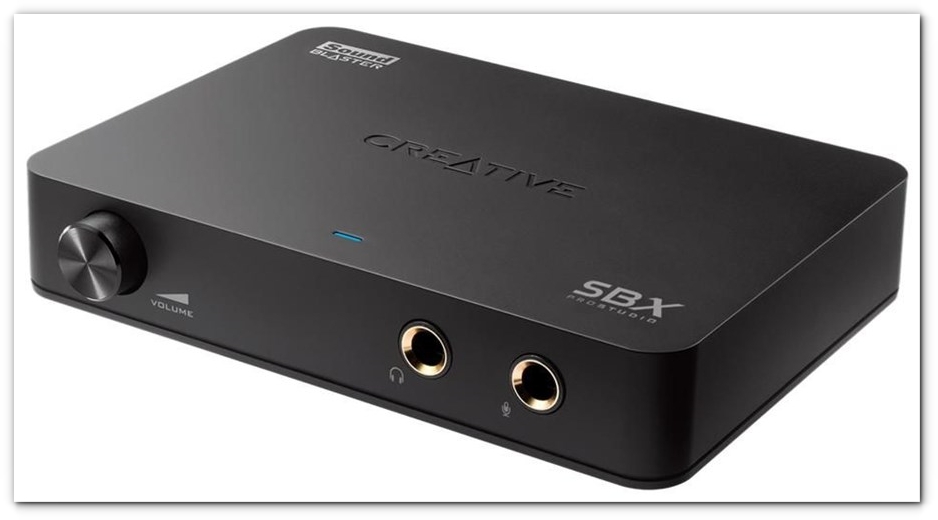 This USB external sound card has a built-in high-quality headphone amp plus an integrated phono preamp for direct recording of your vinyl collection from your turntable. Media Toolbox software lets you record, convert, enhance and organize your digital music easily, while SBX Pro Studio technology brings you the same great audio experience found in live performances, films, and recording studios.
Specs:
Audio Resolution: 24-Bit
Signal to Noise Ratio: 114dB
Playback Quality: 96KHz
Frequency Response: 40Hz to 15kHz
Input/Output
Front
Microphone Input 1/4
Headphone Output 1/4
Back
Input optical stereo RCA
Output optical stereo RCA
Price: $99 USD
Behringer XENYX Q502USB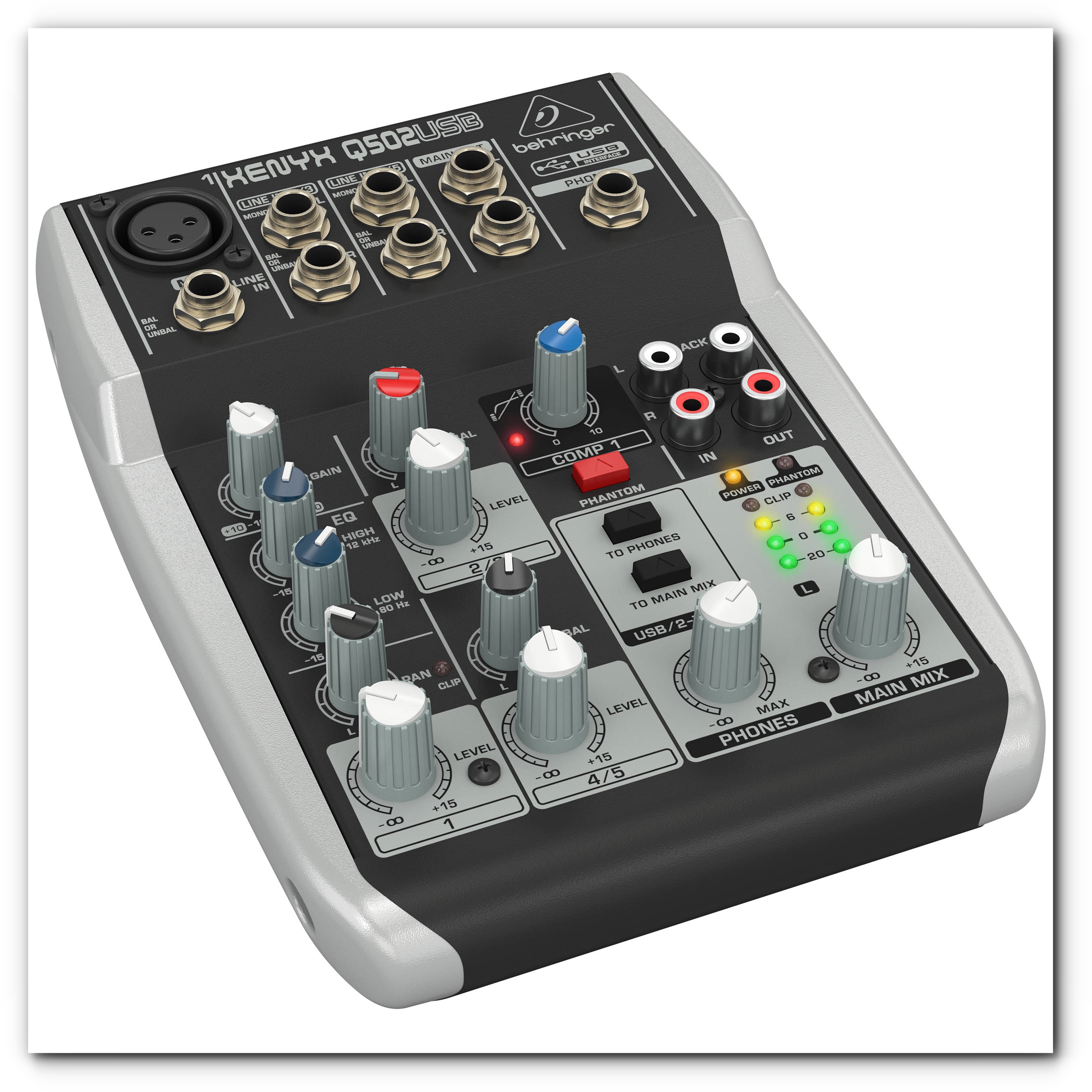 The Xenyx is an analog mixer with an onboard audio interface. Offering 5 inputs, USB connection, a mic preamp, compressor, EQ and Phantom Power, this is a small piece of equipment that offers quite a bit. Perfect for at-home line in recording of vocals and instruments, and makes for a great output mixer for live shows. Also offers a headphone monitor button with independent volume control from the main mix.
Specs:
Audio Resolution: 24-Bit
Dynamic Range: 130 dB
Playback Quality: 96kHz or 24bit/192kHz
Frequency Response: 10Hz to 200 kHz.
Input/Output
1 XLR
1 1/4 Mic input
2 Stereo or 4 Mono 1/4 input
1 Master Stereo 1/4 output
2 Track Stereo RCA input/output
1 1/4 Headphone output
Price: $58 USD
Zoom TAC-2R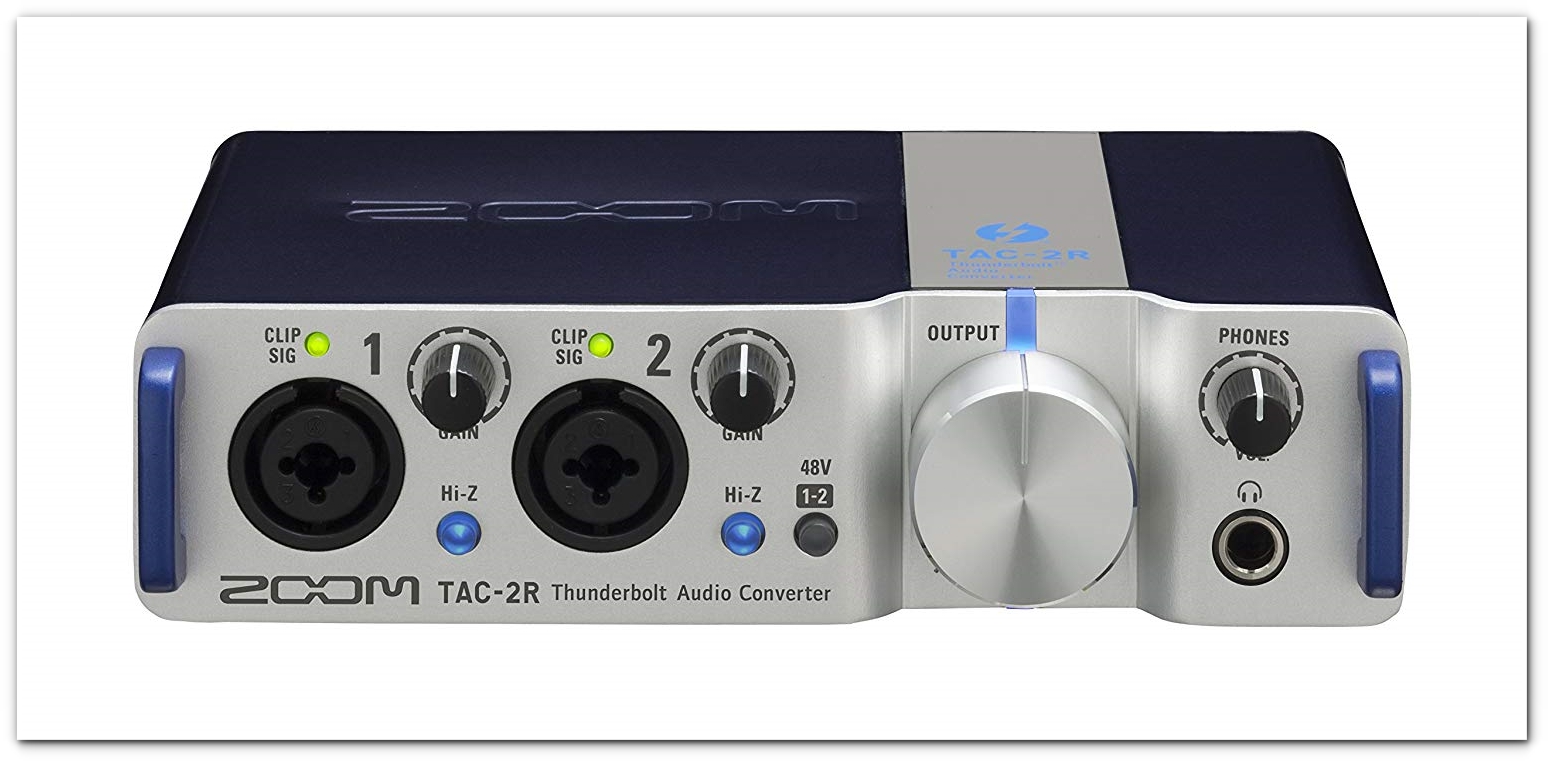 The TAC-2R is a Thunderbolt Audio Interface. The TAC-2R not only records, but it also performs four times upsampling of your signal during the analog-to-digital and the digital-to-analog conversion. So, when the sampling rate is set to 44.1kHz, the TAC-2R is processing the signal at 176.4kHz, which helps minimize aliasing noise and increases clarity. In other words, your audio will sound amazing. No more hunting for an extra power outlet because Thunderbolt is bus-powered from your computer. It even gets enough juice to provide your mics with phantom power.
Specs:
Audio Resolution: 24-Bit
Signal to Noise Ratio: 176.4kHz
Playback Quality: 192kHz
Frequency Response: 40Hz to 15kHz
Input/Output
2 Mic/Line inputs XLR 1/4
2 1/4 outputs
1 1/4 Headphone output
Price: $349 USD
While these examples don't even begin to cover all of the options that are out there, at least now you have the basics and can decide the type of sound card or interface that would work best for you.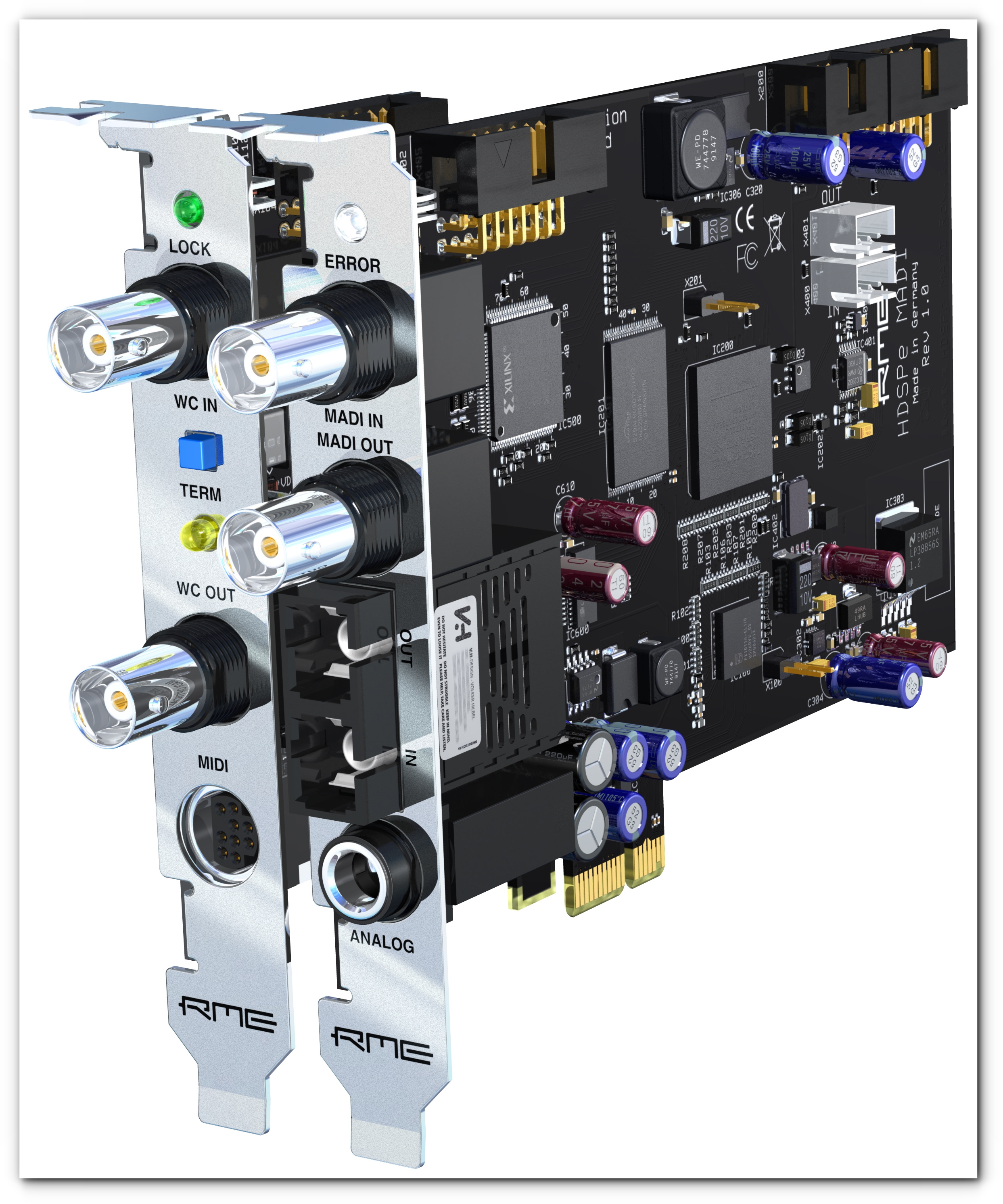 For fun, this last example will show you just the kind of technology that does exist. This is the RME HDSPe MADI. A PCIe Audio Interface that takes full advantage of the MADI format. Offering 64 channels of 24-bit audio at 48kHz, 32 channels at 96kHz, and 16 channels at up to 192kHz. On a powerful PC/Mac three HDSPe MADI can be used in a combination, providing 192 inputs and 192 outputs on a single workstation simultaneously. It can be completely remote controlled. MIDI I/O offers two completely independent MIDI inputs and outputs via breakout cable, and an analog 24-bit/96 kHz line/headphone output with 116 dB dynamic range for direct control of all input and output signals.
Specs:
Audio Resolution: 24-bit
Signal to Noise: 110 dB RMS un-weighted, 113 dB A @ 44.1 kHz
Playback Quality: 192kHz
Frequency Response: 1Hz to 70kHz
Price: $1799 USD