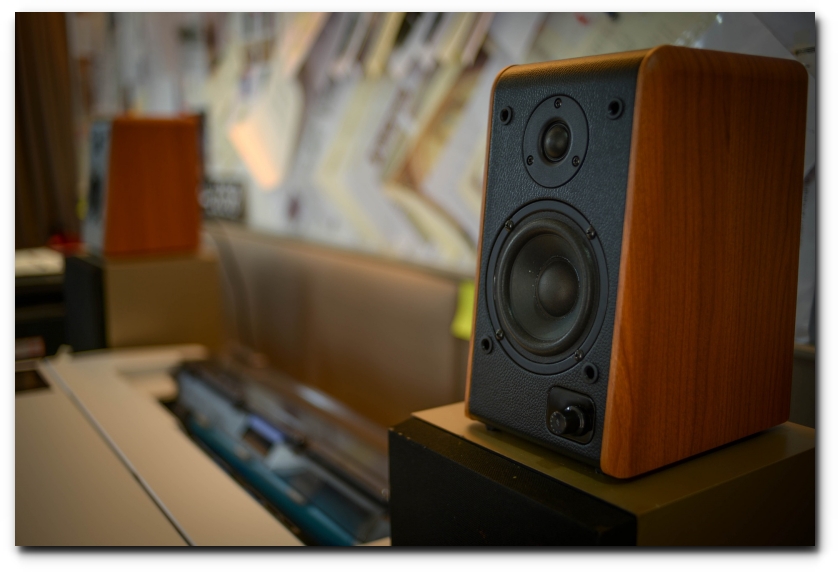 For beginners, professionals, low or high budget, we have found the best studio monitor speakers for electronic music production.
THE DIFFERENCE BETWEEN STUDIO SPEAKERS AND OTHER SPEAKERS
Studio speakers do not have any sound enhancements built in. The reason for studio reference monitor speakers is to deliver true sound that allows you to hear everything accurately, the good and the bad.
Studio speakers are more often than not, active or powered. This means that there is an independent power and amplification system for each speaker.
Studio speakers have a flat frequency response. At no matter what volume you are listening, there will be no changes in bass,highs, or mid frequencies.
Studio speakers are meant to be for close range listening whereas home speakers are designed to fill a living room, be further away or not pointed directly in the direction of your ears.
ENTRY LEVEL BUDGET FRIENDLY STUDIO MONITORS
If you are a beginner or are just short on cash, no problem. There are some great studio monitors out there that will work just fine and are more accurate than the old set of logitech computer speaker setup.
If you can't afford to buy new, also check local websites or used audio shops for these brands. Just remember to bring a reference track and try before you buy.
BEHRINGER 1C-BK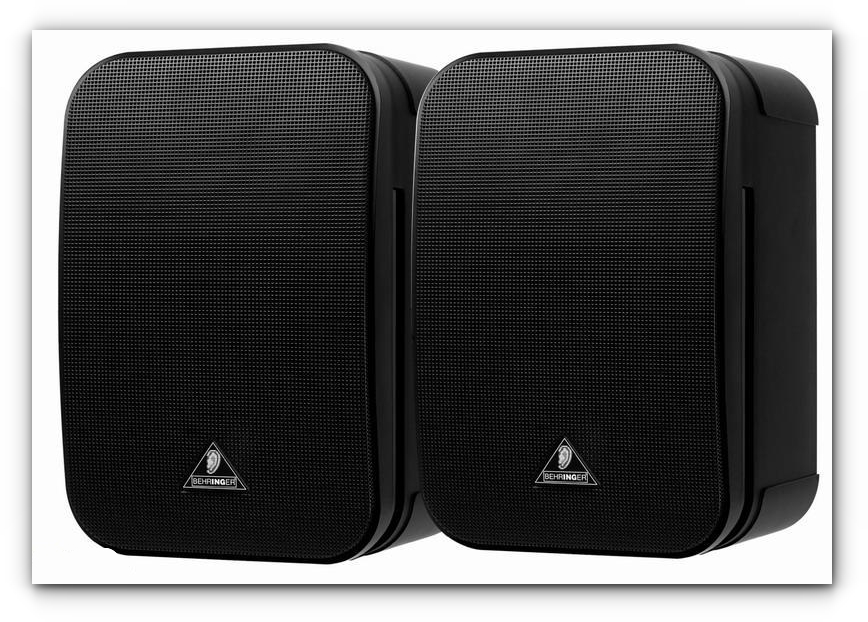 These 100-Watt passive two-way loudspeakers derive their great sound from their powerful 5.5" cellulose cone woofers and high-resolution 0.5" tweeters. The internal crossover provides auto-overload tweeter protection, and the high-precision components and design ensure absolute phase linearity. The result: full-power, ultra-linear frequency response ranging from 60 Hz all the way up to 23 kHz. These have a flat sound profile designed for audio mixing in a home studio. The 1C speakers are passive so they do need power to operate.
Purchase from Amazon, starting at $89.00
ALESIS ELEVATE 5 MKII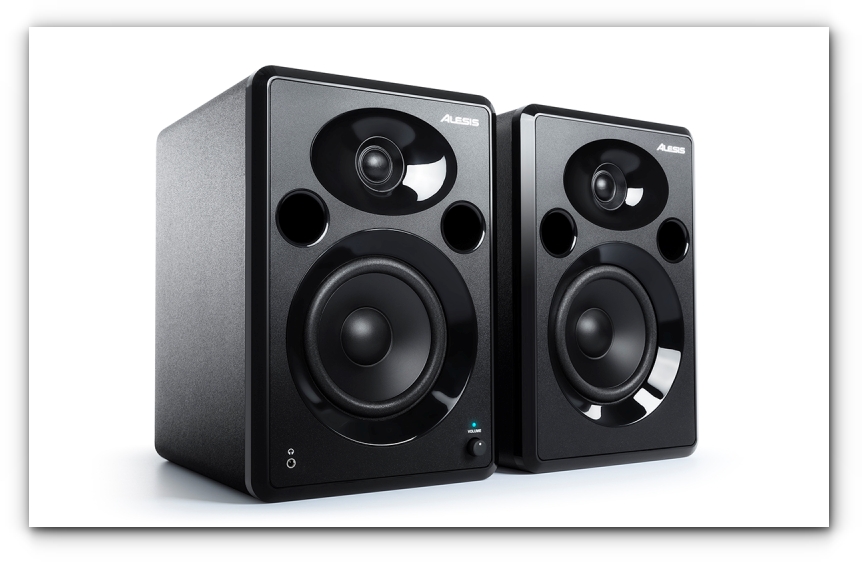 Alesis Elevate 5 studio speakers enable you to listen to mixes, masters and multimedia content with impressive clarity and warm, full sound. Elevate 5 speakers bring out every detail of your sound, unencumbered and crystal clear. Their custom wooden cabinets have a dense construction that provides natural bass. Elevate 5 studio speakers contain powerful, five-inch woofers, crisp, one-inch silk-dome tweeters and dedicated power. Alesis engineers carefully selected and tuned these crucial components to work in concert as a single unit within the custom wood cabinet to deliver full lows, clean highs and a detailed compelling stereo image. Unlike passive speakers, Elevate 5 speakers have a volume knob built right into the front panel for easy control. Packaged in stereo-matched sets, Elevate 5 studio speakers give you everything you need, all in one box.
Purchase from Amazon, starting at $129.00
M-AUDIO AV42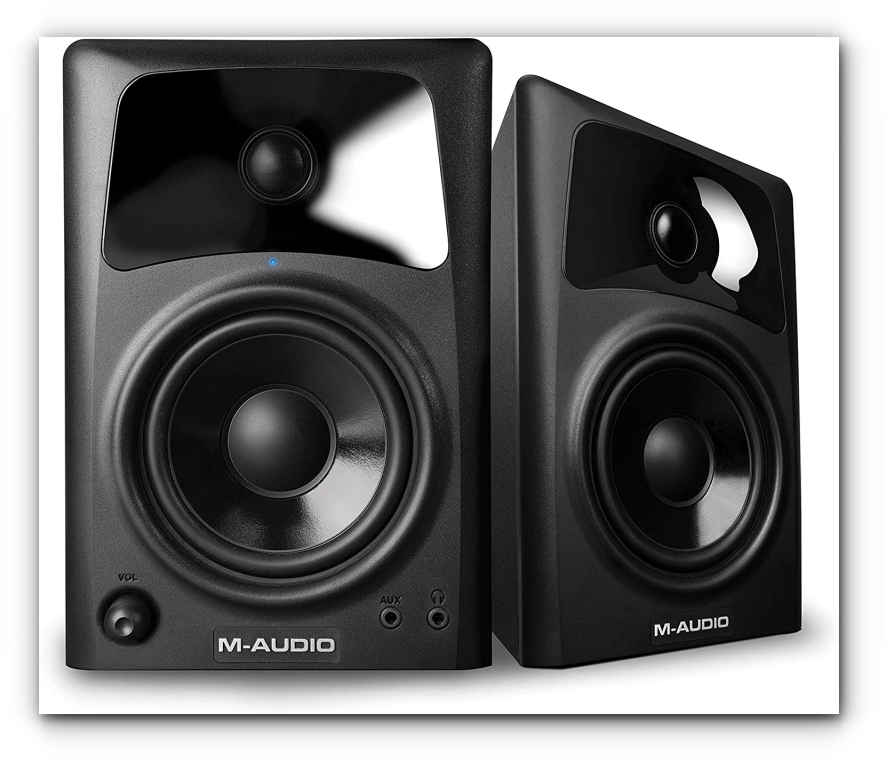 Combining 4-inch polypropylene-coated woofers with 1-inch ferrofluid-cooled silk cone tweeters, M-Audio's AV42 desktop speakers produce defined, punchy bass and clear, pristine highs for an immersive listening experience. Pro-grade components combine with a robust, child- and pet-proof build ensuring the utmost longevity while OptImage IV waveguide improves on OptImage III's already high performance to ensure optimal, uniform listening-area sound coverage.
Purchase from Amazon, starting at $149.00
OVER $199 CLUB
For those who can afford more of an investment the following are our tops pics for the $199 - $350 range.
YAMAHA HS5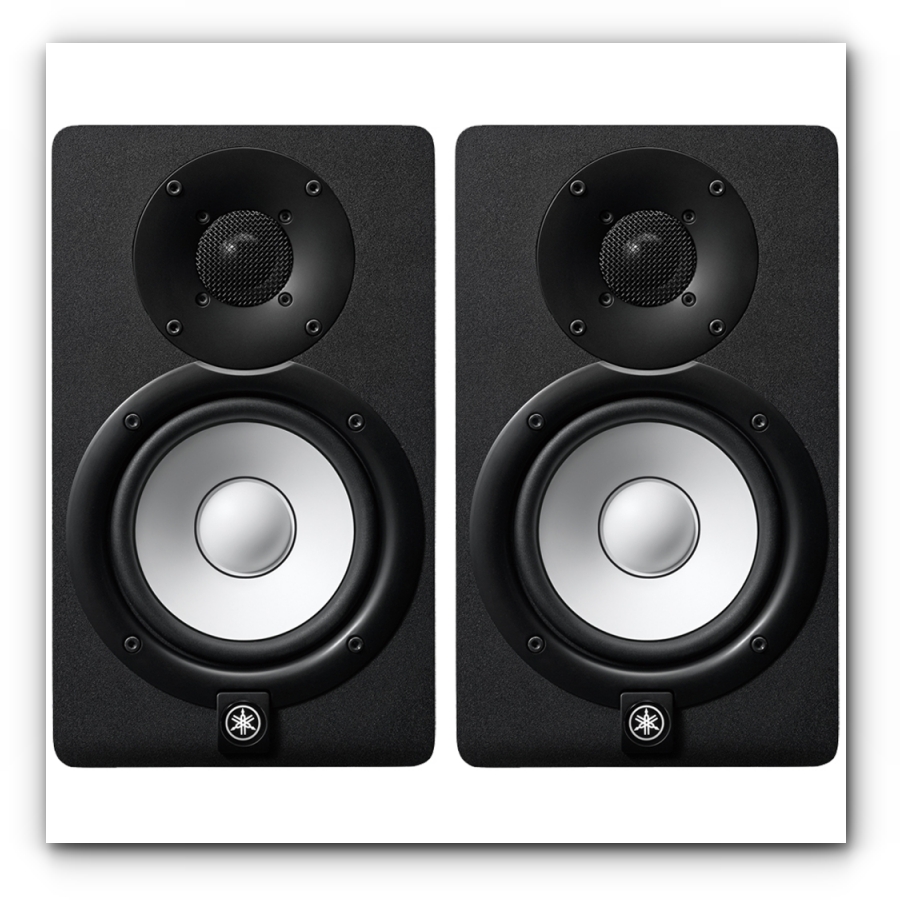 When selecting studio reference monitors for mixing and music production, one consideration takes precedence above all others - accuracy. Beginning with the legendary NS-10M, and continuing with the MSP and previous HS Series, this new lineup shares a design philosophy that emphasizes sonic purity without any coloring or alteration of the original sound. While many manufacturers seek to enhance the sound of their monitors to make them sound impressive, Yamaha studio monitors are designed to achieve the best possible mix by ensuring that the sound from your speakers is true to the original. HS Series nearfield reference monitors are the embodiment of this philosophy, delivering a concise sound image, high resolution, and flat response.
Purchase from Amazon staring at $199.00
JBL 305P MKII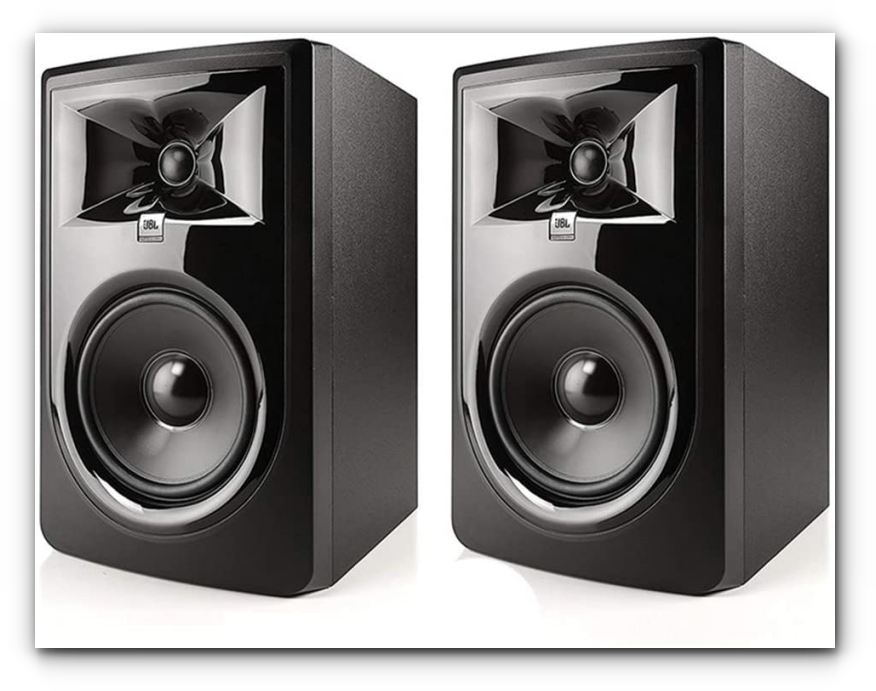 JBL 305P MkII has been equipped with acclaimed 3 Series transducers that now perform even better. Hear deep, accurate and tightly controlled bass, thanks to a long-throw 5" woofer and the patented JBL Slip Stream low-frequency port. Enjoy soaring, immaculately detailed highs, via its woven-composite 1" Neodymium tweeter.
Purchase from Amazon, starting at $327.80
KRK RP5 ROKIT 5 G4
KRK's Rokit Generation 4 utilizes matching drivers made with Kevlar to ensure the same sonic integrity across all frequencies and minimizes listening fatigue. DSP-driven Room Tuning with 25 visual Graphic EQ settings helps minimize and correct problems in your acoustic environment. Works with the KRK App to set up your room for better monitoring and faster mixing. The custom-designed efficient Class D power amplifier drives the speakers evenly at reduced operating temperatures and improves audio integrity. The built-in Brick Wall Limiter automatically engages at maximum amp-level to maintain a balanced sound, protect the system, and offer better and wider dynamics. It features a low resonance enclosure for minimal distortion and colorization. A high density Iso-foam pad decouples the speaker from the surface to minimize vibration transmission for improved clarity.
Purchase from Amazon, starting at $354.
WHAT BUDGET?
For those who want total professional quality and whose budget knows no end, we recommend Neumann. Not only do they make one of the best condenser microphones ever to exist, they also know a thing or two about great sounding studio monitors.
NEUMANN KH 120A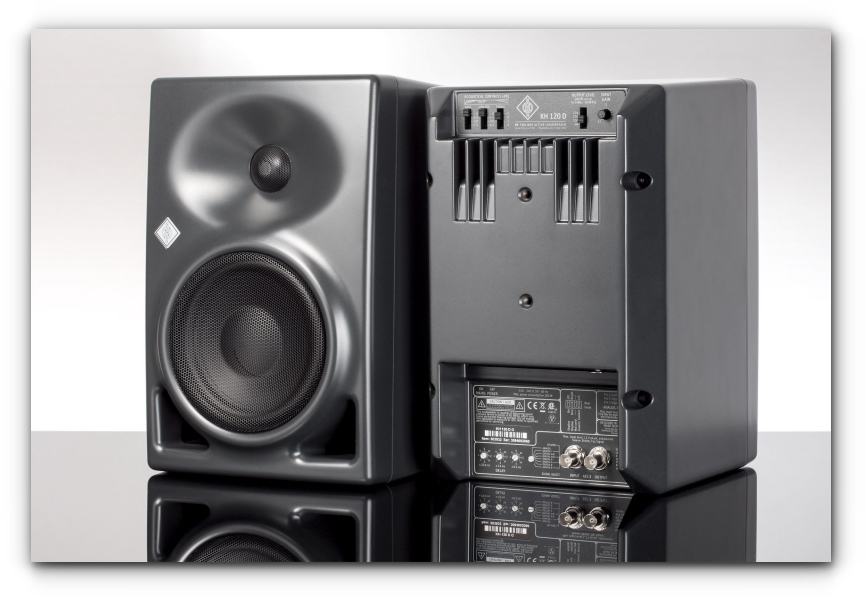 Neumann is excited to introduce the first product in the new line of Neumann Studio Monitors: the KH 120. The KH 120 is a compact studio monitor designed for use as a near-field loudspeaker or as a rear loudspeaker in larger multi-channel systems. The latest acoustic and electronic simulation and measurement technologies we used in the development of the KH 120 to ensure reference quality performance. The KH 120 features a Mathematically Modeled Dispersion waveguide (MMD) to deliver smooth off axis response. A four position bass, low-mid and treble acoustical controls allows the user to tailor the output appropriate to the listening environment. Wide range input gain and output level controls offer an easy interface with a variety of signal sources. The KH 120's is bi-amplified using class-AB analog amplifiers delivering exceptional transient response, dynamic range and overall output level.
Purchase from Amazon, starting at $699.
THE BOTTOM LINE
Keep in mind that higher wattage doesn't always mean a better sound. Make sure the frequency response range is at least within the range of human hearing 20 to 20,000 Hz. Always test things out before you buy and consider your environment may not be the same as the one you are testing them out in. Be on the lookout for speakers that respond quickly and accurately.