Here at W. A. Production, we not only want to give you the best audio sample packs, plugins, and other producer resources, we want to inform you about what is happening in the EDM scene, worldwide.
We begin in China and discover how real censorship really is, chat with event promoter Tommy Hendriks about this years Yin Yang Music Festival and discover some amazing local EDM producers.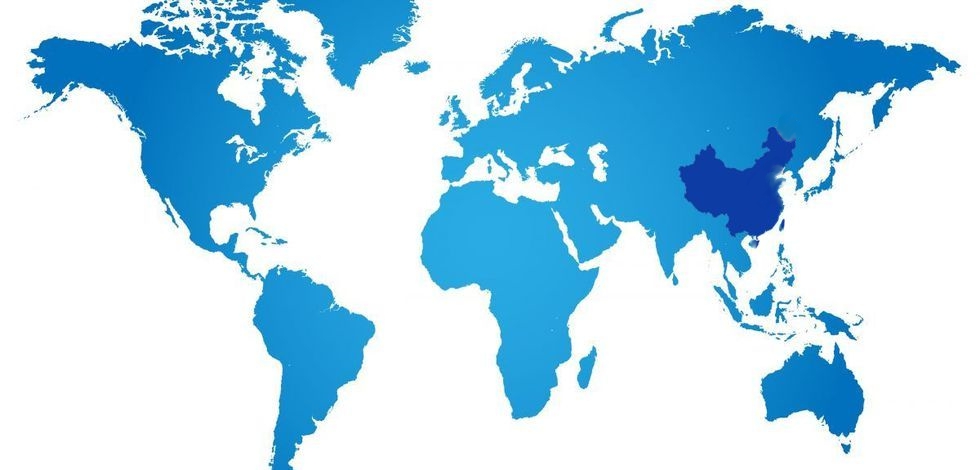 The EDM scene in China has faced strong opposition. Censorship in China was a very common practice. Restricting internet content, known as "The Great Firewall of China". They have also been known to not approve work visa's for performance artists and restrict access to anything that isn't in line with a good moral value.
The government also made it nearly impossible to open a club or music venue. The scene was kept very low key and underground throughout the '90s and early 2000's. Then, due to an unlicensed club fire that resulted in an astounding number of casualties, the Chinese government made crackdowns a top priority. If you wanted to operate as a nightclub, the rates to rent a space, the government, and police raids make it extremely difficult to sustain.
It took some time, determination and dedication but China has quickly become an EDM hot spot over the past few years.
A huge event that really shows the changes occurring in China is the Yin Yang Music Festival. Starting June 7th and ending on June 9th. This massive electronic festival takes place at The Jinshanling section of the Great Wall. It really doesn't get any better than that.
The masterminds behind this amazing festival are Rainbow Goa and Tommy Hendricks. This is the 6th event they have held at this location. When I asked Tommy about the challenges involved with putting on an event at this location he had this to say:
"The biggest challenge is making sure everyone respects The Great Wall. It's almost impossible to get to do a festival on top of The Great Wall. The Great Wall is like the holy ground in China with special laws. However, some people behave rudely after they have had a few drinks. They make a mess and create problems, fall, fight, pee. All of this behavior is not allowed in China, of course, however, on The Great Wall, this kind of behavior of stupid people can cost us our festival license. So every year we need to be very sharp to stop these kinds of problems immediately after they start so the police can see it. It is very annoying to have this kind of guest. I wish they wouldn't even buy a ticket since they don't care about the pressure we face as an organization. 1 or 2 people can ruin it for the entire festival."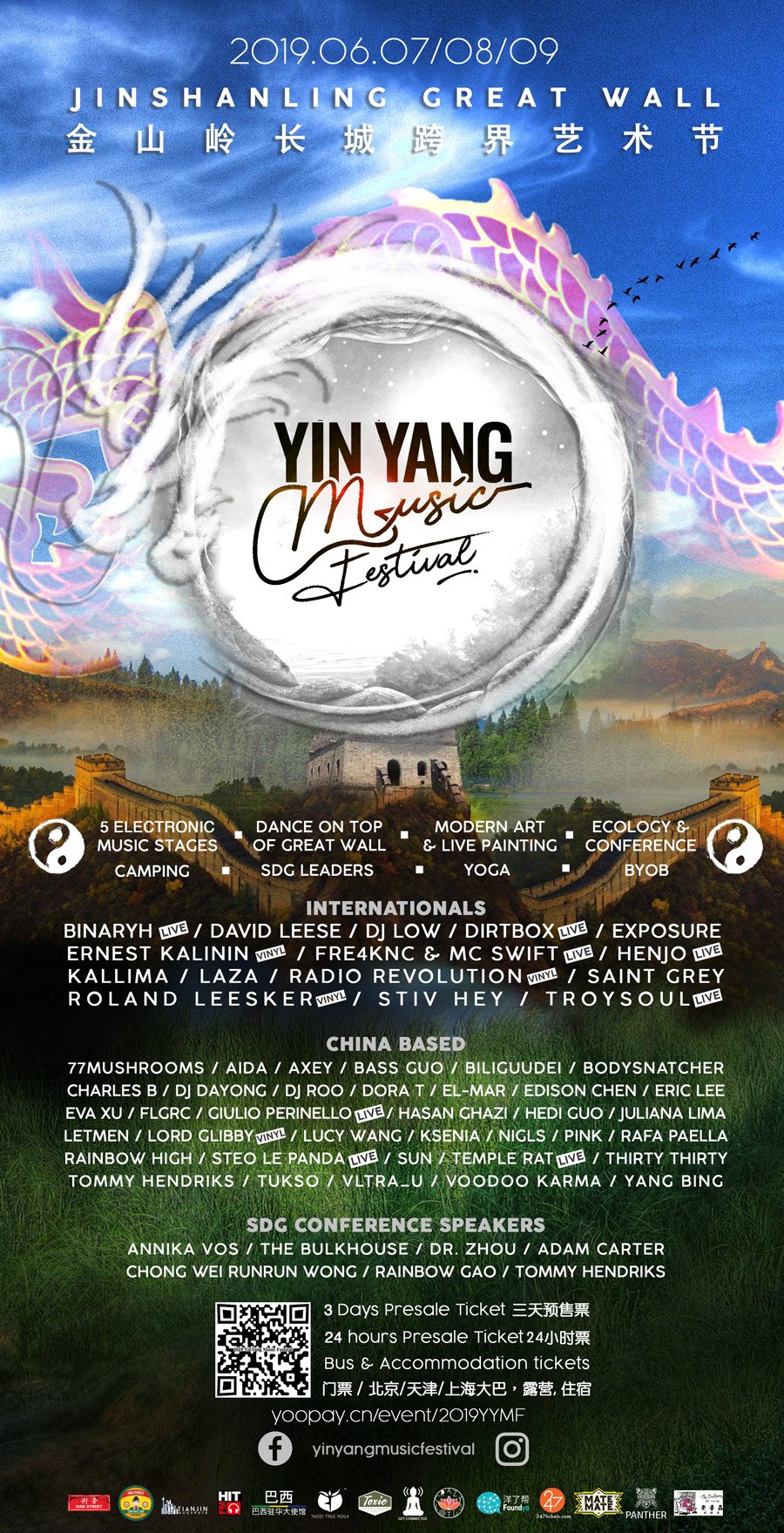 For those who don't know, Tommy Hendricks and (Tianjin) Rainbow Gao, based out of Shanghai, ran The Mansion, a club, and cultural center prior to the YinYang Music Festival. Tommy is also the Founder of China Pavilion, went on his first European tour as a DJ in 2016 and has been active in the electronic music scene since 2013. He states due to his busy schedule in all of these endeavors he, unfortunately, does not have the time "to focus on my artistic career."
Tommy says that his interest in being an event promoter came from "seeing too little youth in China not interested in music culture. Most of the Chinese youth are too focused on getting rich and don't learn how to spend quality free time. They need to loosen up a bit, have fun and enjoy good music."
And there will be no shortage of good music. "3 stages will be located on top of The Great Wall and the main stage with 3D visual mapping at the feet of the Great Wall castle" as "DJ's spin beautiful music".
Setting this festival apart from the others are enjoying the "mysticism of The Great Wall. Transcending the line between the modern and the ancient." There will also be camping, yoga, live painting, conference speakers and at the heart of the festival, sustainability. "This year like last year we will donate 30RMB per sold ticket to our self-founded sustainability project titled Yin Yang City Forest for youth in Tianjin. With last years donations we planted 7,000 trees", says Tommy.
Tommy has conquered the scene and the community of China by bringing together electronic music and conservation efforts. You will find all the links about the Yin Yang Music Festival, Yin Yang City Forest, and Tommy's website at the end of this article.
EDM IN CHINA
The brand of electronic music coming out of China is extremely diverse. Some have an obvious western influence while some are easily recognized by the implementation of traditional oriental instruments. The biggest overtone shared by 90% of the producers is intensity. Check out what the EDM scene in China has to offer by checking out the artist links below.
BASS GUO
A bassist, lead singer, and DJ. Bass Guo is no stranger to the music scene. His sets are often filled with techno, acid house, and tech house.
Check out Bass Guo HERE
Hyph11E
A female producer delivering bass heavy dystopic music that is both energetic and harsh.
Check out Hyph11E HERE
SCINTII
You will often find her paired with Hyph11E. They are both a part of genome6.66mbp, a label dedicated to the Shanghai underground scene. Scintii actually inserts her own vocals as she cranks out some serious bass and rather complex drum patterns.
Check out Scintii HERE
From Merry Records, based in Beijing, have released DONG2. The concept came about when producers 33EMYBW and GOOOOOSE visited a village in rural Guizhou to learn the polyphonic singing style of the Dong (or Kam) people there. DONG2 is an intrinsically experimental production with dance floor appeal.
Check it out HERE
ZEAN
An artist of Shanghai label Push & Pull unleashes a well put together and highly interesting blend of grime, trap and hip hop that regularly features samples from kung fu films and Chinese wind instruments. ZEAN has had singles released on the American label Liquid Amber as well as Beijing's Do Hits.
Check out Zean HERE
And there you have it. The State of the Scene in China. If you are a producer from China and want to help spread the word about the sounds of your local scene, please post a link to your audio in the comment section below.
LINKS
Tommy Hendriks Official Home Page - Click HERE
Yin Yang Music Festival Facebook Page - Click HERE
News feature on Yin Yang City Forest - Click HERE