Trap and Hip Hop have been dominating a fair portion of modern music charts over the last decade. The production end of these genres has exploded in both creativity and competition, and the bar for stellar production is being raised daily. One of the most crucial elements of a strong trap or hip-hop production is a strong, characterful bass tone. For the most part, hip hop and trap require punch and bounce, neither of which can happen without solid bass. We've compiled a list of the best bass-focused VST's you can use to seriously enhance your productions.

Many producers and engineers tend to drop the name Rob Papen when discussing synthesis and plugin design. The Sub Boom Bass is one of the more overlooked VST's on the market, but it fits itself very neatly into the sonic palette of trap and hip hop. At first look, the GUI can seem very intimidating and should take some time and effort to fully master.
Sub Boom Bass models itself on classic analog modular synthesis. Most of the sounds generated on this plugin are quite warm and range from smooth and lush to thick and gritty. .. The interface offers two highly customizable oscillators with a handful of fundamental waveforms to choose between. Added to the chain is a filter for some enhanced sound sculpting, as well as a simple amplitude control unit that lets you adjust the attack, decay, release, and control parameters of your output.
In addition to the sound-shaping controls listed above, Sub Boom Bass also features a step sequencer that lets you program, loop, and modulate bass progressions. This is pretty handy for live performances, or for coming up with ideas on the fly. While Sub Boom Bass 2 might not be the quickest tool for creating bass tones, it certainly is reliable and offers more than enough sonic options to hours of creativity.

Sub lab has fast become one of the absolute must-have plugins for trap and hip hop production. It features an incredibly intuitive user interface with easy-to-use controls. Sub lab operates with three layers of audio that you can treat separately to create your own signature 808.
Synth - A single oscillator that users can customize with envelope controls and a built-in filter.
Sample - This layer generates the knock of your 808 and is usually composed of some type of kick drum. Sub lab gives users a generous selection of kick samples to try and also lets you load up your own samples for a more personalized creation.
X-Sub - X-Sub introduces an oscillator that focuses on the sub and subharmonic frequencies of the 808. This layer is what gives Sub lab a really strong edge in the 808 and sub-design field.
Sub lab also includes a few simple but handy color and shaping tools to further refine your 808. Users have access to an onboard compressor, a distortion unit, and a stereo widening function for accurate stereo imaging. The stock presets in this plugin come with signature samples from some of the biggest names in hip hop from Tyler The Creator to Pusha-T and Kendrick Lamar.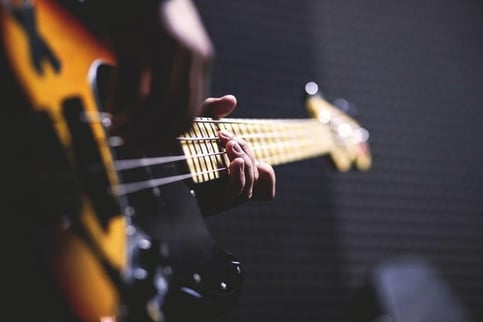 While creating a solid bassline from scratch is essential to building a great hip-hop track, at times you may also need a tool for bass mixing. You may also just want to treat an already existing bassline, such as an audio sample from a track. For these instances, I highly recommend Fundamental Bass by WA Production
This handy device focuses on shaping and coloring your bass to help obtain a better overall mix. The interface features a handful of simple controls that are easy to navigate and utilize. Users can choose to compress, flatten, widen or balance their bass's overall response to help enhance dynamic and add or reduce punch. The device also features a clipper that can be used as a limiter to catch any unwanted peaks while processing.
The plugin's primary benefit is the split processing power, which enables you to treat each half of your signal's frequency response independently. For example, you could choose to make your upper harmonics distorted and abrasive, while keeping your low and sub-end warm and smooth. This kind of layering is not common in mixing devices and puts Fundamental Bass high up on the list of must-have plugins for superior bass mixing and processing.
Arturia has some of the best synth modeling plugins on the market today, and the Mini V emulation is probably one of their finest releases to date. The plugin is a stunning tribute to the original Mini MG invented by Bob Moog, long considered the Godfather of modern synthesis. You'll find a lot of these bass sounds in popular 70's reggae, soul R7B and funk music - a lot of which was subsequently sampled for 90's hip hop.
\The Mini V generates sound using three voltage-controlled oscillators - with 5 waveforms to choose from for sound sculpting. Users can blend in an LFO for extra modulation and fine-tune their overall sound using the onboard ADSR faders. There is an additional noise generator that you can blend in for some added character and a mixer for optimum volume control.
It can be easy to underestimate the power of the mini V with its basic set of controls, but its real value lies in the outstanding sound quality and preset library. The library comes loaded with sounds trigger-ready for hip-hop production. Users can also save any sounds they create for future use.
Final Thoughts
Bass is a mixing and composition element that tends to be easily neglected. However, most successful producers understand the value of spending time, effort, and sometimes money on building a reliable skillset and toolkit for high-quality bass design. The tools listed above should give most users a decent head start in creating and mixing a solid, clear, and impactful bassline for any trap or hip-hop project.