Top Guitar VSTs of 2022
Modern music production has completely reshaped the way that we approach recording or composing instrumentation, and no more so than with the guitar. There has been a noticeable rise in the use of guitar-based plugins since the turn of the millennium. Guitar VST's give producers a much broader scope of tonal options than investing in analog gear, and for just a fraction of the price. We've compiled a list of some of this year's greatest guitar VSTs for your reading pleasure.

Ik Multimedia Amplitube 5
Amplitube is one of the most in-depth guitar rig emulators on the market today. The plugin works as a standalone, as well as with most popular DAW's. Amplitube comes with emulations of every fundamental stage of the guitar recording chain. Below is a rundown of each of Amplitube primary features:
Over 400 gear models, including amplifiers, cabs, stompboxes, rack units, and microphones. There are some stunningly accurate emulations included in the device bundle and each gear item is highly customizable.
A mixer and configurable signal chain that offers you full control of your preferred guitar setups. Presets can also be saved and arranged for quick access during performances.
A simple but very fun looper pedal for looping ideas or for use during live performances.
An integrated DAW for basic composition on the go.

Some of the most recognizable names in guitar gear all feature in Amplitube, from Fender and Orange to Boss and Neumann. The GUI is also wonderfully user-friendly and attractive. Well worth the asking price.

Find out more here.
Waves GTR 3 Tool Rack
The Waves team is well known for creating plugins that are both high quality and relatively CPU friendly. Their GTR 3 Bundle is a prime example of their straightforward approach to guitar rig emulation. Users can select from between 30 amp models, 35 cab models, and 25 stompboxes for both guitar and bass guitar setups. There are emulations of gear by Marshall, Fender, Mesa Boogie, and a few other exciting names included in the GTR 3 bundle.
One of the most useful features of the GTR 3 setup is that you can use every element in the signal chain as an independent device. For example, you could use your stompboxes exclusively to treat some synths or send a vocal take through the rack tool for some extra saturation. This separation function is a dream for saving precious processing during live performances or large mixdown sessions.
Find out more here.

Native Instruments Guitar Rig 6
Guitar Rig 6 is part of the dizzying array of amazing plugins created by audio kings Native Instruments. While the plugin may not carry the weight of flashy brand partnerships, its quality is good enough to compete with the very best in guitar gear emulations. The latest installment of this plugin features a colorful and updated GUI that even beginners should find easy to navigate. Users should take very little time mastering the well-organized dropdown menus and tabs.
Quite possibly the most alluring parts of Guitar Rig 6 are the effects units. There's a generous selection of effects units on hand with this plugin. These all range from traditional and vintage units to some of Native Instruments' signature modular creations like Raum and Replika. The team has even included a set of live effects from their Traktor DJ software. The plugin also features some presets designed by Artists like Zola Jesus, and legends Vernon Reid and Eric Krasno. Needless to say, Guitar Rig 6 offers users a chance to craft some truly unique sounds with their guitars.
Find out more here.
Goodhertz
Goodhertz is a relatively new software company based in Los Angeles. They have fast become one of the underground darlings of guitar emulation software thanks to their colorful and innovative approach to design. The Goodhertz series is an impressive list of guitar effects units that are perfect for building custom device chains. Without giving away too much, here's a rundown of some of the highlights in the Goodhertz bundle:
Tone Control - A simple but highly effective EQ for sculpting your guitar tone before adding any other effects.
Vulf Compressor - Created in partnership with Vulfpeck's Cory Wong, this compressor is perfect for enhancing your guitar's dry signal. The presets range from creamy and rich to harsh and attack-driven for more aggressive playing.
Wow, Control - Wow uses an oscillator to generate all the best parts of tape modulation for guitar. Modulations can be dialed in manually or synced to BPM and come with a handful of adjustable parameters.
Tube - Tube combines the saturation qualities of tube amplification and tape to create a hybrid coloring tool. This effect works very alongside wow for dreamy lo-fi atmospheres.
Mega Verb - A wonderfully versatile reverb unit with immense shaping controls including filters, gates, stereo imaging, and sidechain options.
Each of the Goodhertz plugins is great individually, but you get the most value for money by purchasing the entire bundle.
FInd out more here.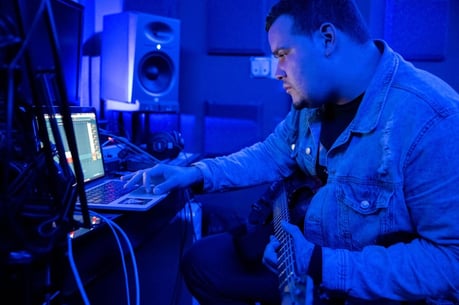 Ample Guitar
For producers or songwriters that wish to write guitar parts but can't actually play the instrument, I highly recommend Ample Sounds list of Guitar emulators. The entire catalog of sounds is an impressive list of models of guitars including traditional Acoustic, Electric, and bass, as well as a Ukulele and Banjo. The Bass version of this plugin has been heavily popularized by master producers Disclosure.
It's hard to believe that the sounds that come from these plugins are played with midi instruments. Each emulation is a scarily impressive representation of real instruments. Users can take their compositions a step further by shaping every expression of their arrangement. There are some vital hand movements and inflictions included in the expression library that severely enhance the life-like quality that Ample Guitar generates. The plugin is also perfect for guitar players that want to quickly tabulate and store any creative ideas should there not be a guitar on hand.
Find out more here.