The modern age has allowed so many producers to create world-class records from the comfort of their homes. Even before the digital age, courageous creators have managed to produce and record timeless classics with minimal equipment. One of the most challenging areas of home recording for artists to tackle is vocals. In this article, we're going to run through some basic guidelines for recording quality vocal takes at home. We'll also show you some plugins that are exceptionally handy for enhancing your vocal recordings.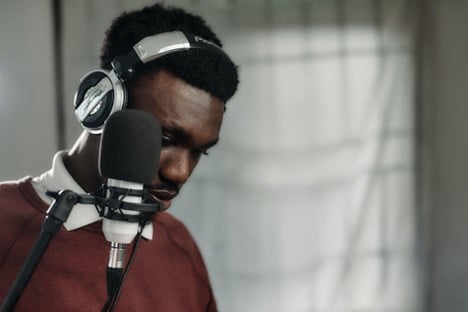 Tips For Better Vocal Recordings
Any artist that wants to capture great vocal recordings from their home studio has to run through a short checklist of essentials when preparing to record. Recording great vocal takes will come down to a combination of three main factors:
The Recording Environment
Most professional recording studios make use of a vocal booth to capture an artist's voice in complete isolation. You can recreate this concept at home with some simple DIY creations. A closet or pantry makes a great replacement for a vocal booth. Alternatively, you can place a microphone close to a wall that has been padded with pillows, blankets, or even a mattress.
The general idea behind these structures is to create a chamber that is free from reflections. You also want to ensure that the room where you record vocals does not have any electronic or other passive background noise as this can be picked up in your microphone while recording.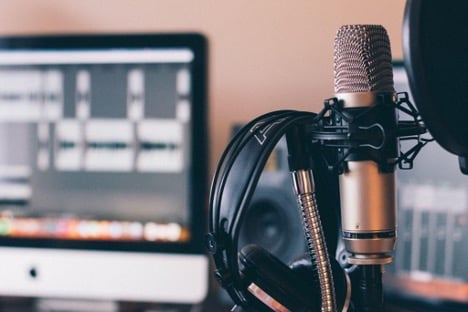 The Recording Equipment
Your choice of recording equipment will largely determine the overall quality of your vocal recordings. So many producers underestimate the importance of using quality gear to capture their recordings, and choose instead to ''treat it in post''. While there is a large list of icing solutions on hand in the current era, most seasoned recording veterans will encourage you to capture the audio source well first, to save you any unanticipated mixing issues in the future.
When recording vocals at home, try to ensure that you have the following gear items as a basic requirement.
A reasonable condenser mic, with mic cable that is free from any crackle, hiss, or pops.
A reliable soundcard and (if possible) preamp for minimal latency and strong audio capture.
A pop-shield or filter to help smoothen out any harsh vocal inflections.
A secondary microphone is placed away from the vocalist for spatial dynamics.
Noise-canceling headphones to prevent audio bleeding into the microphone while the vocalist records.
The Recording Artist
Once your recording environment and equipment have been quality checked, you're going to want to ensure that you get the best possible recordings from your vocalist. Encourage your vocalist to warm up thoroughly prior to recording, and make sure that they have a strong understanding of their vocal parts. You also want to create a comfortable atmosphere in your home studio, and surround the vocalist with things that inspire or uplift them. Great vocal recordings often require an artist to tap into the vulnerability. The more at home a vocalist feels while recording, the more candid and sincere their vocal takes will feel.
Below are some of the year's most useful plugins for recording vocals at home. These plugins can be used across most genres and styles of music.
The Vocal Splitter by WA Production is probably one of the best kept secrets in modern vocal processing. The device is perfect for adding a natural sounding weight and thickness to single and group vocals. Users can turn mono signals into stereo or create a doubling effect on single vocal takes. The plugin includes a few handy add-ons such as a filter for dialing in frequency ranges for processing, and a lush sounding drive for extra coloring. The Vocal Splitter comes with 5 diverse presets that work well over a wide range of vocal styles - male and female, and users can also save their own settings for later use. Vocal Splitter is exceptionally light on CPU, and should take most users a few minutes to learn the GUI.
The DeEsser by Waves Audio is simple but highly effective that is perfect for cleaning up any harsh high-end frequencies on your vocal takes. Vocalists often create abrasive tones with certain phrases, especially with the use of excessive ''s'' or other percussive syllables. The DeEsser creates a subtle compression on the mid to high-end frequency response of your signal. The DeEsser is very CPU-friendly, which makes it a wonderful addition to any vocal effects rack you might want to build.
The Autotune Unlimited suite by Antares is quite possibly one of the most widely used vocal plugin collections in modern music production. Antares has done an amazing job of creating an autotuning device that still leaves a natural-sounding vocal tone. The suite offers more than just amazing auto-tune capabilities. The Autotune Pro and All-Access both come with a healthy selection of onboard effects that can turn your vocal take into a more synthetic instrument. Antares has also collaborated with heavy-hitting producers like Mike Dean to create a wide range of stunning presets that producers can use as a quick starting point when looking for their preferred vocal tones.
A very common issue that producers and engineers deal with when recording vocals at home is excess noise. Studio vocal booths do an incredible job of isolating any electrical or room noise from vocal recordings, and this can be tough to recreate from a home studio setup. The Fabfilter Pro-G is a noise gate that creates a seamless distinct buffer between your vocal signal and any surrounding noise. The plugin allows you to deal in the exact DB level at which you want the gate to engage, which means you won't lose any important information or dynamic range while recording. When used in conjunction with a De-Esser and some EQ, the Pro-G is an almost irreplaceable tool for capturing clean and clear vocal recordings.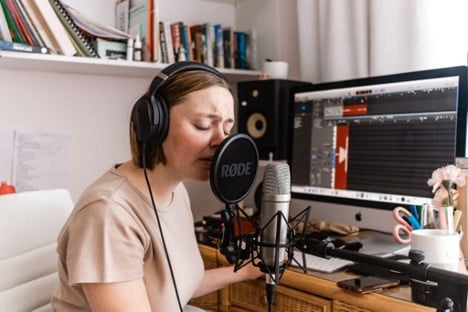 Final Thoughts
You'd be surprised to find out how many chart-topping songs consist of vocal recordings that were done from a home studio setup. While artists should always strive to record their songs in a professional studio environment, they can rest assured that the same quality can be achieved from home studio setups. The above-listed tips and tools should set most producers and engineers up with a safe foundation for developing their home vocal recordings. With enough practice and experimentation, you should be able to use these aids to capture excellent vocal recordings on the go or from your home studio setup.