Mid/Side processing is getting its popularity in electronic music production scene at the moment! When we are mixing our music, we want it to be full and rich which having a wide sounding mix. A mix with a wider stereo field tends to sound "better' to the listeners.
One of the best ways to achieve the wide mix is through Mid/Side processing. The Mid frequency is the mono signal or the center of a stereo image. The Side frequency is the stereo signal or the side of a stereo image.
However, buying a 3rd party Mid/Side processing plug-in can be costly because a lot of programming is needed to be done to fully develop a decent mid/side processing plug-in. Therefore, we are going to teach you how to create one yourself using Patcher in FL Studio.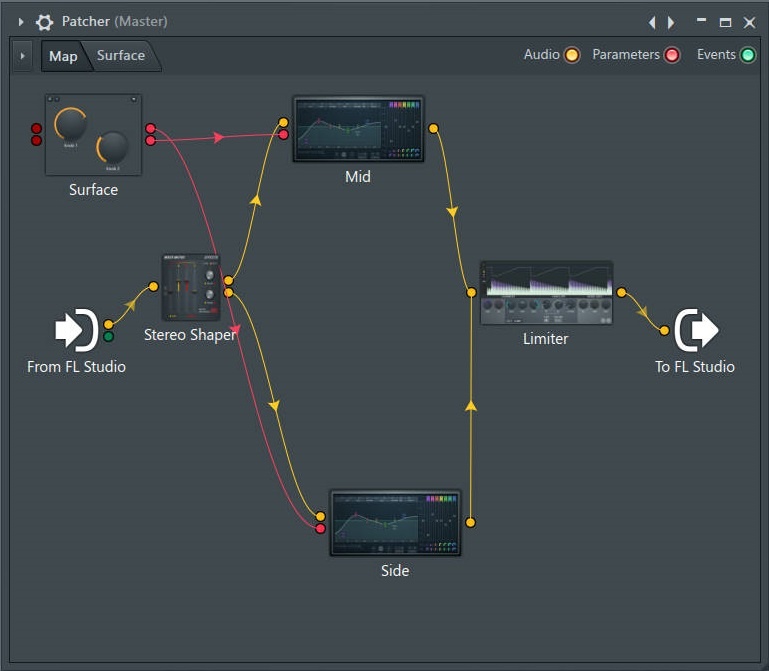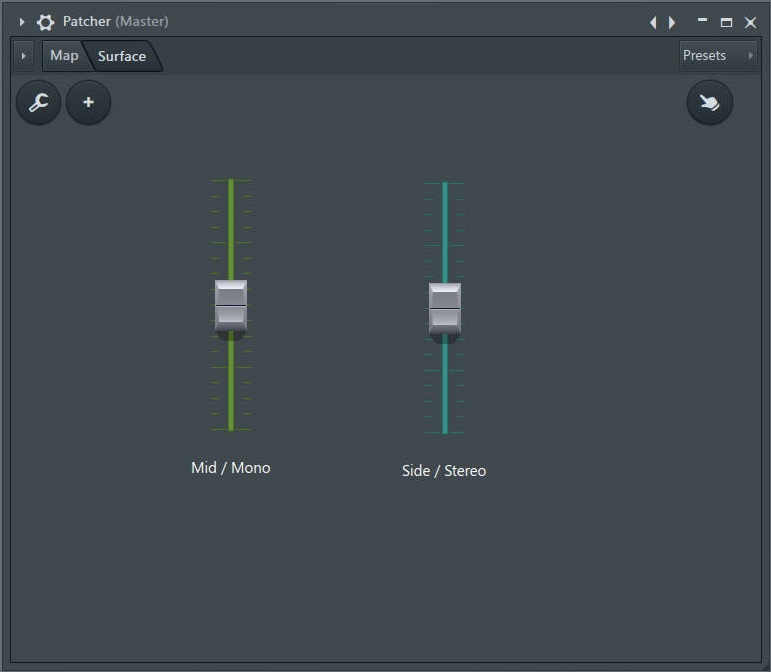 An overview of what we're going to do within Patcher. This processing unit includes Mid/Side equalizer and Mid/Side gain leveling function. No 3rd party plug-in is needed to create this awesome patch using Patcher.
Let's get started!
Steps: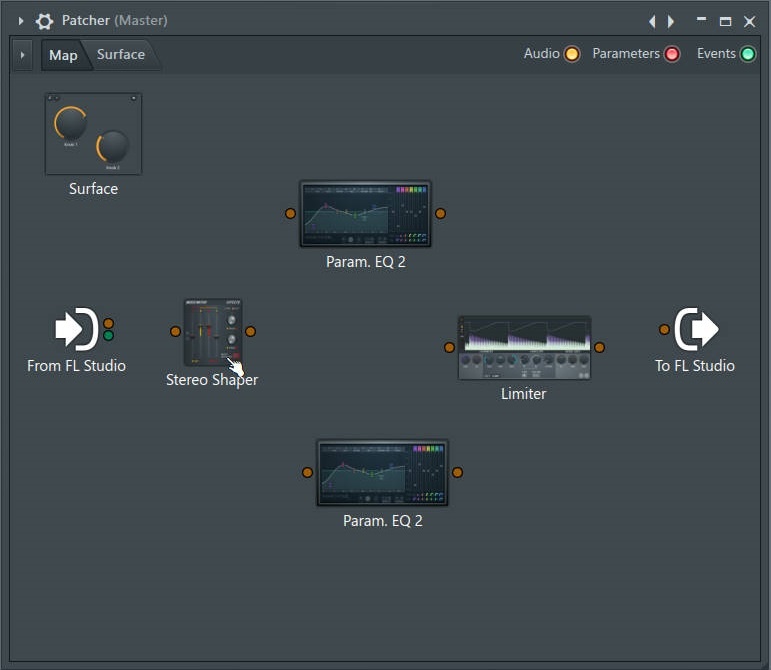 1. Open up Patcher in a mixer track. Load up Fruity Stereo Shaper, 2 Parametric EQ 2 and 1 Fruity Limiter within Patcher. Organize them according to the picture above.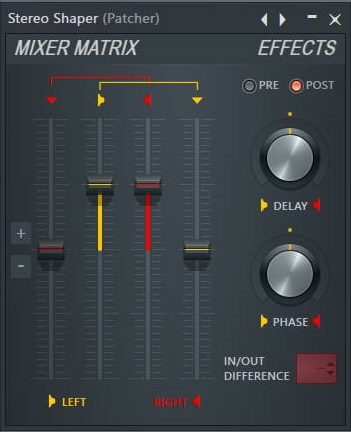 2. Double click Fruity Stereo Shaper to open it.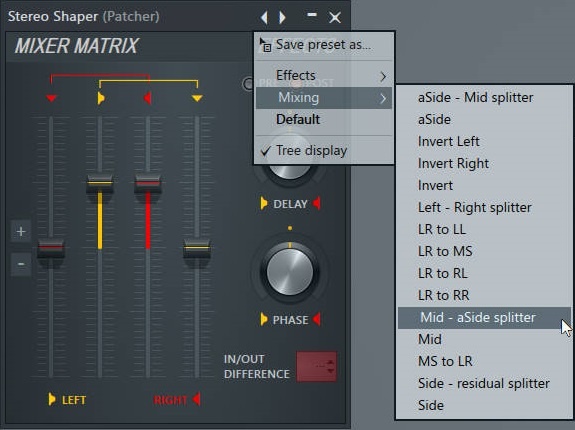 3. Select the 'Mid – Side Splitter' preset in the mixing preset category.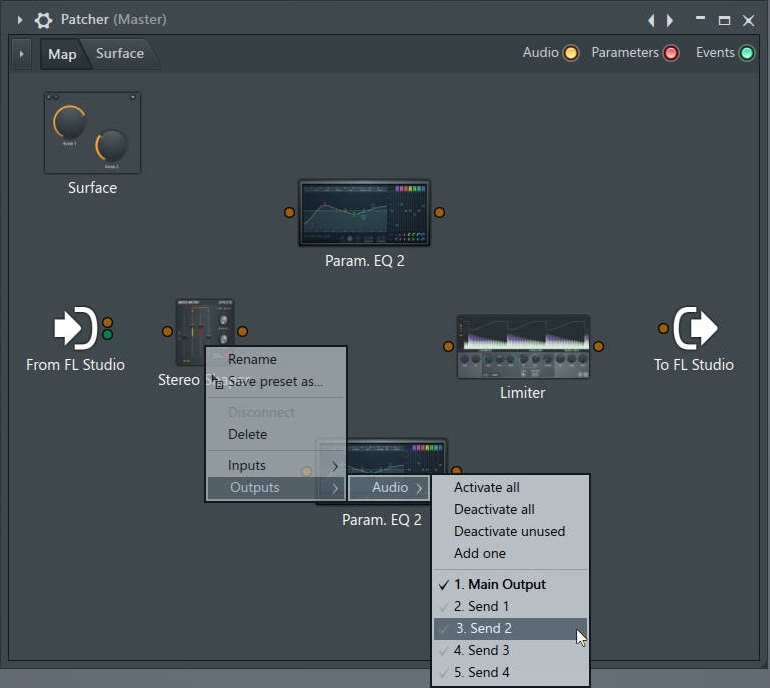 4. Go back to Patcher. Right click Stereo Shaper and click Outputs > Audio > 3. Send 2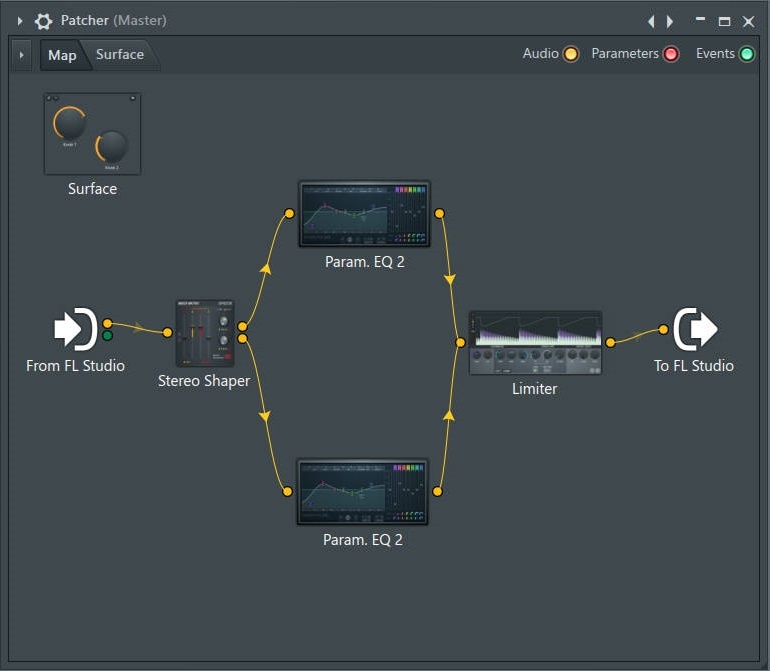 5. Link up all the plug-ins within Patcher as shown in the picture above. The EQ above is processing Mid (mono) signal while the EQ below is processing Side (stereo) signal.
Now you're done creating a Mid/Side EQ within Patcher. We are going to create Mid/Side gain leveling function using sliders.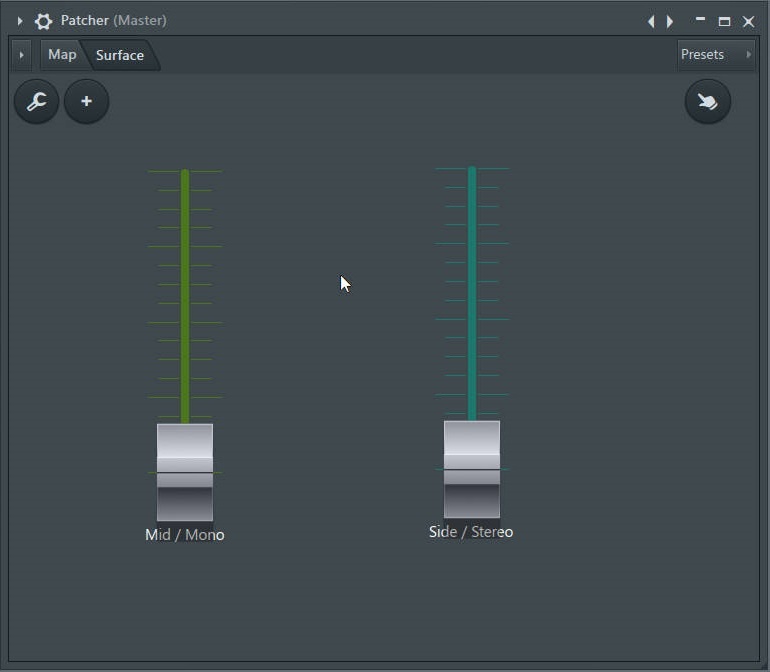 6. Click Surface. Create 2 sliders. Name one "Mid / Mono" for mono signal and the other one "Side/ Stereo" for stereo signal.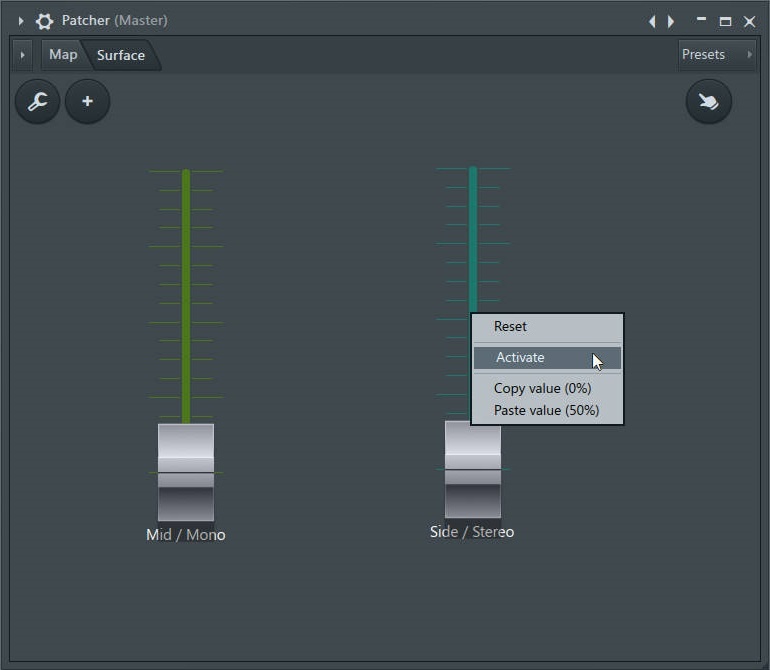 7. Active both of the sliders. Right click the slider and click 'Activate'.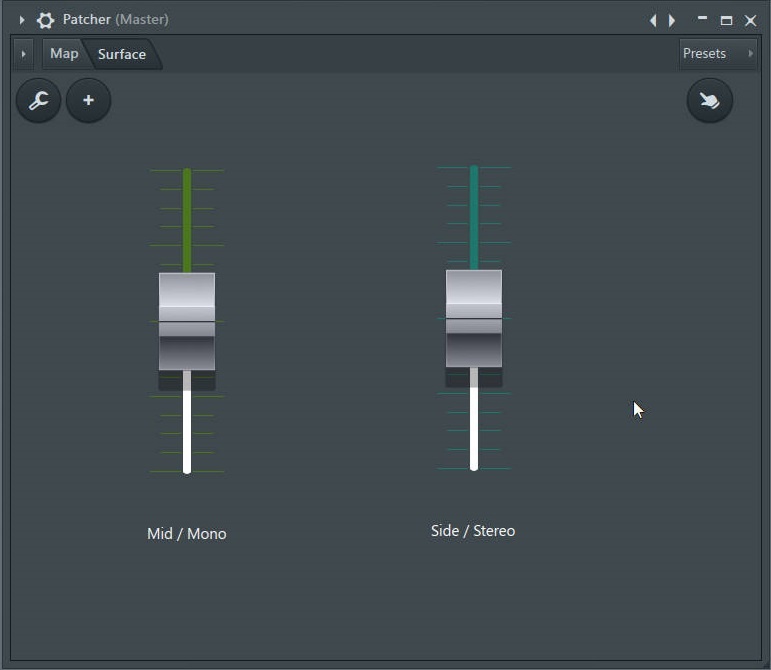 8. Adjust the fader value to 50%.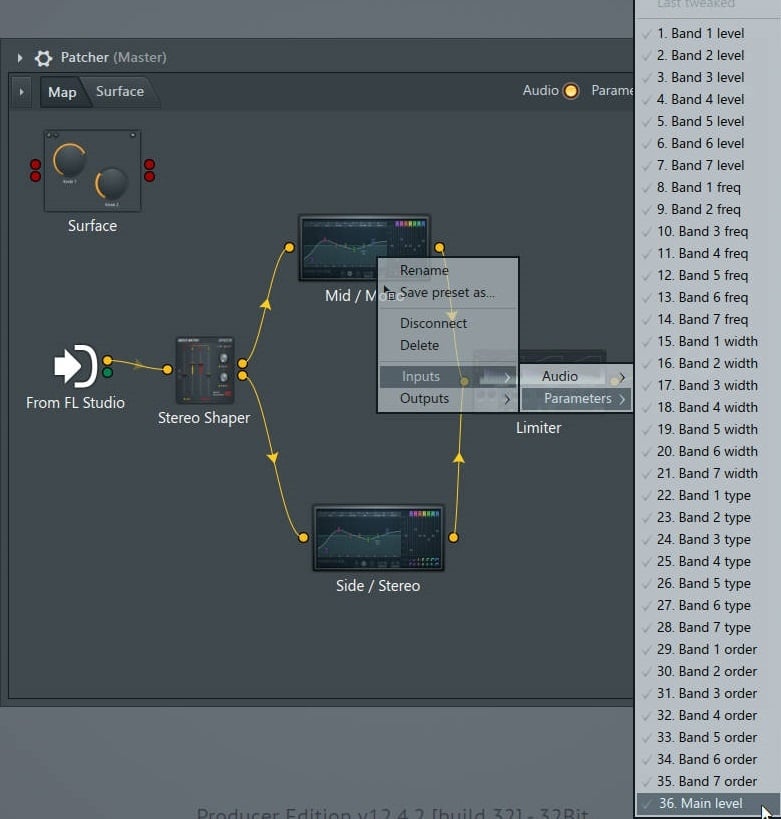 9. Go back to 'Map'. Right click 'Mid' EQ and click Inputs > Parameters > 36. Main level. Do this for the 'Side' EQ as well.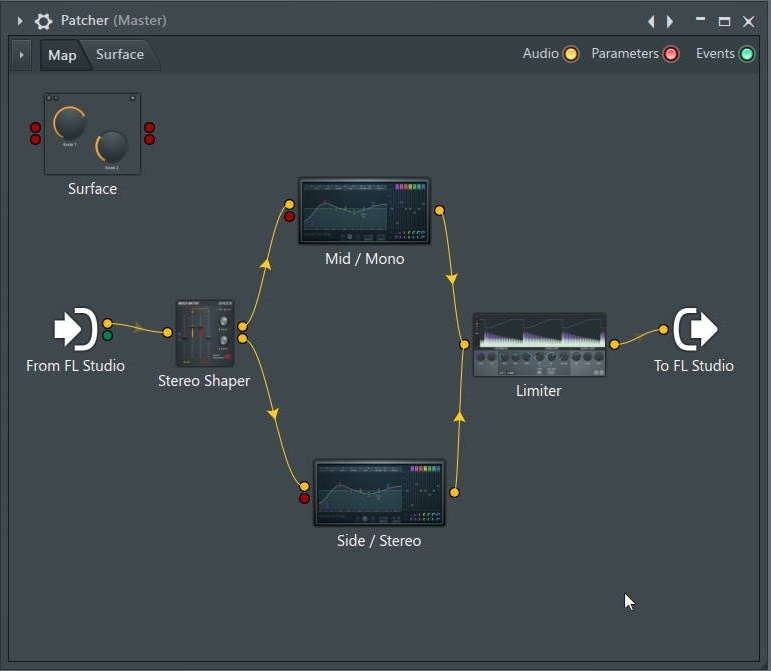 This will activate two new red spots (inputs that will be manipulated by the faders at 'Surface').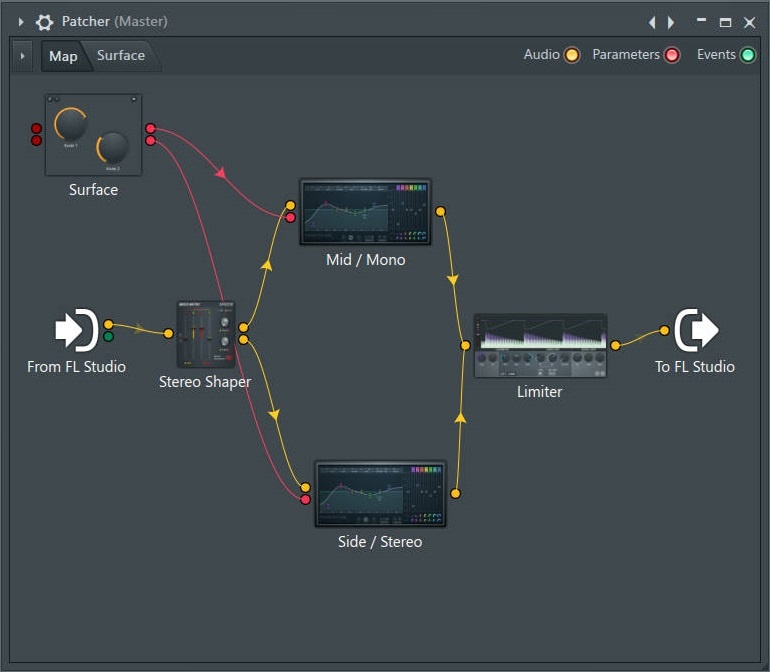 10. Link both of the red spots to 'Surface' as shown in the picture above.
Congratulations! You have just created a beast mid/side processing unit within Patcher with just using native plug-ins provided in FL Studio.
Share with us what you think about this patch and how it helps you in your production.
See you in the next article.
Have fun producing!
Your W. A. Production.