Welcome to part 2 (you can read the first parts here) of creating an industrial synth sound. This time we are going to use external VST instruments. These are free, all created by an industrial musician.
These are ZIP files and will require an extractor like 7Zip or Win Zip to open. Both are free.
Novakill, an industrial band, has been generous enough to allow free use of the synths they have created. Don't forget to give them credit if you use these VST instruments or effects.
Let us get started by downloading NitrousPD (freeware). I will walk you through it if you have not yet installed 3rd party plugins to FL Studio.
Get the plugin from HERE.
Once your download is complete and you have extracted it. You can now move it to your VST folder. You can do this by selecting "copy" and pasting it into your VST folder in FL Studio.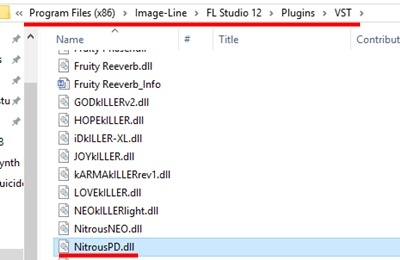 Now that you have it in your FL Studio VST folder go ahead and open FL Studio.From the menu in the upper left corner select "ADD". A menu box will open, select "more plugins".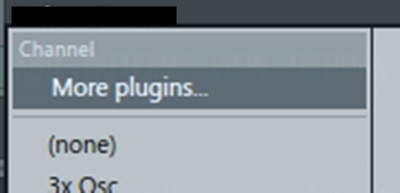 This will open a new window.You can see all of your plugins.When you ad a new one it will appear here unchecked. Locate NitrousPD, select it and then close the window.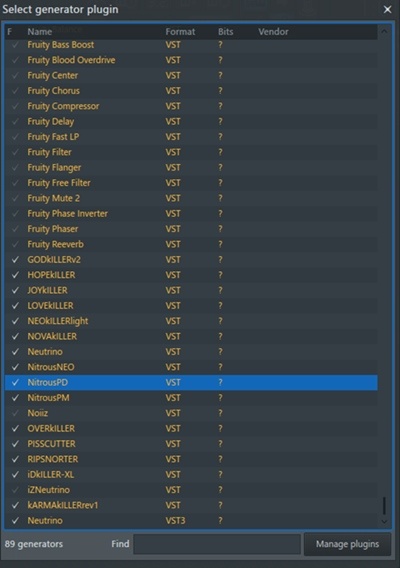 You can now return to the step sequencer and right click on a sample. A menu will appear. When you arrow over "insert" your plug in list will show.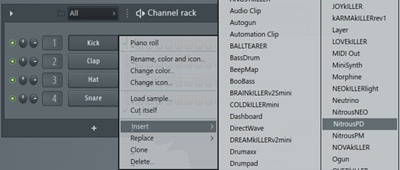 Go ahead and select NitrousPD.

The Nitrous synth will load and is now ready to use.

There are presets that you can access by either selecting the menu in the upper left hand corner of Nitrous or using the left/right arrows in the upper right corner.
If you have modified or created your own sound you can then save your preset by selecting the arrow in the upper left hand corner of the synth menu and selecting "Save preset as".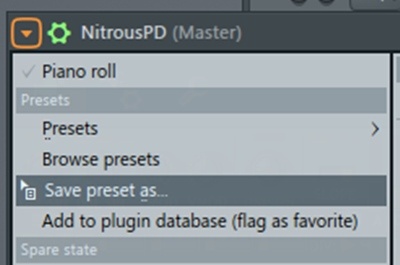 A little more technical information on NitrousPD.
It has Phase Distortion waveform generator with two oscillators and unison mode.
A full subtractive [virtual-analogue] signal path
ADSR modulation envelope with multiple slope settings and looping
Multi-mode filter section and a tempo-syned LFO
A distortion effect
GATE effect, now featuring the RARP, which turns the Gate into a random arpeggiator.
If you are happy with Nitrous you can download more of NovaKills synths and effects from this location.
With 2 ways to get that industrial synth sound it's time to create some noise.
Your W. A. Production team