........ is the one you make yourself.
The stereotype that surrounded electronic musicians is that they are not "real" musicians. They are button pushers. Lacking skill in any type of music theory. This often makes me think of the light-up Simon Says toy.
Fast forward to our present-day and electronic musicians, producers, enthusiasts, and professionals are everywhere. The world of electronic music is fierce and loaded with music majors, physicists, engineers, and professional songwriters. The charts are booming with top 10 hits that all have been created by electronic musicians. Thus, setting the record straight to all whoever thought creating electronic music was as simple as pushing a button.
UNIQUENESS AND ORIGINALITY
As an influx of resources become available, putting DAWs in the hands of everyone, we now face an oversaturated market of talented individuals. In our midst of creativity, we try to assert our uniqueness by establishing a new sub-genre, a hybrid, or crossover.
Our individuality is no longer unique. We all have the same samples and presets in our library. 98% of you are using Ableton or FL Studio as your DAW, and using Serum or Sylenth1 as your main synth. All of us have sample libraries so huge we can't even sit and go through every sound in a day. We are reliant and demanding upon the labels that produce the samples we use. It has to be better, it has to be louder, it has to be professional quality. In our competitive nature, we are willing to pay top dollar for it.
In this article, we are going to go outside of what you know and what the majority are doing. If you want to break away from the mundane or just jazz it up with something that few else are doing, read on. This is how you can create your own audio samples and use them as original supplements or layers and once again set your music apart from the rest.
CAPTURING THE AUDIO OF LIFE
There are many ways you can choose to go about capturing original sounds. You have to consider these sounds like a raw drum or synth sound. It's a diamond in the rough. By polishing it with effects and EQ you can bring to life it's true beauty and originality.
Did you know that most sounds used in movies to mimic real-life sounds are not from the actual source? How did they come up with that skull crushing sound in Terminator 2? Pistachios. The frenzy sound from Transformers, a combination of sounds from a clock and a cougar. While Foley sounds and packs exist everywhere as well, I guarantee you that if 2 people stood outside of their home and recorded a car driving by, it would sound very different. Things such as proximity, frequency, sound dampening objects, the recording device being used and other environmental factors determine these unique outcomes.
What sound should you record? Of course I am going to say anything and everything. Experiment. Try as many things as you can. If you don't have any ideas, here are some to get you started.
A door locking.
Bang on a kitchen pan and try hitting it with a metal object, then a wooden object.
An air conditioner.
Power tools.
Spoons.
Salt shaker.
RECORDING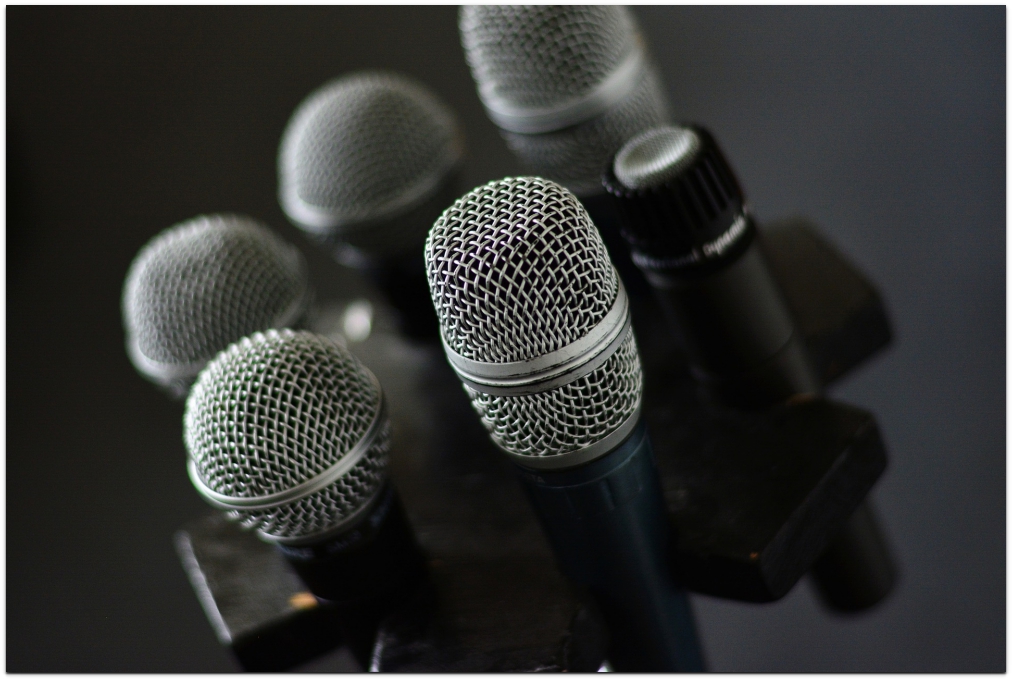 Don't think that you need a top of the line field recorder and microphone. Yes, they are amazing and can capture the rain as if you were standing in the middle of it. But we are going for unique here. Sounds that will fill up the ambient space and add percussion. You'd be surprised by the sounds you can obtain with different devices. How about your phone's voice recorder? Here are a couple of apps that will make this process easy to capture and easy to transfer to import into your DAW.
ANDROID
Easy Voice Recorder

The free version offers the ability to create widgets so you can record from your home screen, supports PCM, MP4 and AMR formats and there are no time limits on the recording session. The interface is as easy as a push button to record and push-button to stop. You can name your recording before you begin the session and it relies on your phone's microphone so no additional hardware is needed. For Information and to install Easy Voice Recorder click HERE.
Voice Recorder
This one also has no time limits on the length of your recording and will render in MP3 format. For MP3 encoding this app offers an adjustable sample rate (8-44 kHz) and a tool to adjust the microphone sensitivity. Unlike other apps, this one will run in the background and even when the screen is off. For Information and to install Voice Recorder click HERE
iPHONE
Voice Recorder and Audio Editor
The interface on this one is kind of fun, resembling an old cassette recorder. Don't let the cheesy graphics fool you this app will allow you to record for as long as you want, skip forward/backward up to 15 seconds, change the playback speed, trim and loop recordings. They offer multiple rendering formats and direct sharing via email. To transfer you can plug in and move the file or sync over Wi-Fi.
For Information and to install Voice Recorder and Audio Editor click HERE
Also available for Android, this is my go-to for recording. The interface has a VU meter so you can monitor the volume as you record to avoid clipping. Recorded voices are in standard AAC/MP4/M4A format. Voice Record Pro can record directly in MP4 (AAC), MP3 (MPEG) and WAV (PCM) formats plus convert function for all supported formats. Export directly to Google Drive, email, DropBox, iCloud Drive and more. It also has built-in effects such as reverb, echo, pitch, and gain. For Information and to install Voice Recorder Pro click HERE


A CHEAP MICROPHONE
Yes, sometimes it is all about high quality. In this instance its about experimentation. It requires very little investment and you may be surprised by the results. Below you will find 2 examples and their specifications.
AUDIO TECHNICA - ATR1200
This is a Cardioid Dynamic Vocal/Instrument Microphone that retails for about $20. This microphone will more than exceed your expectations. From personal experience, setting up a band room, with headphones on, I had this mic set up and needed to make an adjustment. There was no on/off switch so I just stuck it in my pocket. Not only could I hear it clearly rusting in my pocket, But It was also picking up conversations from outside, the oscillating fan that was 2 rooms away, and other ambient noises. Clear as day.
Sensitivity : -59 dB

Impedance : 500 ohms

Frequency response: 80–12,000 Hz

For more Information about the ATR1200 click HERE
NAXA - NAM 980
This is a Unidirectional Dynamic microphone. This thing weighs nothing, is plastic and about as cheap as you can get. The retail price ranges from $7-$15. Being a unidirectional microphone it does a great job of not picking up sounds aside from what it is directly pointed at. Meaning you won't get a lot of background noise if any at all.
Sensitivity : -81 +/- 3dB

Impedance : 600 Ohm

Frequency response: 70-12,000Hz

For Information about the NAM 980 click HERE
SHAPING THE SOUND
Below is an audio sample made with just 2 samples. The sound comes from flicking a half empty (or half full) soda can. The sound was recorded with 2 different microphones. All of the sounds you are about to hear come from that one original sound, made into multiple samples and shaped with effects.
CONCLUSION
Just because there are millions of producers out there, it doesn't mean you can't still find a way to be original and have elements within your track that no-one else has or will have. The idea isn't really that crazy. Here are some top pop artists who have used life's audio in their tracks.
Flo Rida "

Game Time". Sound used: a shoe squeak.

M.I.A. "Paper Planes". Sound used: a cash register.

S'Express "Theme from S'Express". Sound used: aerosol can spray as a hi-hat.
Now that you know, go out into the world and capture the sounds of life. Once you have captured the sound you can then import it into your DAW and begin the task of shaping that sound into something amazing. This is where one simple sound can be altered into many different sounds and samples for your own individual and unique audio sample pack library.