MIDI controllers can add convenience to your composition. Save time by offering a faster workflow. Some are even compact, easy to fit in a small work space. And lightweight for portability.
For those who are not familiar with the world of MIDI controllers, we will be covering what they are, what they do, and why you should use one.
We will also take a look at the different types of controllers,DAW specific controllers, and universal budget friendly controllers.
WHAT IS A MIDI CONTROLLER?
A MIDI controller does not transmit sound. It sends MIDI notes and control data (pressing a button, turning a knob) to corresponding software.
HOW DOES A MIDI CONTROLLER WORK?
It is used to trigger sounds or control assigned parameters.
WHY YOU SHOULD USE A MIDI CONTROLLER.
MIDI controllers are the best way to make your next session more fluid and organic.
A MIDI controller is also a great way to learn how to play piano/keys. And to learn notes, chords and music theory.
TYPES OF MIDI CONTROLLERS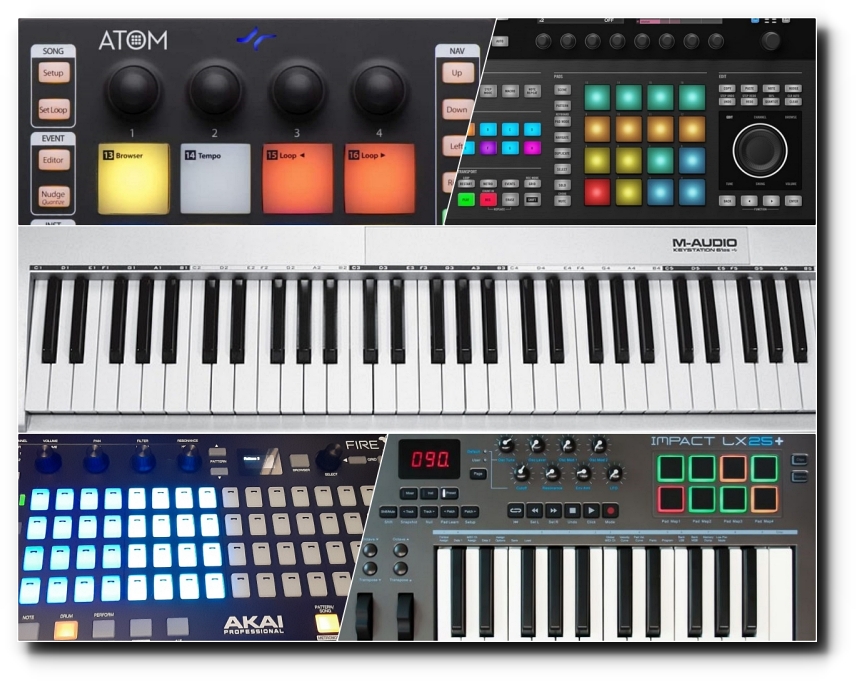 From drum machines, grids, pads, micro keys and pianos. There is a MIDI controller for any and all styles. Let's take a look at the different types of MIDI devices and controllers that will simplify your next EDM audio production.
INSTRUMENT EMULATION
You may have noticed our article on the latest gadgets for audio production 2019 we had mentioned Aerodrums. Another option that is similar is Freedrum.
Freedrum allows you to play drums. Anywhere. At any time. Freedrum works with MIDI over Bluetooth. Connect it to your preferred audio workstation (DAW) and play or record using an endless library of samples from any software developer.
For more information about Freedrum, click HERE.
DAW SPECIFIC MIDI CONTROLLERS
If you are sick of having to stop and click to highlight or toggle between functions with a mouse or touchpad. Check out these DAW specific MIDI controllers.
For Ableton, click

HERE.

For Presonus, click HERE.
For Native Instruments, click HERE.
For FL Studio, click HERE
For Avid Pro Tools, click HERE.
AFFORDABLE MIDI CONTROLLERS
So let's just say that you are a beginner and don't want to go overboard on something that you may or may not like. Or perhaps you are like the millions of other struggling producers that would give up a hot pizza for dinner if it meant getting your hands on a new piece of gear.
We got ya. Here are some of the best budget friendly MIDI controllers and devices. Keep in mind you can also find these used online on websites such as eBay, Amazon, Guitar Center, Music-go-Round, and Reverb.
M-Audio
The M-Audio Keystation offers a basic 49 key keyboard with tone and mod wheel. All you need is a USB cable to fire it up.
The M-Audio Keystudio 25 is a smaller, 25 key, keyboard that offers more features such as the ability to play repeating loops, has built in effects and a preset sound library.
Both start as low as $40(USD) when buying used. To check out the MIDI controllers and devices M-Audio has to offer, click HERE.
AKAI
Music was never meant to be created with a mouse and computer keyboard. With LPD8, you're no longer limited to making music in a stiff, non-musical way. Pound out new beats on LPD8's drum pads. Add and tweak effects using LPD8's Q-Link knobs. LPD8 provides a satisfying production experience that travels with you.
Another great controller from AKAI is the MPK Mini MKII. The MPK mini is an ultra-compact keyboard controller designed for the traveling musician and the desktop producer. With an array of hardware controls, MPK mini lets you record, compose, and perform with virtual instruments, effect plugins, and DAWs whenever inspiration strikes. It features 25 velocity-sensitive synth-action keys, a 4-way thumbstick for dynamic pitch and modulation manipulation, 8 backlit velocity-sensitive MPC-style pads, and 8 assignable Q-Link knobs.
You can pick up a used LPD8 for around $30(USD) and an MPK Mini for about $50(USD) used.
For more information on what AKAI MIDI controllers have to offer, click HERE.
CONCLUSION
MIDI controllers open a whole new world of possibilities when creating electronic music. Not only will it help expand your creativity, it can be a learning tool, and overall just make the process a lot more simplified. And that, is why you should be using a MIDI control device for your EDM audio production.