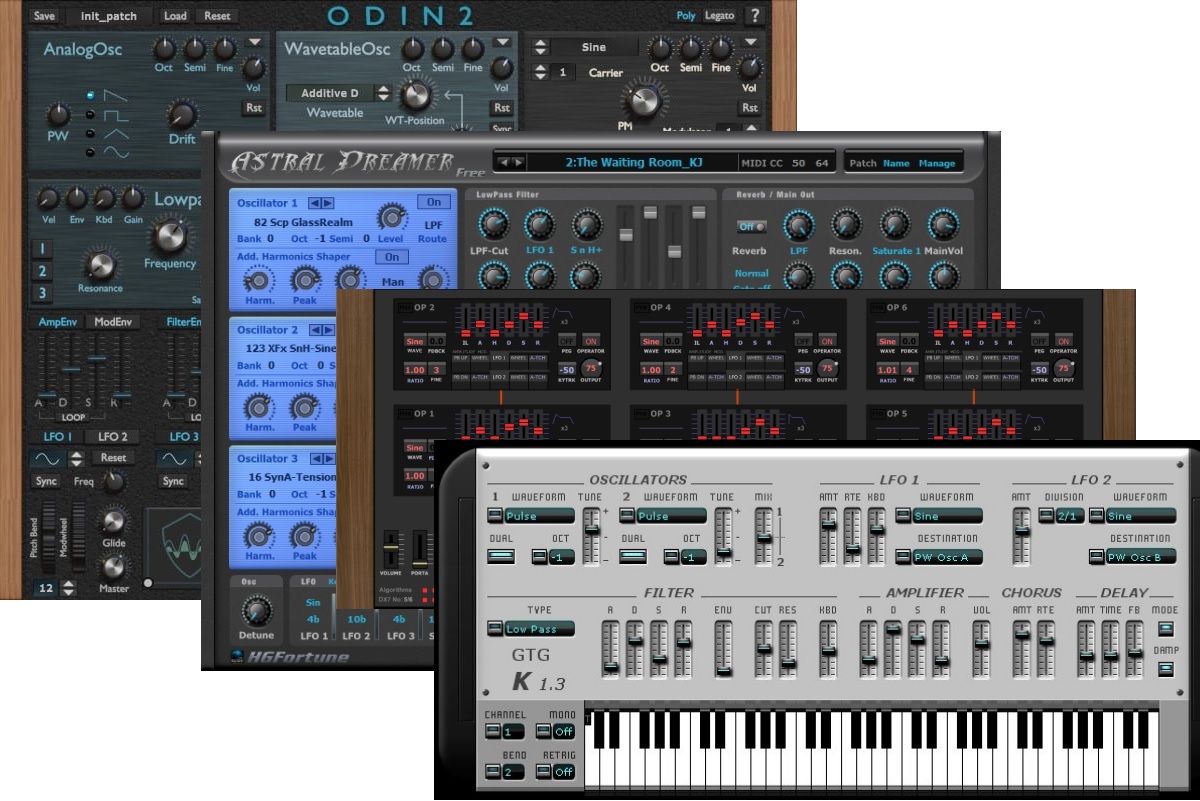 This isn't the same old regurgitated list. We are showing you the best Free and Cheap (under $20) VST Instrument Plugins for making EDM.
COLLECTIONS
We are going to reveal a couple of our sources. These sources offer a complete collection of VST plugins for absolutely nothing. Below you will find any and every synth type you could ever dream of.
GTG SYNTHS
You will find 10 free VST plugins in this collection. This does include a couple of effects, but it is primarily synths. GTG Synths collection includes:
Analog Poly-synth
Analog 6 voice
Drum Sampler
Monophonic
Classic Analog
FM
To check out all the details and download any instrument from this collection, click HERE.
H.G. FORTUNE
This guy is a legend. A total pro at VST instrument design. He is also out of his mind. Offering so many great plugins for free. This collection includes a wavetable synth, step sequencer, hybrid synth, analog synth, timbre modulation synth, and more. You will find 33 free plugin synths by HG Fortune on VST4Free, just click HERE to view and download. You can find 7 more free VST plugin synths by HG Fortune via his Archive.Org profile, just click HERE to view and download.
K.BROWN SYNTHS
Another legend. This guy, however, is a pro at emulation. So if there is a hardware synth you may be looking at and the price tag is just a little too much to buy em all, KBrown has you covered. There are well over 100 VST synth plugins available for free download. Some of the synths were inspired by such brands as, Korg, Yamaha, Roland, Casio, Zoom, and many more. Sorry guys, Windows only. For more information and to download, click HERE.
ROBERSON AUDIO
This vintage synth collection is free and comes with 5 emulated VST plugin instruments that include a theremin, Sequential Circuits Prophet 5, virtual analog/subtractive, Arp Odyssey Mk.II, and Moog Minimoog Model D. For more information and to download, click HERE.
FREE VST INSTRUMENT PLUGINS
These single instrument freebies are oozing with creative juices and have a sound that is turning heads and pleasuring ears.
THE WAVE WARDEN - ODIN 2
The sound of this 24-voice polyphonic beast will take you from your studio right to Valhalla. Earth-shattering basses, exquisite leads, or mad FX, Odin's got them all! Use the classic sound of analog waveforms - or draw your own. High-quality emulations of legendary analog filters like the Moog-ladder or the Korg-35 further shape your signal. Round your sound off with four onboard FX, or get crazy with modulation. There's much to discover in Odin 2. Check it out by clicking HERE.
SERATO STUDIO
Intuitive beat making software for beginners, DJs, and advanced producers. Spend less time hitting roadblocks and more time making music with Serato Studio. Serato Studio isn't a plugin, however it is a standalone to create music. This software has been much anticipated and is being offered in both free and paid versions. Get all of the information and download Serato Studio by clicking HERE.
REFLEKT AUDIO - XYLO TOY
Get nostalgic and creative with this custom-recorded and edited Toy Xylophone Instrument that's perfect for adding a spark to Hip Hop, Trap, Pop, and Electronic productions. Get more information and download this free and unique VST instrument plugin by clicking HERE.
VST INSTRUMENT PLUGINS UNDER $20
Maybe you have a little extra cash to spend and want something a little more than your stock plugins inside your DAW. We have found 2 amazing deals that will make great additions to your plugin library.
SOUNDSPOT - UNION
Union has been modeled from some of the best sounding synths in music history and combines this raw power with unique features such as wavetable generation that simply wouldn't be possible in purely analog form. This results in a synthesizer that truly rivals hardware but lives inside your computer. For $8 you really can't lose. Check out more information and download Union by clicking HERE.
AIR MUSIC TECHNOLOGY - HYBRID 3
Currently on sale for only $12.99, Hybrid 3.0 is the next generation in synthesis. This high-definition virtual synthesizer combines the coveted warmth of analog synths with a full range of futuristic digital manipulation capabilities. The result is the best of both worlds. A virtual instrument with a comprehensive set of precisely adjustable parameters that can sound like a synth you remember or something no one has ever heard before. Get all the details and download Hybrid 3 by clicking HERE.
W. A. PRODUCTION
And as always check out our latest VST plugin deals by clicking HERE.