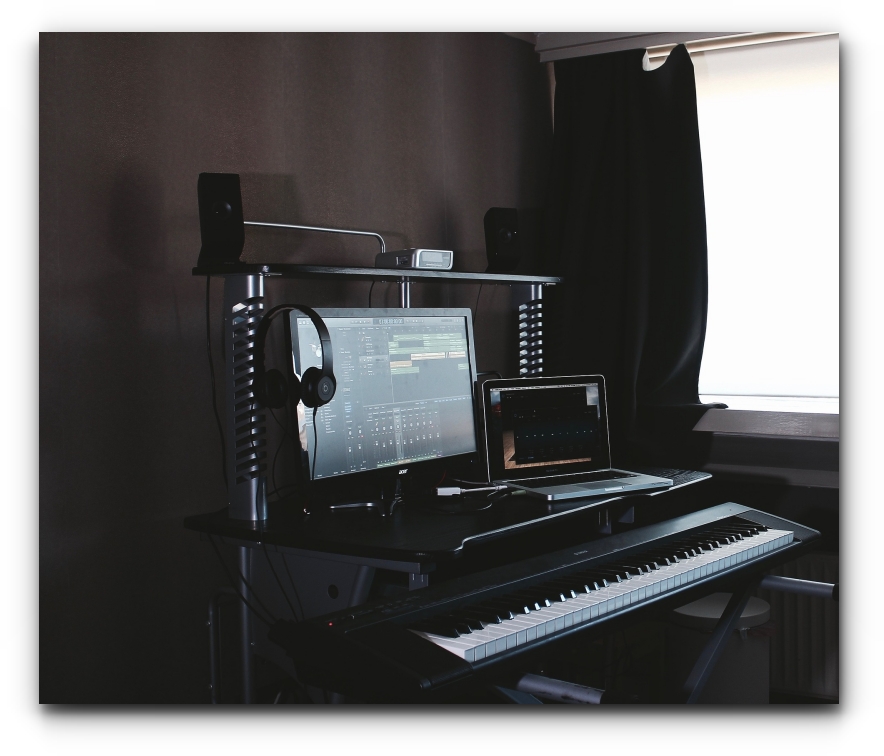 This guide will have you set up and ready to start making electronic music in 20 minutes for free.
In our previous articles, we have covered such topics as what you need to start producing electronic music and ways to increase the speed and optimize your current system. When you are just starting out, you can make it with what you have. Good gear does help, but what makes an amazing producer, is the one who can make any gear sound good.
This guide will allow you to choose your DAW, plugin instruments and effects, audio sample packs, and additional resources to ensure you are ready to go in as little as 20 minutes.
DAW (DIGITAL AUDIO WORKSTATION)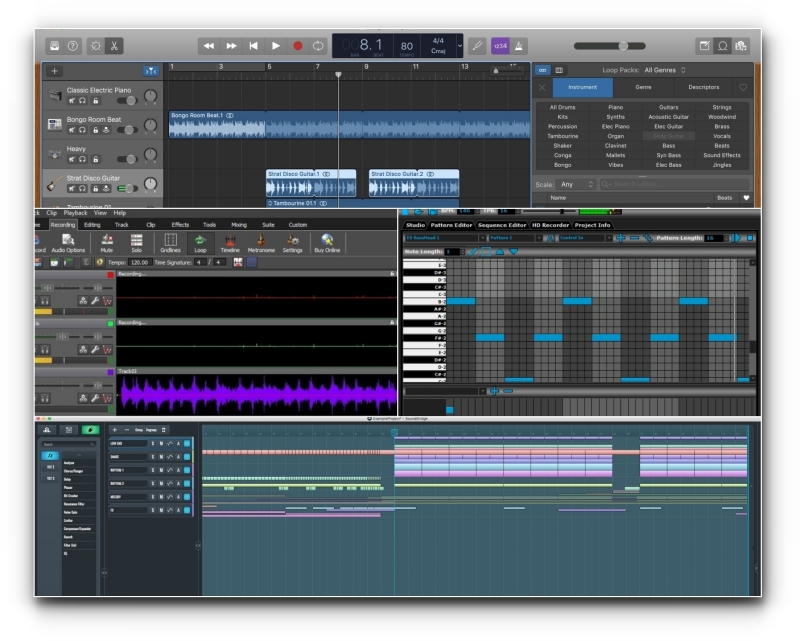 This is what you will use to compose, design, shape, and mix your tracks. Here is a list of the best FREE DAWs and what they have to offer.
When it comes to features you need to consider things like:
Will you be recording vocals/ live instruments?
Does it support the use of 3rd party plugin instruments/effects?
How much space it will occupy?
What audio formats does it support (WAV/MP3/FLAC)?
Do you have a MIDI controller you want to use?
Is it compatible with your device?
MixPad from NCH Software
Mixpad offers multi-track recording and mixing software. You can access all the power of professional recording and mixing equipment through a single platform that streamlines the process and makes mixing a breeze. MixPad offers an endless amount of tracks AND supports line-in recording. It comes with its own basic built-in effects, supports multiple audio formats for import/export (WAV, AIFF, FLAC, MP3), comes with a library of sounds and supports VST plugin format.
While more features and functions are available with a paid "Pro" license purchase, the lite FREE version is a great place to start. The software is fairly easy to use and there is no shortage of tutorials on how to use it.

System Requirements:
Works on 64 bit Windows and Mac systems.
Windows 10, XP, Vista, 7, 8 and 8.1
Mac OS X 10.5 or above.
iPad version runs on iOS 6.0 or higher.
Android version runs on 2.3.3 or higher.
For more information and to download MixPad click HERE.
Darkwave Studio from Experimental Scene
This freebie is for Windows users only and is very comparable to FL Studio. This program is designed for the composition, synthesis and recording of digital music. It is great as a production tool and is also very suitable for live performance. If you have a little knowledge of music composition and sound design you will have no trouble making great music with DarkWave Studio. The Multitrack Hard Disk Recorder allows you to record the output of any machine and record it to 16-bit Integer or 32-bit Floating Point PCM encoded.WAV files for full-quality post-production editing or for conversion to MP3/FLAC/etc. It comes with over 10 effects that go beyond just the basic reverb and EQ and supports VST format plugins if you'd like to use non-native plugins. Darkwave allows you to record line-in and support MIDI devices.
For more information and to download Darkwave Studio click HERE.
Soundbridge
Soundbridge offers a good place to start for those with little to no experience. The interface is about as user-friendly as you can get. Soundbridge comes with loads of onboard effects and supports 3rd party VST plugins. Soundbridge has mixing, tracking, and sequencing capability so you can record line in as well compose from the ground up. If you need to learn without all of the confusing options found in other DAWs, Soundbridge is a great stepping stone to ease you in and become familiar with basic functions.

System Requirements:
32 and 64-bit version for both Windows and Mac.
Windows 7, 8, or 10®: 2.0 GHz Intel Pentium 4®/AMD A8® or better (more cores recommended), 4GB RAM or more, 3 GB hard-disk space,
OS X El Capitan 10.11®: 2.0 GHz Intel Core i5® or better, 8 GB RAM or more (recommended), 3 GB hard disk space.
For more information and to download Soundbridge click HERE.
Garageband
For Mac users only is GarageBand. A fully equipped music creation studio with a complete sound library that includes instruments, presets for guitar and voice, and an incredible selection of session drummers and percussionists. With Touch Bar features for MacBook Pro and an intuitive, modern design, it's easy to learn, play, record, create, and share your hits worldwide. Now you're ready to make music like a pro. Supports line-in recording, has a huge library of instruments and sounds, and also comes with its own tutorial to guide you through the process of getting started. Wherever you are, iCloud makes it easy to work on a GarageBand song. You can add tracks to your GarageBand for Mac song using your iPhone or iPad when you're on the road. Or when inspiration strikes, you can start sketching a new song idea on your iOS device, then import it to your Mac to take it even further.
For more information and to download Garageband click HERE.
Other FREE DAWs are out there. We encourage you to look into each one to find the one that is best for you. We listed the DAWs that are the most compatible and have the least amount of limitations. Below you will find a non-summarized list of some of the other options that are available for free.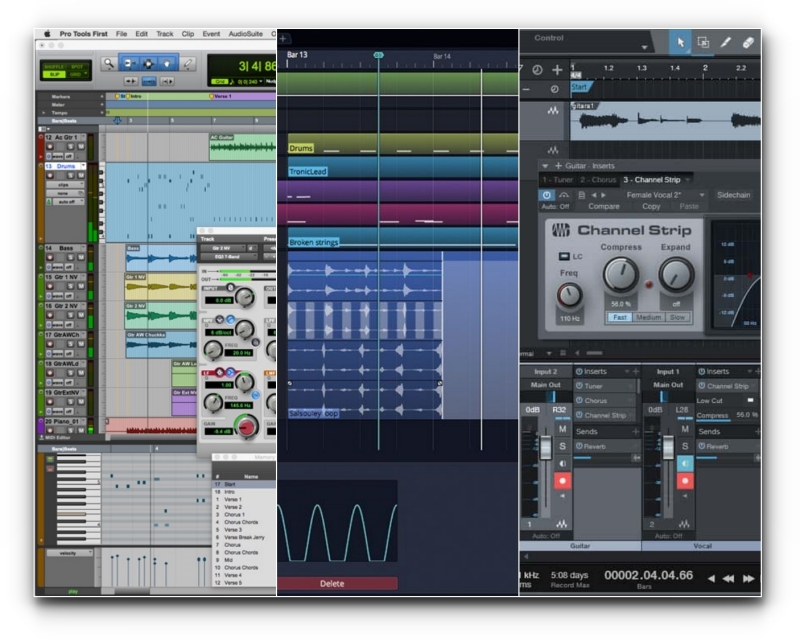 Pro Tools First
16 Tracks Available
23 Plugins
Sample Rate 32-bit, 96 kHz
Supports AAX plugins
Mac and Windows
For more information and to download Pro Tools First click HERE.
Tracktion T7
Supports VST & AU plugins
Unlimited Tracks
Line in recording
Step sequencer
Onboard Effects
Beat Detection
Mac and Windows
For more information and to download T7 click HERE.
Studio One Prime
Good for non-experienced users
MP3 encoding
Mac and Windows
64 bit systems only
1GB of loop and sample content
For more information and to download Studio One Prime click HERE.
INSTRUMENTS AND EFFECTS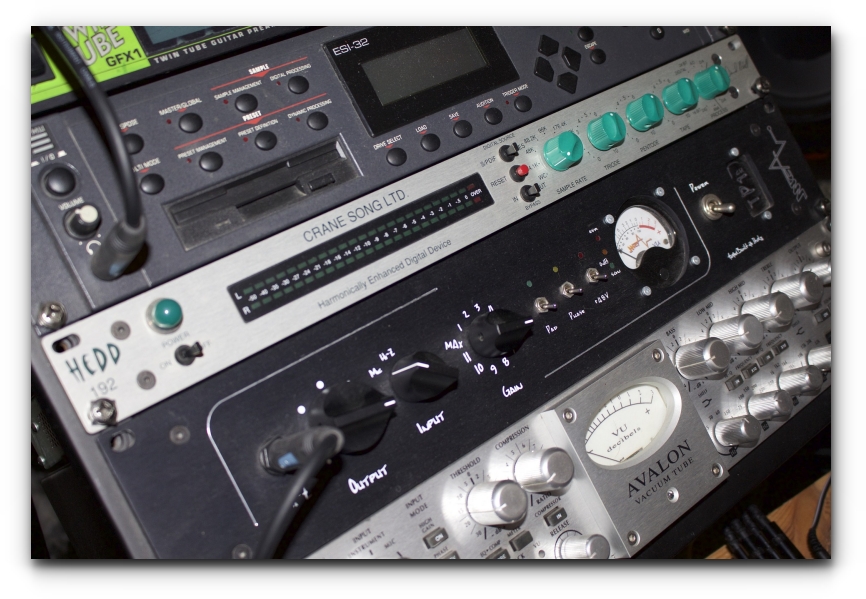 Now that you have a DAW, I bet you will want to check out plugins. There are many types of synths out there. If it is a software version of a specific instrument you are looking for there are plenty of emulators
that come pretty close to the real thing.

While most find that a sample-based synth is the way to go due to its ease of use, there are some pretty user-friendly synth plugins out there that allow you to create, shape and design your own sound from the ground up. Here are some of the best free plugin instrument and effect plugins.
Synthmaster Player
SynthMaster Player is a simplified version of SynthMaster with limited editing capabilities. It is targeted towards users who prefer to use presets rather than designing their own sounds. The library allows you to search by instrument type as well as by genre. The presets include everything from sequences, leads, pads, bass, arpeggiated sounds and more. SynthMaster Player runs as a VST, AAX instrument on both Windows and Mac OSX, and as an Audio Unit instrument on Mac OSX and iOS.
For more information and to download Synthmaster Player click HERE.
TyrellN6
A classic racer with u-he engine, TyrellN6 is a compact, sporty synth. Based on concepts and ideas for a hardware synth: a few modules, novel features, analog sound and low-cost. TyrellN6 is the software version manifestation of these ideas. Virtual analog with classic architecture and comes with over 500 presets. TyrellN6 is now available as VST3 as well as Audio Units (AU), VST2, AAX (Pro Tools 10.3.7 or later) plug-ins with 32-bit and 64-bit versions for both Mac and Windows.
For more information and to download TyrellN6 click HERE.
T Force Alpha Plus 2
This synth sounds amazing. It's loaded with a trance gate, onboard effects, custom interface, tons of tonal control and ways to shape your sound. The interface is straight forward and easy to use. The presets are a great starting point and offer a diverse library of synth bass and pads. Sorry guys, it's only available for 64 bit Windows in VSTi, VST2, and VST3 format.
For more information and to download T Force Alpha Plus 2 click HERE.
Blue Cat Effect Bundle
Blue Cat's freeware bundle has everything you need with the quality you want and, it's all FREE. This bundle contains a wide range of premium modulation effects,a guitar amp simulator, a single and dual-channel equalizer, a unique midi-controllable gain suite, as well as a professional spectrum analyzer. All plug-ins are available for 32 and 64 bit systems of both Mac and PC in VST, VST3, AAX, and Audio Unit plug-in formats.
For more information and to download Blue Cat Effect Bundle click HERE.
EaReckon FREE87 Effect Bundle
EaReckon FREE87 series includes a compressor, noise gate, equalizer, and limiter. This series is based on the ANALOG87 series which features a set of 6 high-quality analog-style VST and AU effects for Windows and macOS. Instead of just providing a limited demo of the ANALOG87 series, EaReckon would like to offer fully working free plugins using the same engine. These plugins are not only easy to use, but they also sound good too. Available for both Windows and Mac is VST and AU format.
For more information and to download FREE87 Effect Bundle click HERE.
Another option for sound is by using audio sample packs. W. A. Production offers a huge library of free sample packs that include drum loops, one-shots, melody loops, effects, strings, vocals, and drop elements. And you can choose to search for sounds by genre. You can view our free sounds by clicking HERE
RESOURCES
If you are having trouble using 32-bit plugins on a 64-bit system, this can easily be resolved by using a "bridge". J-Bridge is available for both Windows and Mac and is compatible with almost every DAW. For more information on J-Bridge for Mac click HERE. For Windows click HERE.
If you are having trouble with latency and/or line-in recording issues, most DAWs work well with ASIO audio drivers. Some DAWs will have ASIO drivers included. These drivers are for Windows systems only. For more information and to download ASIO click HERE.


Once you have everything you need, if you are unsure how to get started, W. A. Production offers continued support in providing you informative articles as well as video tutorials and audio courses that will teach you the ropes as well as the latest tricks and tips for making electronic music.