Sampler based Synths operate on a database of samples. Rather than dialing your own sound using oscillators and filters, sampler based synths have already constructed the sound and placed it in the sample library. While some of the customization options found on other synths are not available, some newer "preset", "sample-based" or "library" style of synths have added more ways to shape and modify the sound without an overwhelming interface of knobs, switches, and dials. Another awesome feature is being able to import your samples into the library and have them MIDI triggered for live performances.
*Some manufacturers no longer have a website, thus the download link may take you to a 3rd party website where the download is still available.*
SYNTHMASTER PLAYER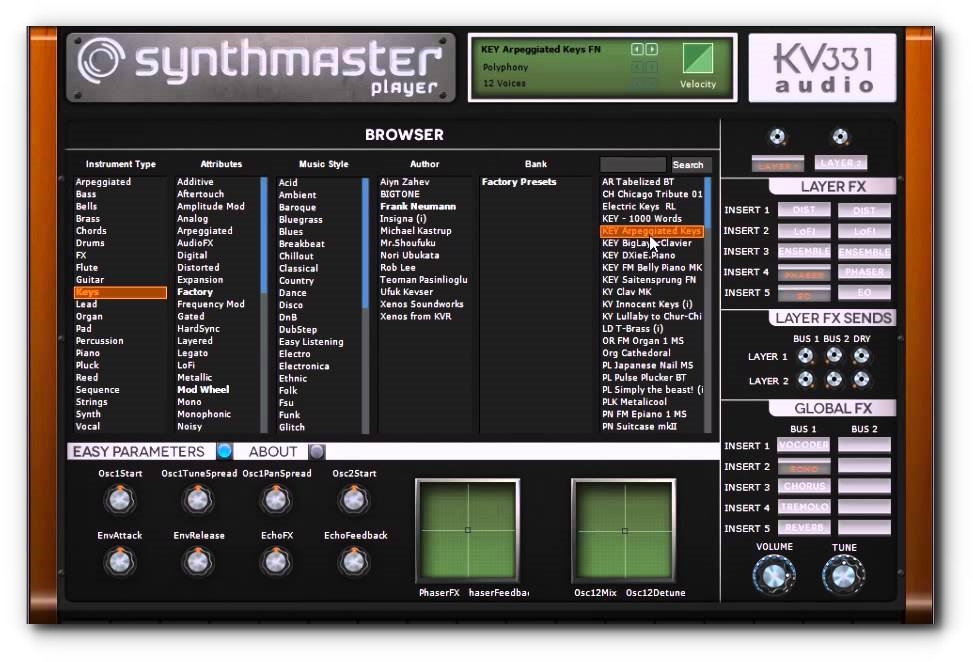 SynthMaster Player is a simplified version of SynthMaster with limited editing capabilities. It is targeted towards users who prefer to use presets rather than designing their own sounds. This FREE version comes with 500 factory presets. Users can edit the 12 easy parameters or the bypass states of layer/global effects assigned for each preset by the sound designer. The library is searchable by genre, artist, and type of sample.
Compatibility:
32 & 64 bit
Windows VST, VST 2.4
Mac AU,AAX, RTAS
*This link is going to a 3rd party due to the FREE offer*
Download HERE
SYMPTOHM PE
Symptohm Melohman is a free "Performer Edition" that comes with over 1,200+ presets. The "Oscillator" buttons allow you to change the wave forms. Designed to support playability and expressive human feeling, the Melohman technology lets you take advantage of full MIDI compatibility to command preset changes via a hardware controller, in 1 of 7 different modes, with the possibility to customize morphing speed. Perfect for live situations. Ohm Force plugins also come with two skins.
Compatibility
32 & 64 bit systems
Windows: VST, AAX
Mac: VST, AU, AAX
Download HERE
INFINITY SYNTH
Stagecraft's Infinity Synth is a sample-based synth with a massive Sample Marketplace that allows you to audition and purchase additional sample banks. You can also use automation to create anything from that wobble characteristic of dubstep to a voice that comes in and out at random intervals. Also on board are LFOs for parameter automation, quantization options, custom effects, preset saving, and sharing. You will also get a $25 credit towards presets when you download this free version.
Compatibility:
64 bit only.
Windows: VST, VST3, AAX
Mac: AAX, AU, VST, VST3, Standalone
Download HERE
SONIC ASSAULT - SAM
SAM is a 24 slot,6 stereo output,16 / 24-bit sample player with ADSR Envelopes and Selectable MIDI Note Triggering, Pitch, Level, Velocity Sensitivity, Pan, L/R Channel Swap Controls and L/R Clip Indicators. Forward/Reverse/Loop Play, Start/End Position Sliders with Fine Adjust and Cue Markers. MIDI In, Manual Gate Triggering and Solo Switches. 8 Patch-able 12db LP/BP/HP/Notch Filters with Level Controls, Independent Filtered and Direct Output Patching. 6 Level Adjustable Stereo Outputs (Host Dependent) with Peak Level Meters. Patch Indicator Matrix for Direct and Filtered Outputs. Partial Automation and User Assignable Automation.
Compatibility:
*This link goes to a 3rd party website due to the manufacturer not having a website*
Download HERE
TX16WX
The TX16WX offers quick browsing of sample libraries with preview playback and non-destructive loading of sound elements. You can set up bookmarks and search paths to quickly find and reference source material. Not only does it offer its own sample library but works with sound fonts from Yamaha, AKAI accepting SFZ and EXS format as well as WAV, AIFF, OGG, and FLAC. There is also an interactive loop slicer with an automatic keyboard layout, built-in DSP, loop overlay, 2 LFO's, 2 resonant 6/12/24dB multi-mode filters and AHDR/AHDSR envelope.
Compatibility:
64 bit
Windows VST 2 & 3
Mac AU, AAX
Download HERE
WAVTRANSIT
Wavtransit from Psychic Modulation is a VSTi loop sampler designed for manipulating longer samples and recordings to be looped and mangled with the loop vector and various sequence modulators. Loads a sample folder for quick scrolling through sample lists. Samples can be looped and start/end positions modified. Versatile sequencer section divided into four parts for modulating velocity, position, pitch, and filter.
Compatibility:
*This link goes to a 3rd party website for download, the manufacturer does not host this product*
Download HERE
SPDP
From Tekky Synths SpDp is a Small Pattern Dual Player with a random sample load and 8 Lock n recall pattern memory slots, plus a boost/stereo widener effect.
Compatibility:
Download HERE
CONCLUSION
Weather it be sample based, emulation, analog, subtractive, polyphonic, or modular. No matter what your needs are, there is a synth for it.