Image by Gavin Whitner via musicoomph.com
MIDI stands for Musical Instrument Digital Interface. MIDI is a way to connect devices that can control sound. Having a computer and controlling it with a keyboard is similar to how a remote control works with a T.V.
By sending MIDI messages your keyboard can trigger sounds from another device. There are 16 channels per MIDI device. A track in your sequencer plays one instrument over a single channel. MIDI messages make their way to the instrument through that channel. By using a MIDI device you can designate sounds to assigned keys as well as trigger loops. Not only does MIDI provide a great way to compose, it is also a way to play more organically live.
Below you will find a list comprised of some of the most popular as well as the newest MIDI controllers available. To view a complete list of specs just visit the link provided to the official website of that device. We have also provided direct links to purchase and a special section for those on a budget.
KORG MICROKEY AIR
Korg MicroAir Bluetooth MIDI keyboard allows you to connect wirelessly to iPad, iPhone, Mac, or Windows. The microKEY Air supports Bluetooth Smart "Apple Bluetooth Low Energy MIDI". You can easily connect wirelessly to iPad/iPhone music apps such as KORG Gadget, KORG Module, and GarageBand, as well as any MIDI-capable music production software on your Mac or Windows machine.
Painstaking tuning of the Bluetooth capabilities means high stability and low latency, no strings or wires attached. With an average of one hour of use per day, the batteries allow approximately one month of operation. And best of all, the microKEY Air runs on just two AA batteries.
MicroKEY Air can also be connected via a traditional USB cable. Since the microKEY is USB bus-powered, you only need a single USB cable to connect it to Mac or Windows. There's no need to install a driver; just connect it to your computer and start playing.
Available Sizes of Natural Touch mini-keyboards
microKEY Air-25: 25
microKEY Air-37: 37
microKEY Air-49: 49
microKEY Air-61: 61
Features
Arpeggiator
Sustain / TAP
Octave Shift
(microKEY Air-37/49/61 includes Pitch bend wheel, Modulation wheel, Octave Shift button)
KORG KAOSS - DJ CONTROLLER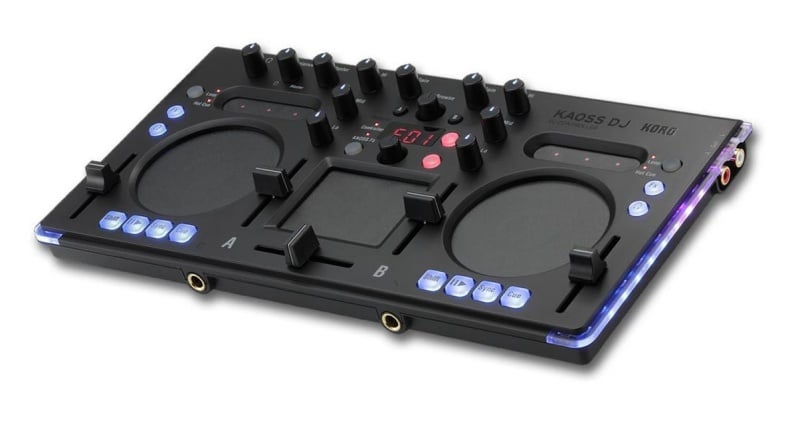 KORG's unique KAOSS PAD DJ effect unit offers 120 programs which are ideal for DJ performances, as well as synth programs inherited from KORG's Kaossilator. Simply moving your finger on the touchpad lets you control effects in complex ways. Numerous functions indispensable for DJ performance are provided.
The FX RELEASE function automatically adds a delay when you take your finger off the touchpad, naturally blending the effect into your sound. The Hold function maintains the effect even after you release your finger. Use the Auto BPM function to automatically detect the BPM of the song and synchronize the effect. Scale/Key settings let you play a synthesizer in the key of your song without any wrong notes. The KAOSS DJ can also be used as a stand-alone, functioning as a two-channel mixer.
Audio sources can be affected by the KAOSS effects. You can choose which set of inputs are processed, or set them all to run through the effects. It even has a built in audio interface.
AKAI LPK25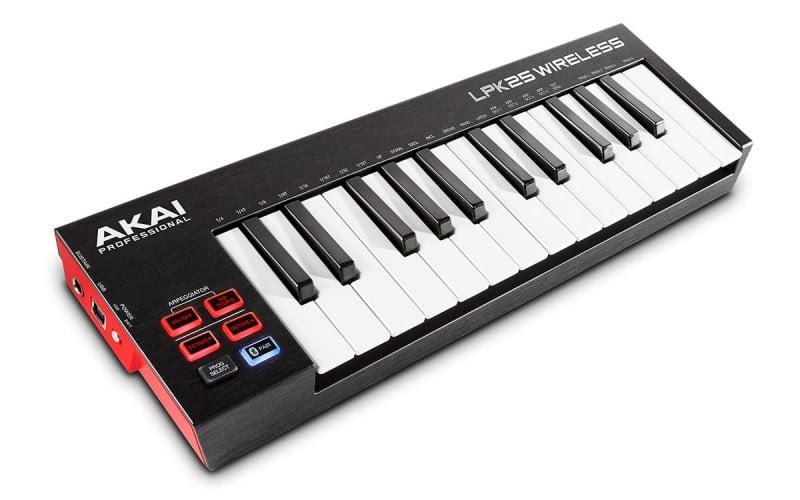 Battery-Operated/Wireless Bluetooth MIDI Keyboard Controller.
Recognizing the need for a wireless keyboard that doesn't sacrifice functionality or versatility, the new LPK25 Wireless takes portability and feature-rich performance to the next level with its Bluetooth MIDI connectivity, allowing players to control their plug-in instruments from anywhere in the room, providing the ultimate in studio setup flexibility.
Powered by 3 AA batteries for a truly untethered experience, the LPK25 Wireless is optimized for long battery life (at least 72 hours of performance time with fresh batteries). No batteries? No problem. The LPK25 Wireless can also be powered with the included USB cable.
Features
Supports Bluetooth MIDI for iOS and Mac OS X
USB-MIDI controller works with virtually all audio software
25 velocity-sensitive mini-keyboard keys
Arpeggiator, sustain pedal input, octave up and down and tap tempo controls
Plug-and-play USB connection for Mac and PC; no driver installation required
Four programmable memory banks
Comes with editor software for Mac and PC
USB bus or battery powered (3 AA, not included)
Akai Professional RED MPK MINI MKII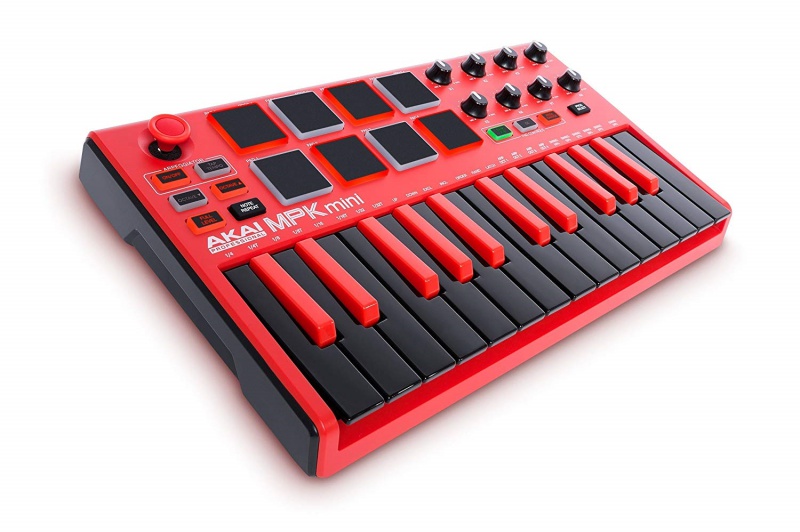 Mini controller with maximum functionality.
Go mobile without losing control. The MPK mini is an ultra-compact keyboard controller designed for the traveling musician and the desktop producer. With an array of hardware controls, MPK mini lets you record, compose, and perform with virtual instruments, effect plugins, and DAWs whenever inspiration strikes. It features 25 velocity-sensitive synth-action keys, a 4-way thumbstick for dynamic pitch and modulation manipulation, 8 backlit velocity-sensitive MPC-style pads, and 8 assignable Q-Link knobs. Plus, two banks expand the number of MPC-style pads to 16 for extended creative capabilities.
Features
Incorporates 5 years of user feedback for an all-new, enhanced design
25 synth-action mini keys
4-way thumbstick for dynamic pitch and modulation control
8 backlit velocity-sensitive MPC-style pads with Note Repeat & Full Level
8 assignable Q-Link knobs for mixing, tweaking plug-ins, and more
Built-in arpeggiator with adjustable resolution, range, and modes
Dedicated Octave Up and Octave Down buttons
Ultra-compact design lets you create anywhere
USB-powered no power adapter required
Full-size sustain pedal input jack
Comprehensive production software package included
Audio Key station 49 2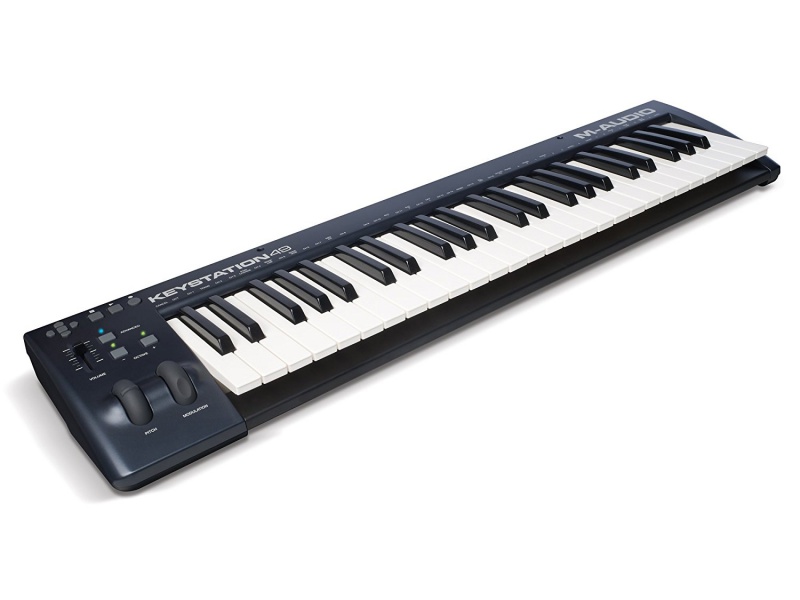 49 full-size velocity-sensitive keys with a natural piano feel.
USB-MIDI connection for playing virtual instruments and controlling recording software. Transport and directional buttons let you operate your DAW from the keyboard. On board functions include pitch bend, modulation, and octave controls for expressive performances.
Features
USB-powered and supports plug-and-play connectivity to your Mac or PC
Lightweight design for easy setup and portability
iOS compatibility using the Apple iPad Camera Connection Kit (sold separately)
Includes Ableton Live Lite, a powerful music performance, and creation software
Includes SONiVOX Eighty-Eight Ensemble, a virtual piano instrument that captures a 9-foot CD327 Steinway piano
Includes AIR Music Tech Xpand!2, a multitimbral all-in-one workstation
Roland A-300 Pro

If you're looking for keyboard controllers that you can use in the studio, on-stage, or anywhere you feel inspired, look no further than the A-300PRO. Combining the best of Roland engineering with Cakewalk's legendary ease-of-use, the A-300PRO has the features and feel you need to get the most out of your music performances and productions.
32 velocity sensitive keys with channel aftertouch and Roland durability this A-300 Pro features 8 dynamic pads for finger drumming and MIDI triggering. Hosting 45 assignable controls, knobs, sliders, buttons, and transport. Expand playability with sustain and expression pedals (available separately)
USB Bus Powered so no A/C adapter required.
Bundled with the Cakewalk Production Plus Pack including three incredible instruments and production software and will work with any DAW on Mac or PC.
Alesis V125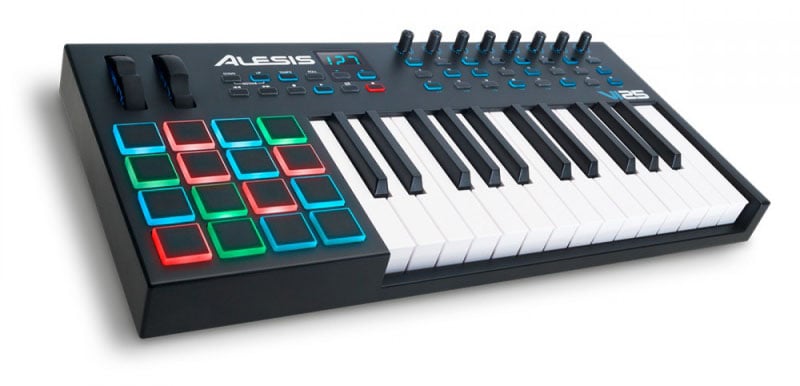 The Alesis VI25 is an advanced USB/MIDI keyboard MIDI controller that lets you take command of your music software with a series of pads, knobs, and buttons. With 25 velocity-sensitive semi-weighted keys with after touch and Octave Up/Down buttons, you can expand the keyboard to the full melodic range and play bass lines, chords, and melodies. VI25 also features 8 assignable knobs and 24 assignable buttons for manipulating effect plugins and virtual instruments: open and close filters, adjust volume levels, activate effects, tweak parameters, and more. 16 velocity-sensitive RGB trigger pads allow you to launch clips or finger drum with exceptional response and colorful visual feedback. Plus, pitch and modulation wheels expand the expressive capabilities of your performing.
VI25 is bundled with Ableton Live Lite and Xpand!2 by AIR Music Tech, two dynamic pieces of software that enable you to record, produce, and perform with your computer.
Ableton Live Lite is a fluid audio/MIDI environment that enables you to spontaneously record, remix, improvise, and edit musical ideas on the fly.
Xpand!2 is an advanced virtual instrument that comes with a collection of premium sounds, ranging from acoustic instruments to futuristic synthesizers. Together, these powerful music platforms allow you to create or perform music with VI25 right out of the box.
Nektar IMPACT LX25+ MIDI Controller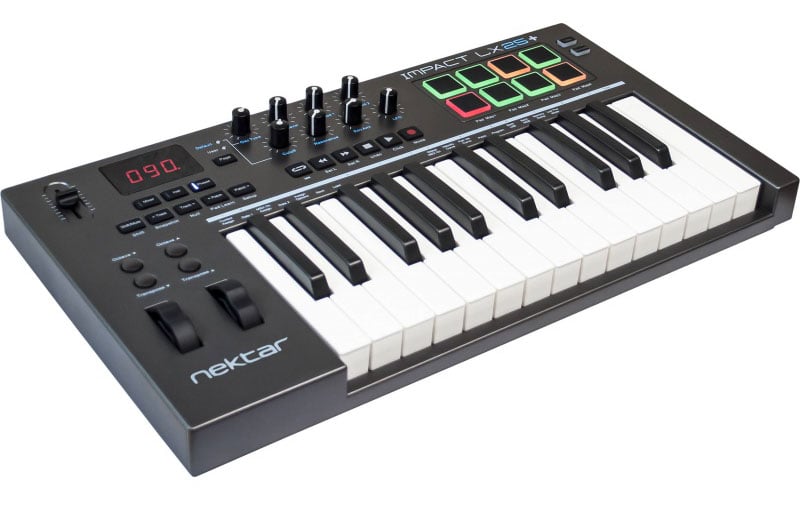 The Impact LX25+ MIDI controller is compact and portable yet jam-packed with intelligent and expressive performance control. Ever wanted a controller that hooks up automatically to your DAW? Impact LX25+ does exactly that. Nektar DAW Integration custom designed for Bigwig, Cubase, Digital Performer, FL Studio, GarageBand, Logic, Nuendo, Reaper, Reason, Sonar and Studio One takes Impact LX25+ way beyond functionality normally offered by a USB MIDI controller keyboard.
With Impact LX25+ the hard work is done, so you can focus on your creativity. The 25 note velocity sensitive keyboard is a synth action, full-size, piano-style keys with a medium tension. A 30mm fader and 8 pots are at the center of the Impact LX25+ control panel. Each control is fully programmable to send any MIDI CC message for use with hardware or software MIDI products.
For groove and beat creation, Impact LX25+'s 8 velocity sensitive pads. Calibrated to trigger at a light touch, finger drumming is suddenly well within reach with a nice and even velocity response. The best part is the "Pad Learn" feature, which allows you to just select a pad, play the note or drum sound you want on the keyboard and assignment is done.
The 4 color LED illumination indicates which pad map is currently loaded and can even tell you which type of MIDI message each pad sends. With Nektar DAW Integration, the pads are automatically mapped in.
Arturia KeyStep

You need a portable USB MIDI controller but also want a keyboard that provides a musical playing experience? You have some MIDI modules you want to connect as well but don't want the footprint of a large keyboard? You have modular and analog gear you want to control via CV/GATEs? You want a step sequencer with polyphonic capability that can sync to your favorite modern and vintage gear? If only a single piece of gear could do all of this. KeyStep was imagined and designed to become the modern musician's trump-card.
Features
Slimkey Keybed.
32-note keyboard, designed by Arturia with velocity and aftertouch.
Polyphonic step-sequencer.
Arpeggiator mode with 8 pattern styles.
Top panel HOLD button allows for sustain pedal operation.
Chord Play mode allows you to set chords and play them back with a single note.
Capacitive-touch pitch bend and modulation strips.
Transpose the keyboard up or down multiple octaves.
Native Instruments KOMPLETE KONTROL S49 MK2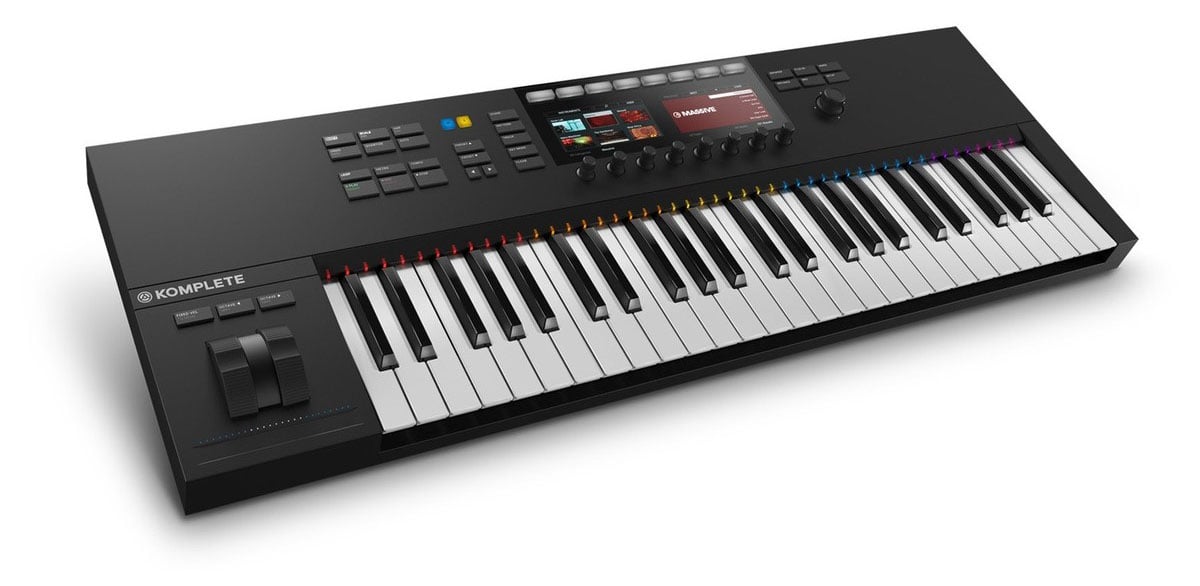 With KOMPLETE KONTROL, music-making becomes a more intuitive, hands-on experience. Perform expressively, browse and preview sounds, tweak parameters, sketch your ideas, then navigate and mix your project all from one fully integrated centerpiece for studio and stage. Now with the MK2 version of the KOMPLETE KONTROL S-Series, you'll have even greater control over your music.
Features
Pro-grade 49-note Fatar keybed with aftertouch
Ergonomic pitch and mod wheels, plus touch strip for expression control
Pre-mapped control of KOMPLETE instruments and (NKS) instruments
Full VSTi support
Tag-based preset browsing
Two high-res color screens for browsing, tweaking, mixing, and more
RGB lights above each key
Deep integration with MASCHINE software / hardware
4-directional push encoder for one-handed sound browsing and project navigation
Two assignable pedal inputs
MIDI in/out
USB 2.0 bus powered
Ableton Push 2 Software Controller
Push is an instrument that puts everything you need to make music at your fingertips. Making music is hard. To stay in the flow, you need to be able to capture your ideas quickly, and you need technology to stay out of the way. Computers make it possible for one person to create whole worlds of sound. But instruments are where inspiration comes from. Push gives you the best of everything. It's a powerful, expressive instrument that gives you hands-on control of an unlimited palette of sounds, without needing to look at a computer.
Play or program beats, melodies, and harmonies with Push's 64 pads. When playing drums, Push's grid of 64 pads is divided into three sections, allowing you to play in real time, step sequence, and adjust the length of your loop, all at the same time.
ON A BUDGET
For those starving artists out there you can still purchase top of line awesome gear. Pre-owned or used gear is sold by a private party as well as large retail stores that may offer a warranty. While Amazon is universal they may not always have the lowest price. Shop it around. The following websites offer a used gear section and several different shipping options.
Some of the gear covered above is also available used from the following locations.