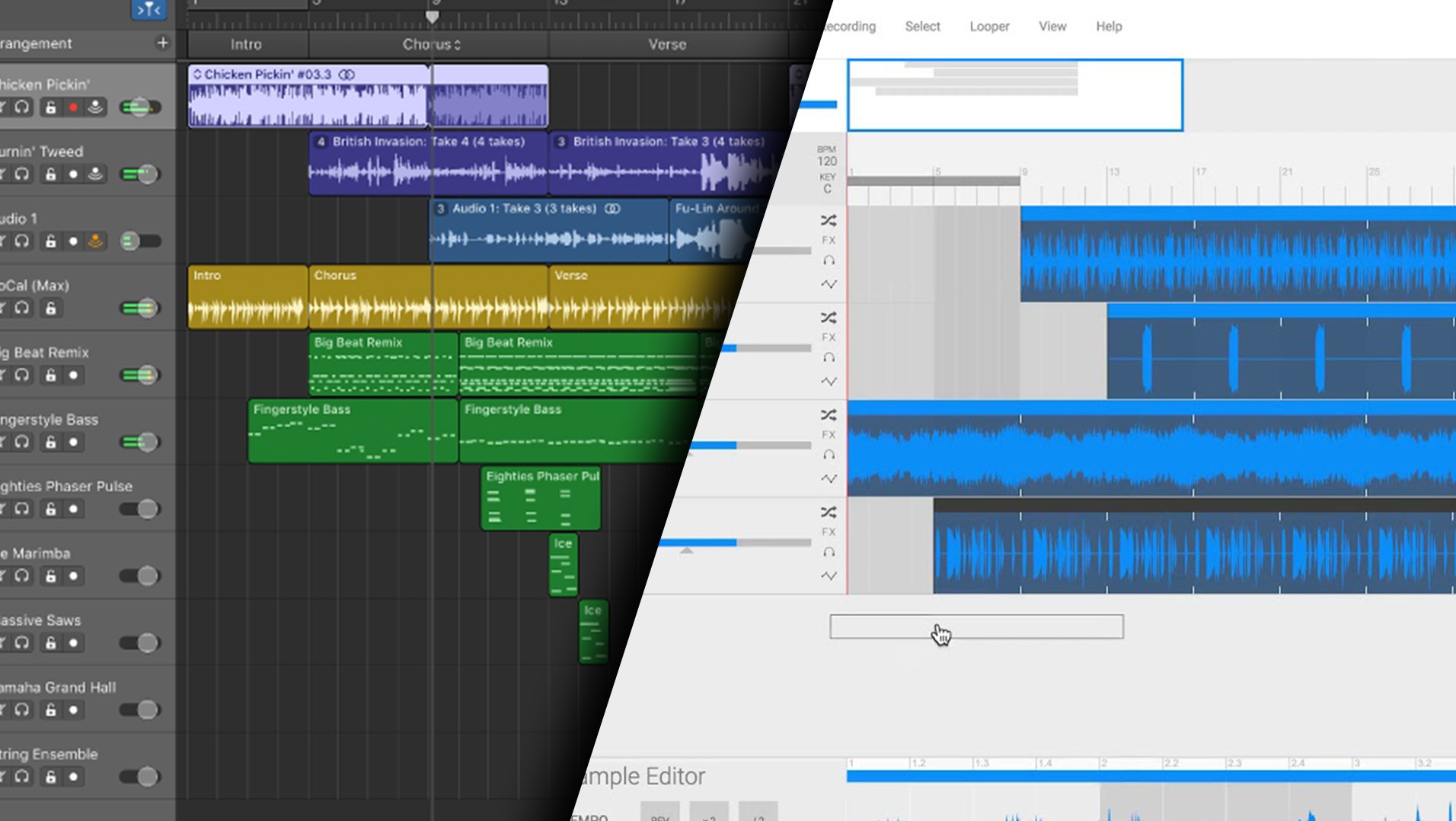 Who doesn't like free? Long gone are the days where you had to fork over thousands of dollars to create quality music. Especially for beginners, why invest so much money into something you have never done before? From the learning musician to the starving artist here is a list a free DAWs to help you create the music that you want.
D.A.W. - Digital Audio Workstation. "An electronic device or application software used for recording, editing and producing audio files." Wikipedia
TRACKTION 6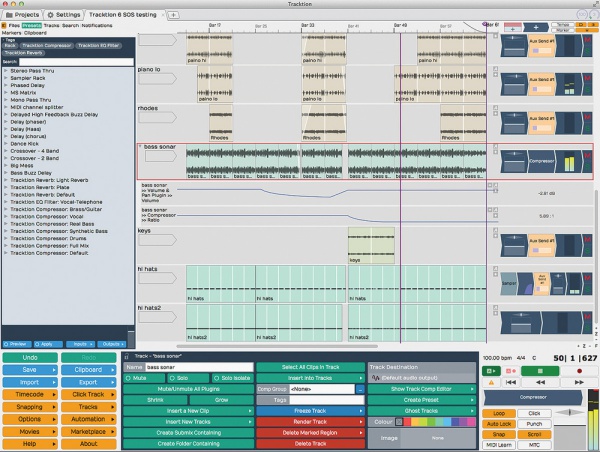 Platform: Windows, Mac, Linux
Summary
This is no 'Lite' version, we do not impose track limits, plugin limitations or other such constraints commonly found in other low-cost offerings. Why? We think you will enjoy using the app so much, you will discover the value in investing in our latest versions and the expanded features we are voraciously adding. Innovation and creativity is what drives us.
Features
Unlimited Audio and MIDI tracks
Automation
Video sync
Latency management
Step Sequencer
Freeze points
Track tags
Record line in
Import audio
Onboard effects
Technical support
LFO generators
Grouped clips
AUDACITY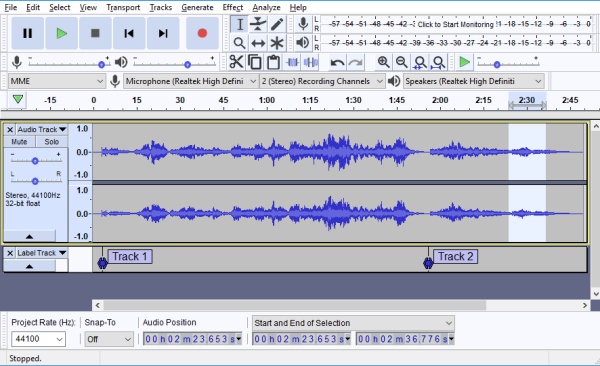 Platform: Windows, Mac, Linux
Summary
This application is a free, open-source software application for recording and editing audio. Though the features available in this software are not on par with expensive, professional digital audio workstations, this app has proved to be indispensable to many for more basic audio editing and recording tasks, and is extremely popular.
For the more basic tasks, this application is quite easy to use. There is a learning curve when dealing with some of the more complicated tasks, such as working with VSTs or using the more advanced features, but in general, this software is no more difficult than other audio editing applications.
Features
Record live audio through a microphone, mixer or digitize recordings.
Import, edit, and combine sound files.
Export your recordings in different file formats.
Supports 16-bit, 24-bit, and 32-bit.
Easy editing with Cut, Copy, Paste and Delete.
Pitch and time signature change.
Chain Effects.
ORDRUMBOX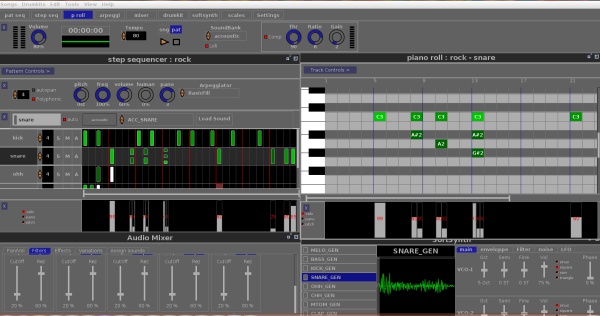 Platform: Windows, Mac, Linux
Summary
The orDrumbox is a free drum machine software, designed to be as creative as possible with some unusual features. Ideal for experimentation and fast results. This software can automatically compose bass line, melodic patterns, and complete songs. It comes with a rhythm database and sounds database including music items which can be fully edited. And a fully customizable softsynth section, add many synthetics sounds as presets to sounds library.
Features
You can create songs by assembling various patterns.
You can import your own sound files and use them as instruments.
Use any standard WAV files (even in 24 or 32 bits).
A soft synth with available and can generate sounds.
Exports songs and individual patterns in 16 bits /44 Khz/stereo sound CD-quality.
A midi importation/exportation is available.
Has mixer with effects.
Offers a users guide.
GARAGE BAND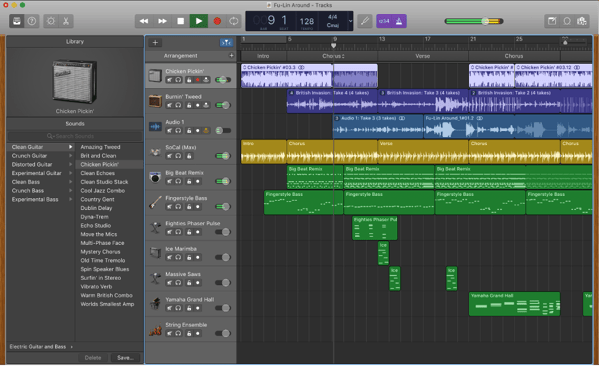 Platform: Mac, iPhone, iPad
Summary
GarageBand is a fully equipped music creation studio right inside your Mac. With a complete sound library that includes instruments, presets for guitar and voice, and an incredible selection of session drummers and percussionists. With Touch Bar features for MacBook Pro and an intuitive, modern design, it's easy to learn, play, record, create and share your hits worldwide. Now you're ready to make music like a pro.
Features
Multi-take recording.
Third-party plug-in effects.
Extensive Sound Library.
Beat Sequencer.
Plug in your guitar and choose amps and stompbox effects.
10 track mixing effects.
DARKWAVE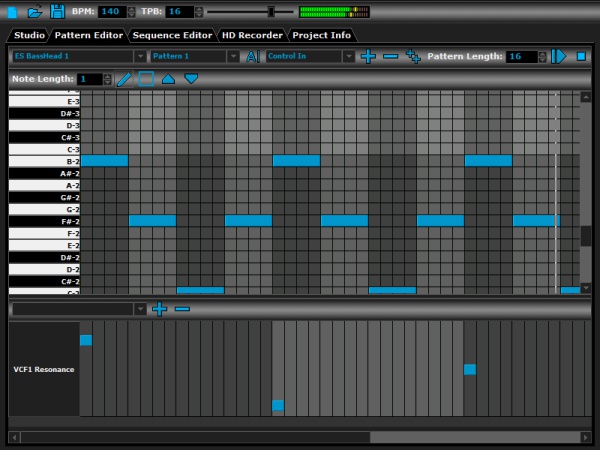 Platform: Windows
Summary
DarkWave Studio is a free Digital Audio Workstation for Windows. Featuring a modular Virtual Studio, Pattern Editor, Sequence Editor and Multitrack Hard Disk Recorder. It has support for VST/VSTi instrument and effect plugins.
The virtual studio has a modular design allowing machines to be connected in an ad-hoc fashion. The pattern editor enables the quick creation and modification of patterns by clicking to add or delete notes and dragging notes to move or resize them. The sequence editor allows you to queue patterns to play for each control track in any arrangement, enabling reuse of patterns and quickly remixing projects.
The Multitrack Hard Disk Recorder allows you to record the output of any machine and record it to 16-bit Integer or 32-bit Floating Point PCM encoded.WAV files for full-quality post-production editing or for conversion to MP3/FLAC/etc.
Features
Native x64 and x86 Windows Platform Support.
VST PlugIn Support - Limitlessly Expandable With Instrument and Effects PlugIns.
Multi-Core / Multi CPU Support.
Full 64-bit Double Precision Floating Point Audio Processing.
Low Latency ASIO And DirectSound Audio Output Support.
DirectSound Full Duplex Support For Low Latency Input And Output.
ARDOUR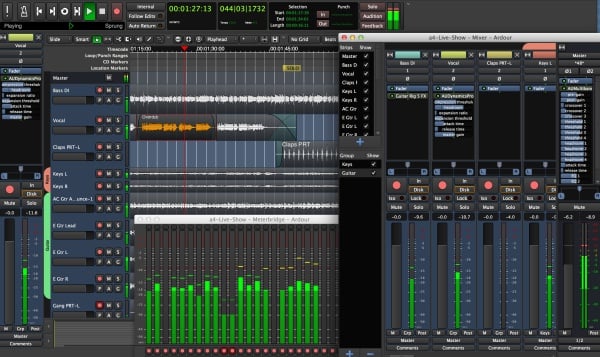 Platform: Windows, Mac, Linux
Summary
Ardour is an open source, collaborative effort of a worldwide team including musicians, programmers, and professional recording engineers. True tape-style transport allows any combination of master record and individual track arming at any time; no prior setup is needed. Per-track setting of layered, non-layered, or destructive recording modes. No limits on the number of tracks, buses, plugins, inserts, or sends. Tracks may consist of overlapping layered regions, non-overlapping regions, or true destructive (single-file) regions. Tracks may be mono, stereo or multichannel.
Features
Export to many different data and file formats, including but not limited to WAV, AIFF, CAF, BWF, FLAC, Ogg/Vorbis
VST plugin support.
AU plugin support.
Sample accurate automation for everything.
Import a single video and optionally extract the soundtrack from it.
ROSEGARDEN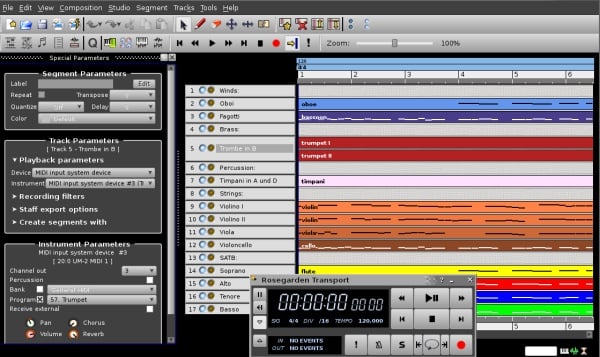 Platform: Linux
Summary
Rosegarden is a music composition and editing environment based around a MIDI sequencer that features a rich understanding of music notation and includes basic support for digital audio. Rosegarden is an easy-to-learn, attractive application that runs on Linux, ideal for composers, musicians, music students, and small studio or home recording environments.
Features
Manage your MIDI ports, banks, programs and controllers without having to remember any numbers.
Notation editing and printing score.
Record, mix and use samples and effects.
Play your MIDI tracks through hosted synths, for more accurate control.
PODIUM FREE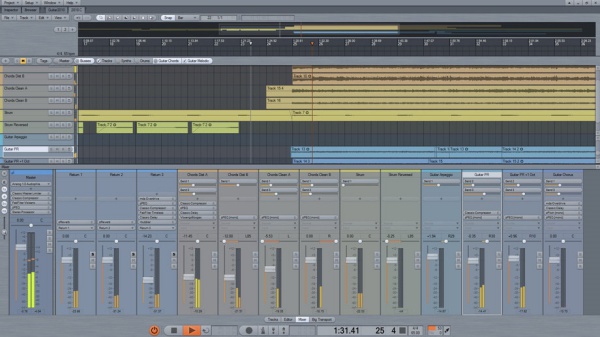 Platform: Windows
Summary
Podium Free is a fully functional freeware edition of Podium. It is identical to the commercial Podium version except for a few limitations. Podium is a modern digital audio workstation (DAW) for Windows. It supports recording and editing of audio and MIDI and hosts VST instrument and effect plugins. Support for jBridge x86/x64 VST plugin wrapper.New "Control Surfaces" page in the Audio/MIDI setup dialog. Up to eight Mackie Control compatible devices can be configured.
Features
Multi-channel audio.
Mixer busses.
VST plugin support.
Bounce tracks.
Customizable interface.
Object-based project structure.
MUSESCORE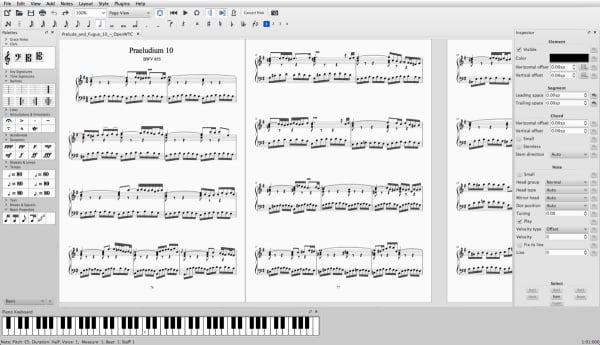 Platform: Windows, Mac, Linux
Summary
MuseScore makes software and online services for musicians to create, distribute and consume sheet music in a fully digital experience. The leading free and open source music notation software MuseScore is adopted by hundreds of thousands of musicians worldwide. Create, play and print beautiful sheet music. MuseScore is a notation software. Completely free, with no limitations. Transfer to and from other programs via MusicXML, MIDI and more. Write music for guitar, piano, orchestra, choir and more.
Features
Input via MIDI keyboard.
Open source.
Easy to use, yet powerful.
Plugins.
Tablature.
AUDIO TOOL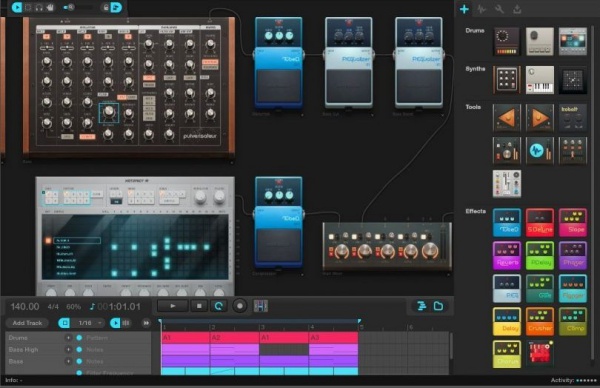 Platform: Online
Summary
Audiotool is a powerful online music production studio right in your browser. All of the Audiotool devices can freely be added to the app's desktop where cables can be manually dragged from input to output mirroring the workflow of early electronic musicians. Enjoy an ever growing, community fed cloud-based library of over 250,000 samples.
Features
Produce music in your browser.
Learn by remixing others tracks.
Collaborate on tracks with other artists.
Promote your track on different platforms.
Several instruments and effects.
Tutorials.
BEATLAB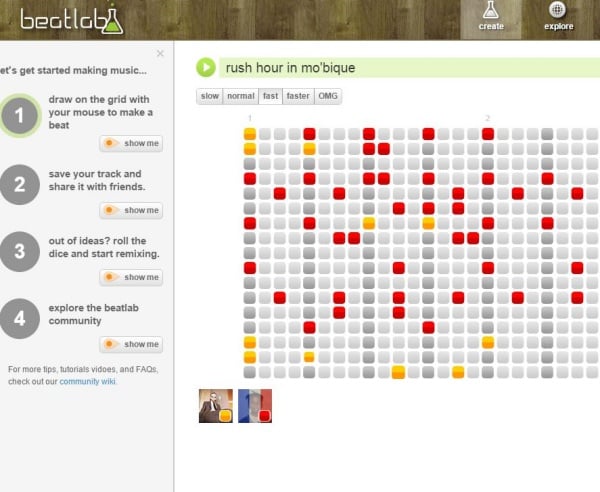 Platform: Online
Summary
Beatlab is the easiest way to create music and share it with your friends.
Create music using a simple expressive interface that requires no knowledge of music theory or instruments. You can start from scratch, or remix the musical ideas of others. You can share your finished tracks privately with friends, or share them with the world to listen and remix. Or you can download your tracks into an MP3 file to put on your iPod or make into a ringtone. Music is composed using a simple grid-based sound sequencer. The columns of the grid represent time and the rows represent sounds. Clicking a position on the grid will enable a sound at that point in time. Multiple people can contribute to a single track, each with their own assigned color on the grid.
Features
Cloud Storage.
Collaborate.
Upload your own sounds.
Extensive sound library.
SOUNDTRAP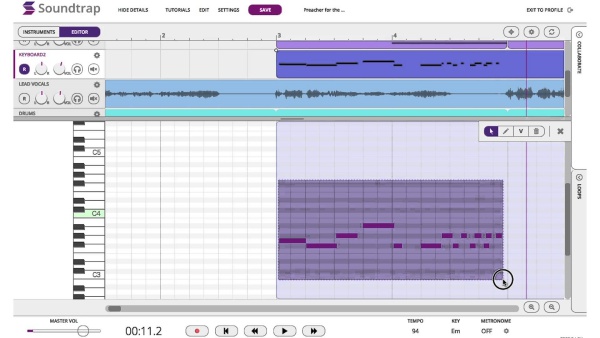 Platform Online on Windows, Mac, iPad, iPhone, Android, Linux
Summary
Your very own online music studio where you can record your creations with your device microphone. Explore our extensive collection of beats, loops, and instruments or connect your own instruments. All your projects are stored online so you can access them wherever you are. The cloud is the limit. Make music with other people in real time or share with friends.
Features
Pitch and modify your voice recordings.
5 projects.
890 loops.
210 instruments & sounds.
Upgrade and unlock more features.
Import / export tracks.
Record live audio.
LOOPLABS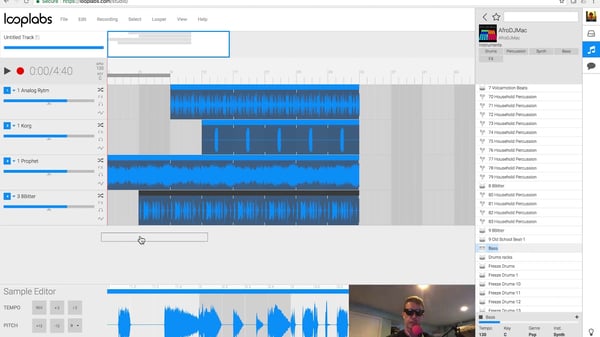 Platform: Online
Summary
Looplabs is a free, easy to use cloud-based music studio that lets you make music anywhere, anytime, together. We've joined forces with Beatport to help you create music. Beatport has provided access to thousands of exclusive Beatport Sounds you can use royalty-free to create your next masterpiece.Stocked with tens of thousands of royalty-free sounds, you can easily make amazing music. Electronic, pop, hip-hop, latin, jazz, funk or Indian. You name it, we have the largest collection of free sounds online to create with. Whether you want to make music to drop into a YouTube video you are making, a game you are creating put in your next Dj set, sing to or just have fun with your friends. There's a whole world of sounds to explore and it's constantly growing.
Features
Record Vocals, edit, mix, collaborate.
Drag and drop sounds.
Community support.
AUDIO SAUNA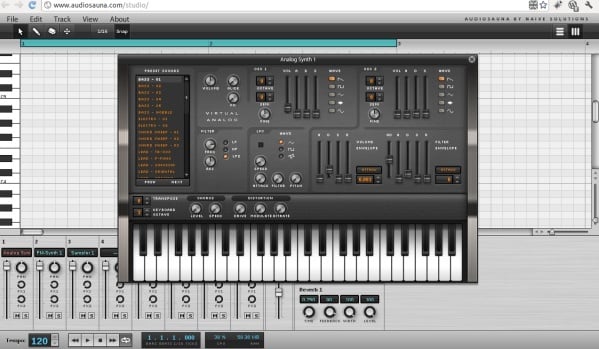 Platform Online for Windows, Mac, Linux
Summary
AudioSauna is a free music software for making songs online. AudioSauna transforms your web browser into a fast and flexible music production studio with built in synthesizers and live effects. AudioSauna is a full-featured audio workstation with an easy-to-use and straightforward user interface. It enables using several advanced polyphonic synthesizers, samplers and live effects in real-time in the browser.
Features
Save and open songs and export song as an audio file.
Use your computer's keyboard to record melodies with AudioSauna.
Sequencer with pattern arranges and piano roll modes.
Mixer with level, pan, mute, solo and AUX1 and AUX2 levels.
Built-in aux effects: delay and reverb.
Snap to grid.
Import mp3 and wav files.
Layering, key range mapping, auto-mapping.
Proof that there really is something for everyone, and it can be free. But hey, if ya can, show some love to the creators. Some of them do accept donations and offer plugins for purchase.
Time for some interaction.
If you have given a test run on any of the DAWs on this list, tell us your favorite and why in the comments section below.