Staying up to date on the latest, and greatest, creations in VST (Virtual Studio Technology) plugins and DAW (Digital Audio Workstation) software is vital to being on top of, or ahead of, the game. While freeware has often been nothing more than a great learning tool, this list offers what could be your next "go-to" plugin or DAW. If you want a free alternative to Pro Tools or even Serum, we've found some amazing software that will blow you away, and not just because it's free.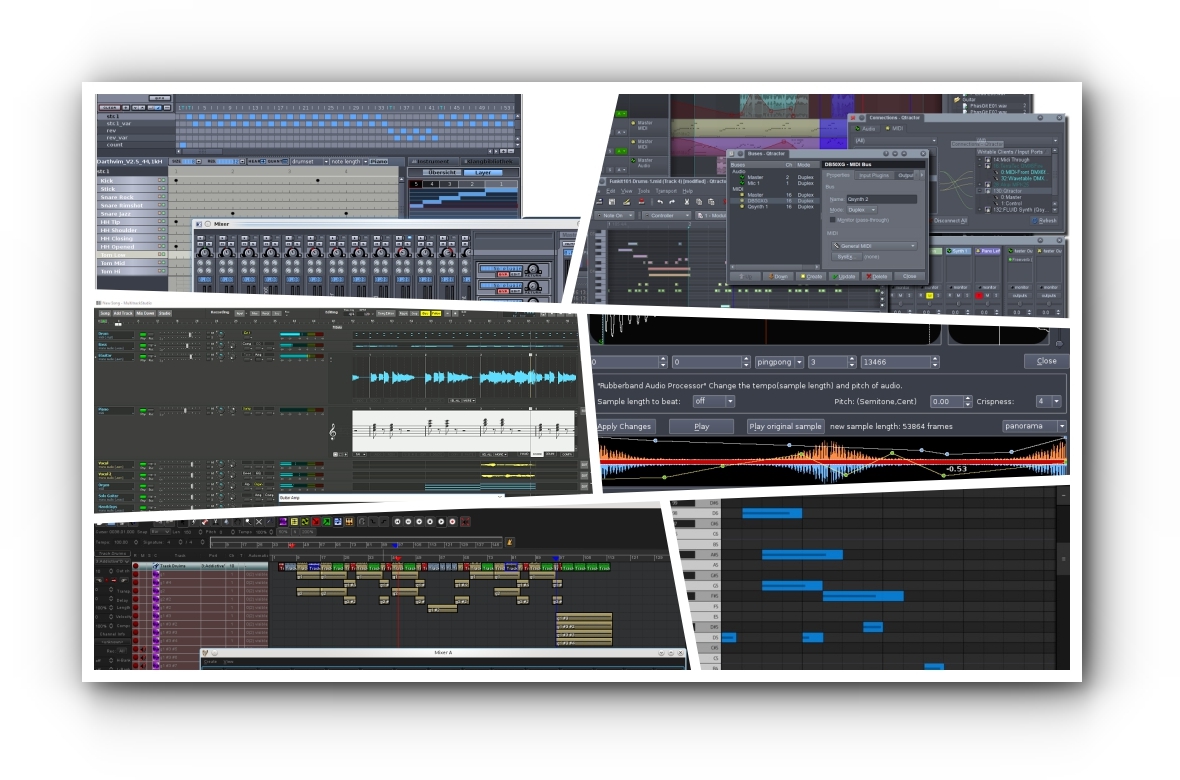 DIGITAL AUDIO WORKSTATION [DAW]
Aside from LMMS, Tracktion, and Audacity there are other, perhaps, lessor known free DAWs out there that preform all of the functions of FL Studio or Pro Tools. Free DAWs are a great way to test out functionality and features before making a purchase. They also make great secondary DAWs for those who separate the creation process from the mixing process.
QTRACTOR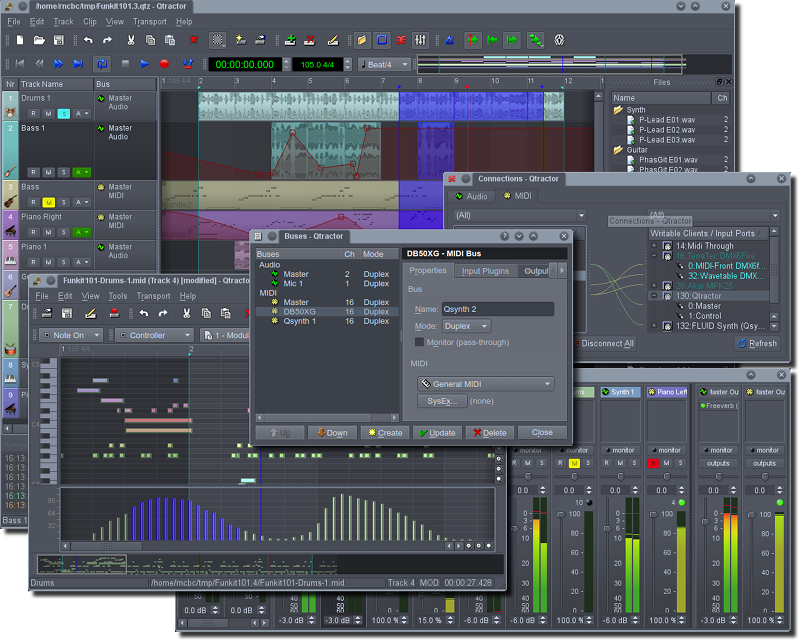 Qtractor is multi-track recording studio software that also allows MIDI sequencing. "Summer19 Beta" was released on July 24. This version updates the events on the MIDI clip editor and beat detection. Boasting an unlimited number of recording tracks and recording overlay tracks there is also a built-in monitor and mixer controls. There is an unlimited number of plugins allowed per each track or bus. LADSPA, DSSI, native VSTi and LV2 plug-ins are supported. Audio file formats supported are OGG, MP3, WAV, FLAC, AIFF. Other features include, automation, basic effects, MIDI mapping, and time stretching. And even though it is free they do offer support as well as downloadable manual.
Compatibility: Linux.
Download QTractor HERE.
MUSE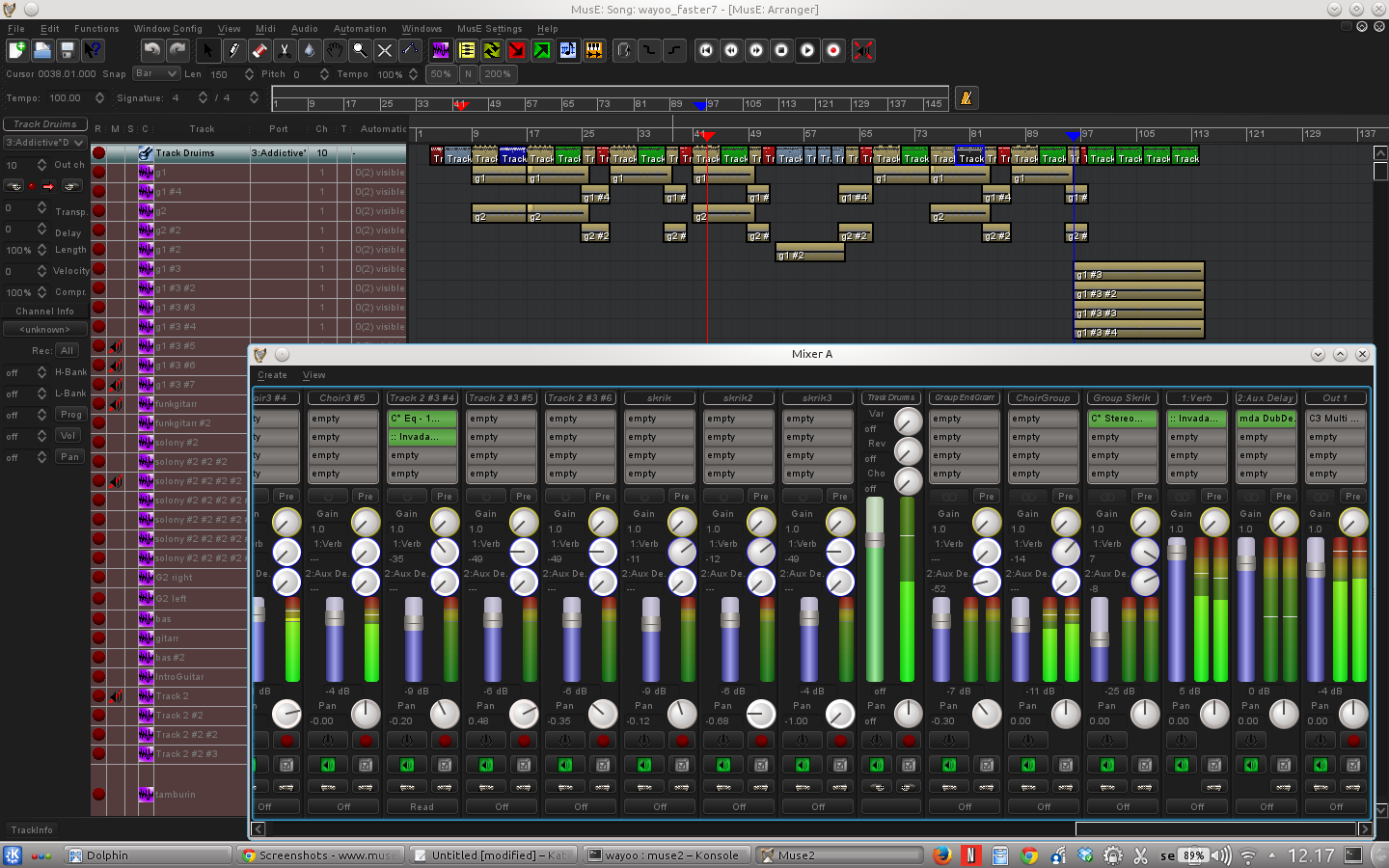 Muse is a MIDI/Audio sequencer with recording and editing capabilities. On February 24th Muse released the latest version which is a beta-test for version 3.1. Muse comes with its own emulation of the DX11 FM synth. And you can also use VST, DSSI, and LV2 formatted plugins. By using the drag and drop method using this DAW is a breeze. Muse offers up everything you love about paid DAWs such as piano roll, score editor, list view, real-time recording and playback, the use of audio inputs, aux inputs, wave tracks, and group tracks.
Compatibility: Linux.
Download Muse HERE.
HYDROGEN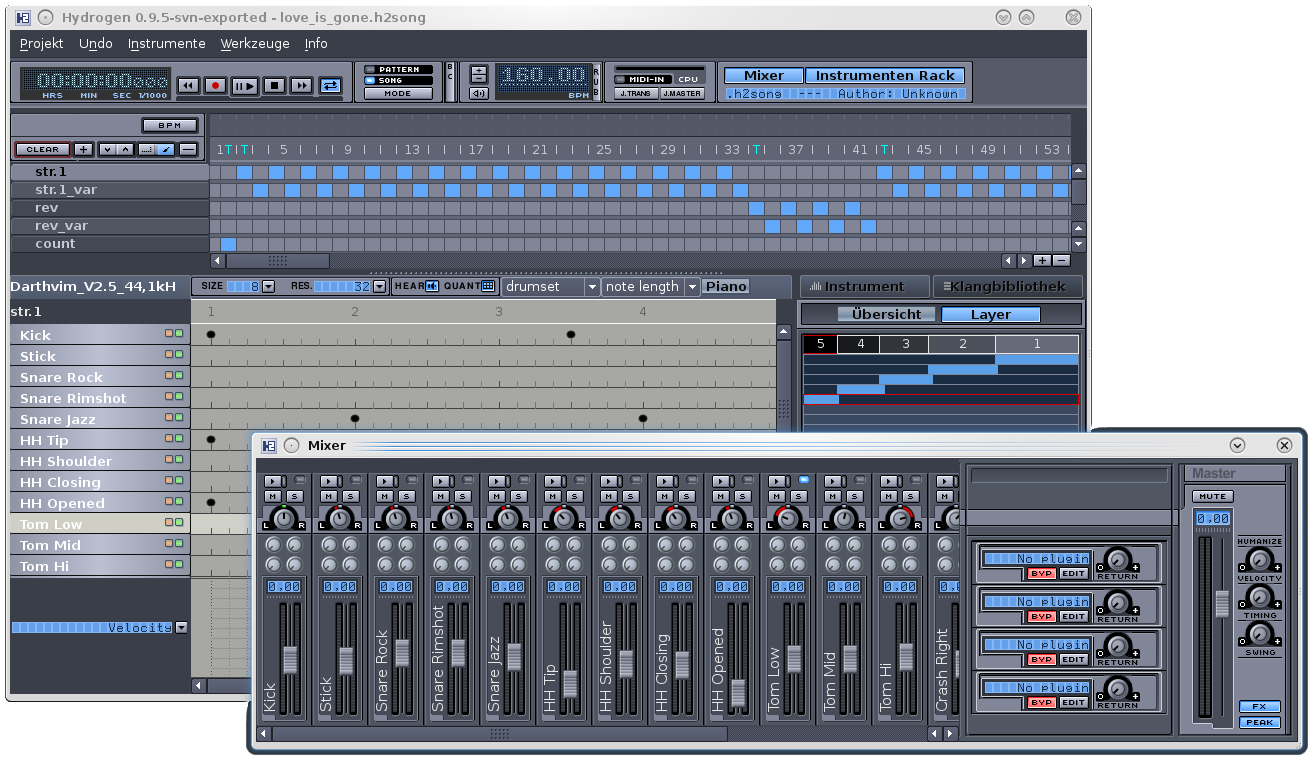 Hydrogen is a pattern-based sequencer that offers an unlimited number of patterns and the ability to chain patterns into a song. You can import sound samples in WAV, AU, and AIFF formats. Unlimited instrument tracks feature volume, mute, solo, and pan capabilities. There are also play-lists with scripting function, a time-line with variable tempo and the ability to import/export song files in multiple formats. Some other features include a sample editor, with basic cut and loop functions, time-line with variable tempo, and a GM drum kit with sounds. While this is more of a drum machine rather than multi track studio software, for the creation and sculpting beats it is a very useful tool.
Compatibility: Linux, Windows, and Mac.
Download Hydrogen HERE.
SOUNDBRIDGE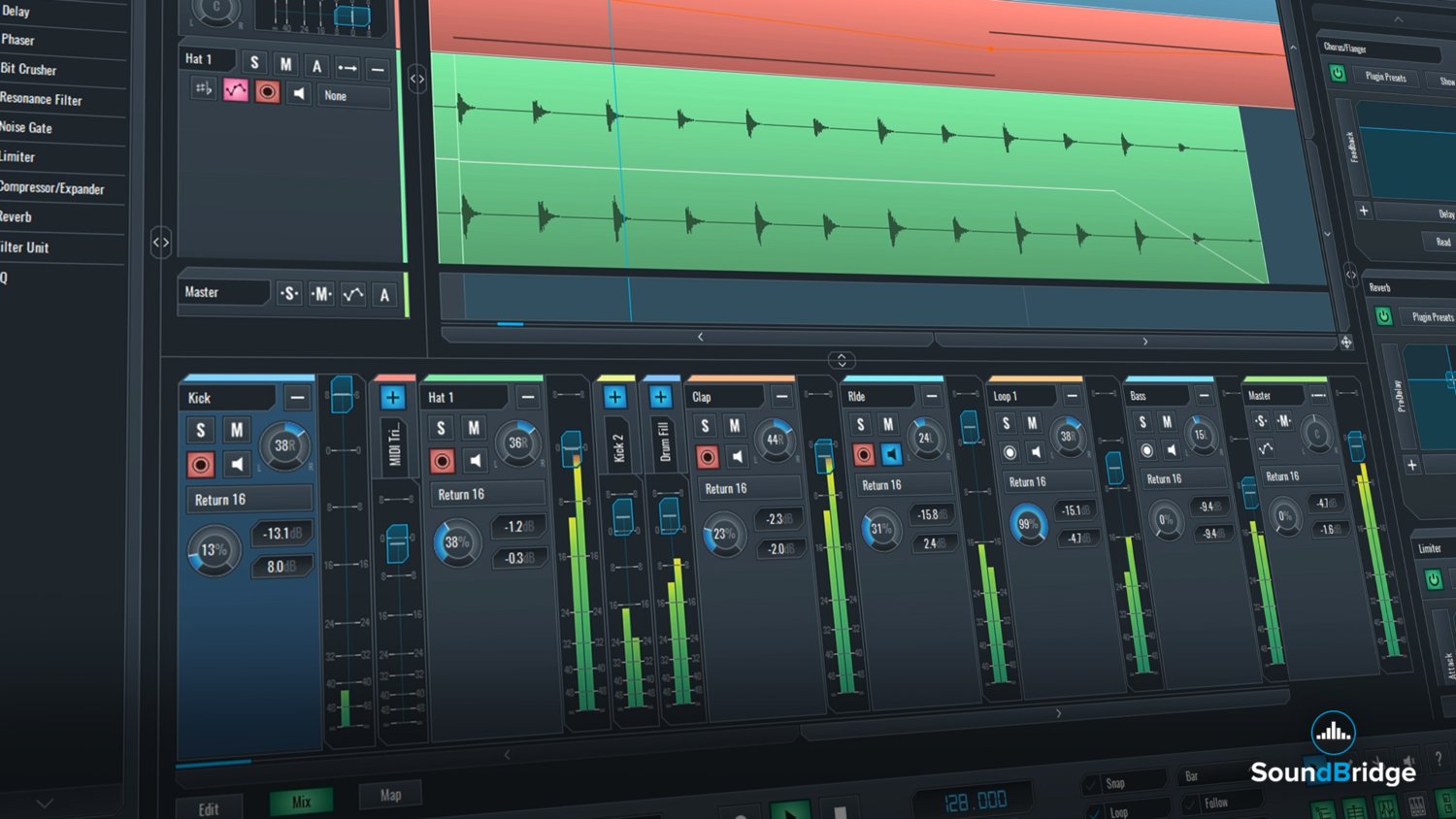 SoundBridge is a digital audio workstation that is multi-touch screen ready and will work with Microsoft Surface. You can also use third-party VST's with low-latency/high-fidelity audio driver support. This is the mother load of free DAWs. Offering a sequencer, mixer, fx rack, midi mapping and editing, automation editor, built-in effect such as phaser, bit crusher, reverb, delay, chorus and more. They also offer skins so you can customize the appearance. The best yet, it is available for both Mac and Windows 32 and 64 bit systems.
Download Sound Bridge HERE.
MULTI-TRACK STUDIO LITE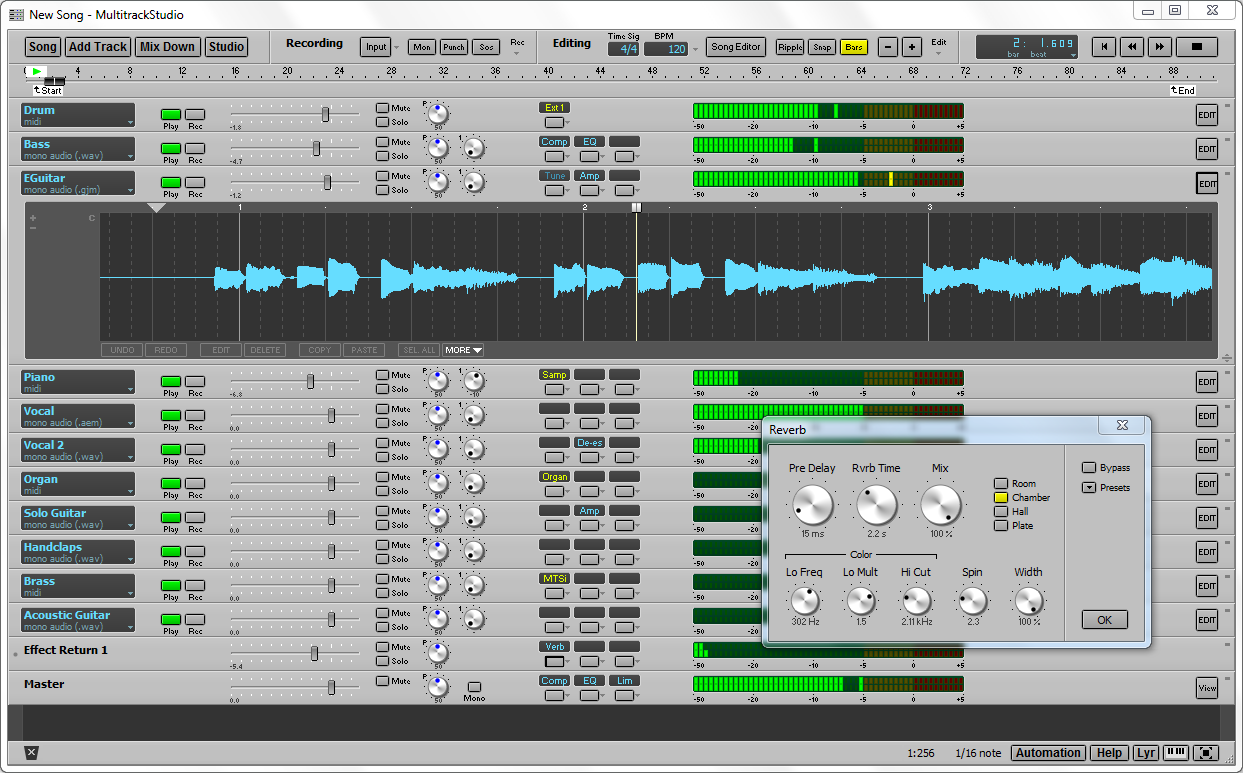 Multitrack Studio Lite is an audio/MIDI multi-track recording software for Windows/Mac and iPad.
Multitrack lite offers touch screen support, punch in/out, MIDI piano roll, supports 3rd party VST, AU, VSTi and AU plugins, the use of an external or internal synth, unlimited sends and returns, mixer automation, and a multi-track step sequencer. Yes, the word "lite" does mean there is a paid version that unlocks more features such as mixer/effects automation, change pitch of the song to match your instrument and effect side chaining options.
Compatibility: Windows and Mac.
Download Multi-Track Studio Lite HERE.
NANO STUDIO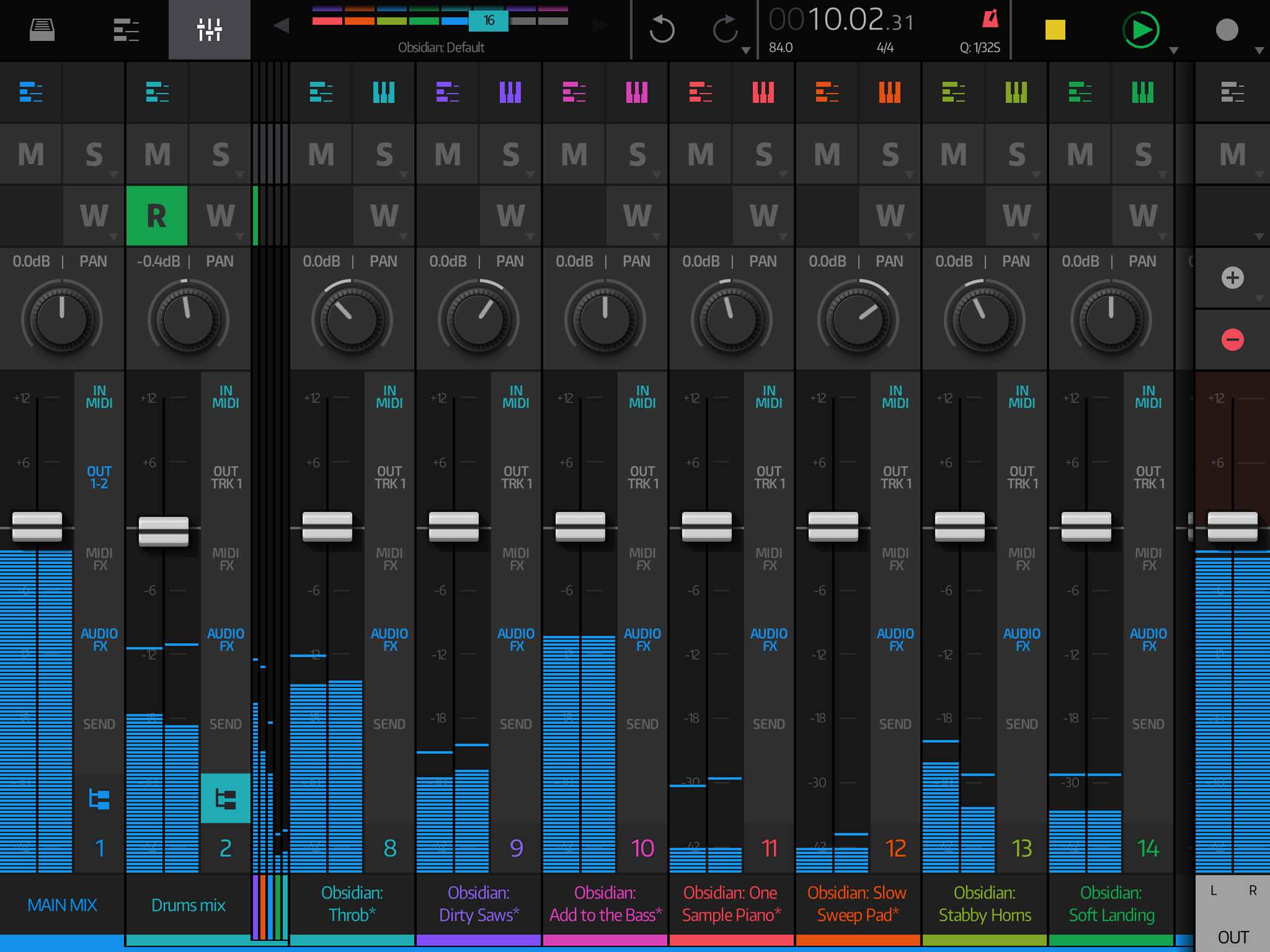 The original NanoStudio is a recording studio for 32 bit iPhones and iPads. NanoStudio 2 is a powerful music production environment for iPad and iPad Pro. Nano hosts Audio Unit (AUv3) instruments, audio effects, and MIDI effects. Nano is Ableton Link supported and allows you to send and track MIDI to an external hardware or software MIDI instrument. Nano supports automation, including real-time recording and allows you to host an Audio Unit instrument just like an internal instrument. Every track has an audio and MIDI effect insert chain with no limit on the number of effects. They also offer there own sound packs and have an available manual. Compatibility: Nano 2 is available for Apple iPad & 32bit iPhone and iPad. Nano 1 is available for desktop Mac & Windows.
Download Nano Studio HERE.
PLUGIN INSTRUMENTS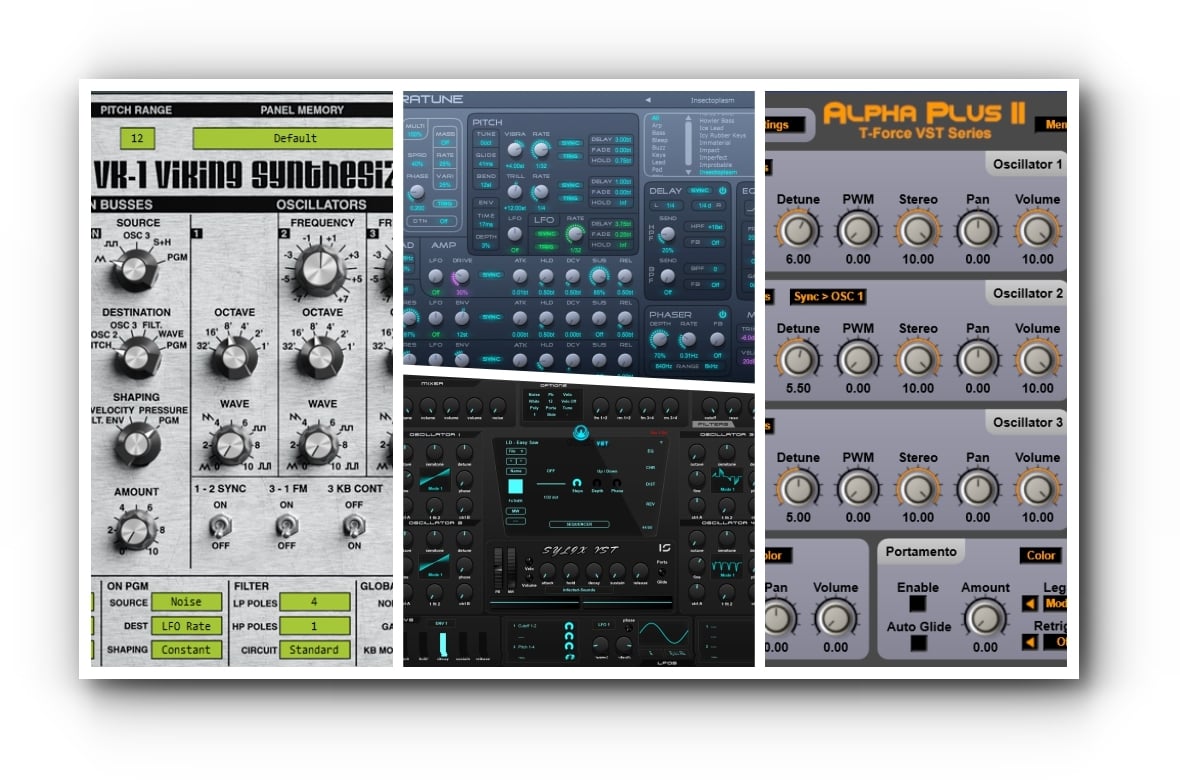 The quality of freeware soft synths has been getting better and better. T-Force Alpha Plus 2 just released an update to their soft synth. After giving it a test run, it does give Serum a run for it's money. Sylix, a hybrid step sequence synth with FM and RM, isn't too far behind. Check out what other new and newly updated synths are proving that "free" plugins can rate right up there with the paid plugins.
T FORCE ALPHA PLUS 2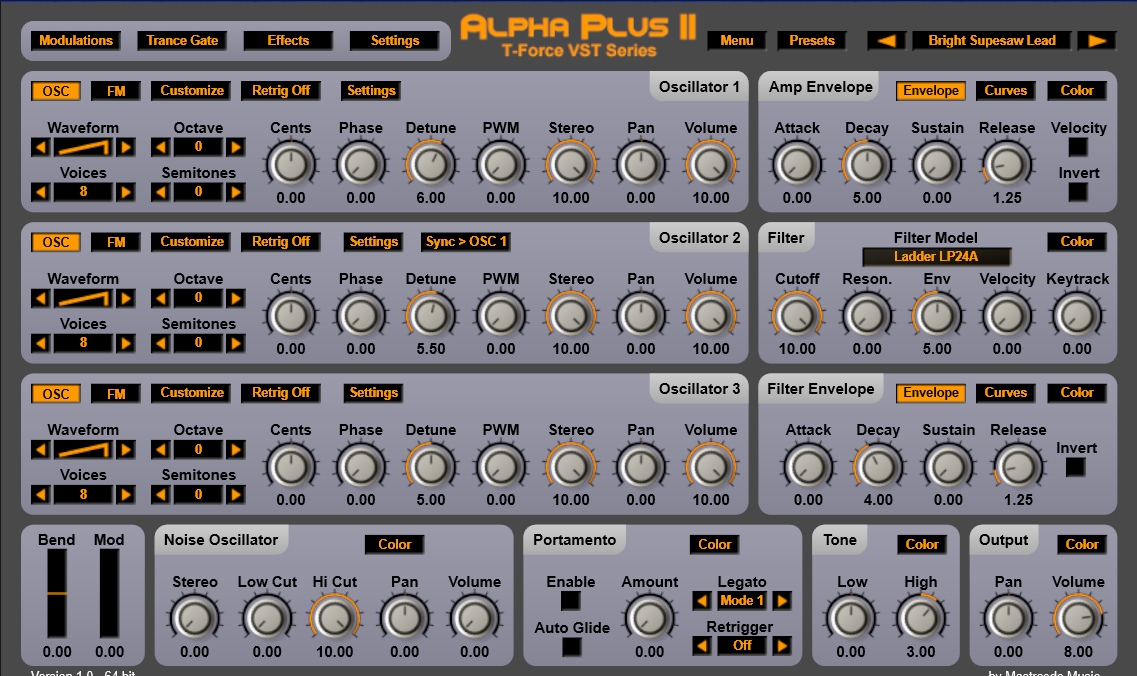 This synth could very well be the most awesome freeware to date. On May 5th Mastrcode Music releases T-Force Alpha Plus 2 a free synthesizer plugin in 64-bit VST2 and VST3 formats. Alpha allows you to create your own custom oscillator waveform. The overall polyphony can be changed manually by the user up to 1 - 128 voices. New effects such as phaser, new enhanced distortion/saturation effect, and bit crusher. The LFO's now can be switched to bipolar/unipolar and every single oscillator now has a "drift" mode. You can add a slightly adjustable phase and/or pitch drift to simulate the voltage inaccuracies of vintage analog synth. The sounds out of this thing are completely pro. The effects are easy to use and the trance gate comes in handy as well for EDM production.
Compatibility: Windows.
Download T Force Alpha Plus 2 HERE.
VCV RACK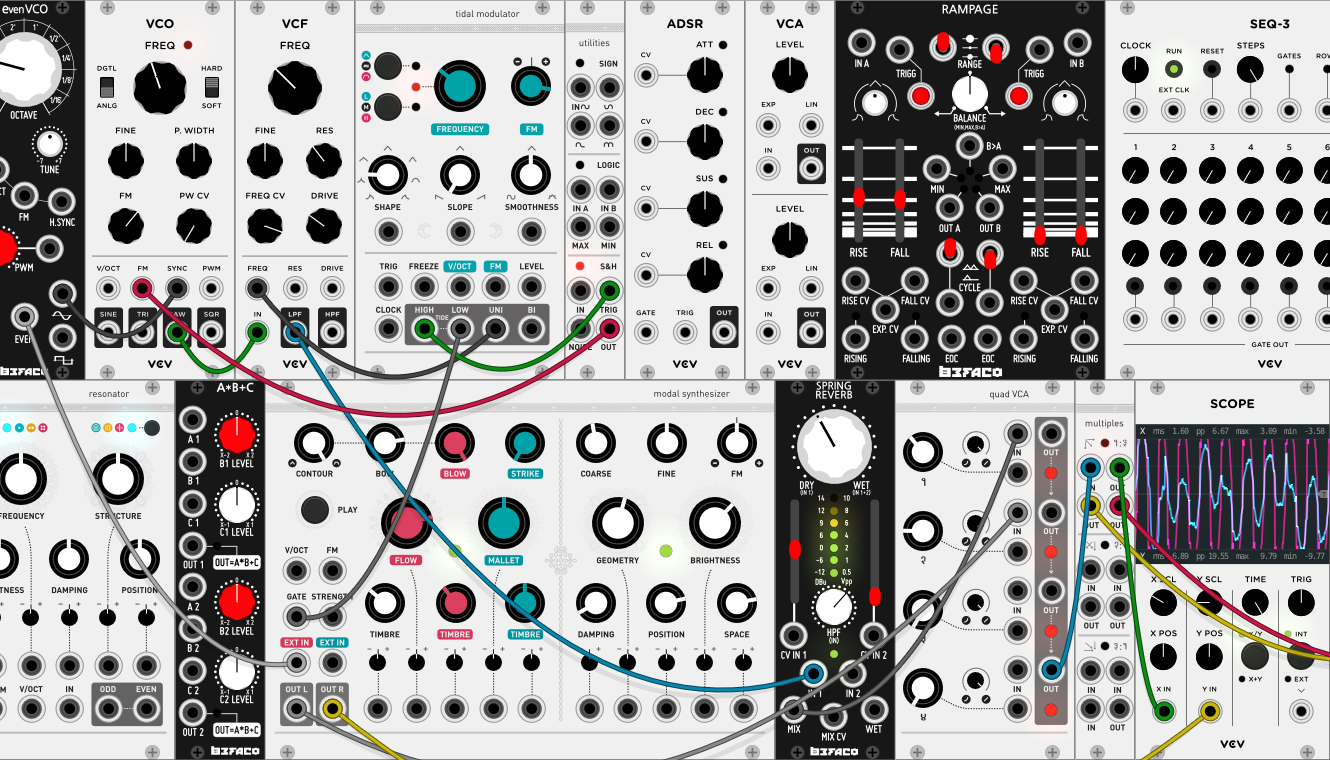 VCV is an open-source virtual modular synthesizer that was released on July 23rd. VCV offers essential building blocks for building your own rack. Included with Rack is Rack's starter pack of sound generators and processors for creating simple synthesizers, routing and analyzing signals, complementing other plugins, and building not-so-simple patches using brute force (lots of modules).
Compatibility: Windows, Mac, and Linux.
Download VCV Rack HERE.
VIKING SYNTH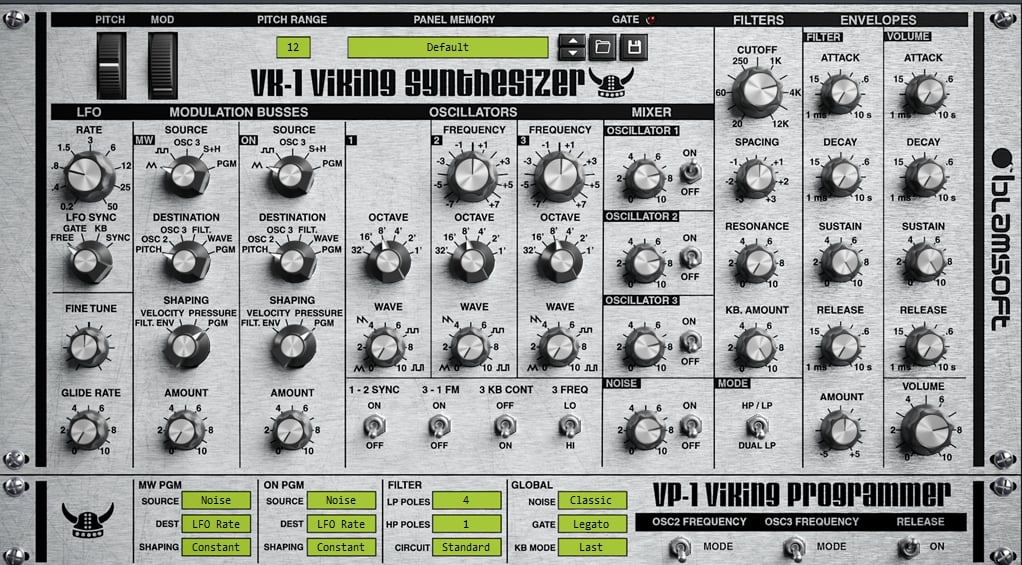 VK-1 Viking Synthesizer is an authentic emulation of a classic monophonic analog synthesizer. It has three continuously variable wave oscillators, two ladder filters with a dual low pass or high pass configuration, a multi-wave LFO, and two modulation busses. VK-1 uses state of the art DSP technology to accurately reproduce the sound of the hardware. VK-1 also comes loaded with presets geared towards Synthwave, as well as additional free preset packs available to download separately.
Compatibility: VST 2 Windows and Mac.
Download Viking Synth HERE.
SYLIX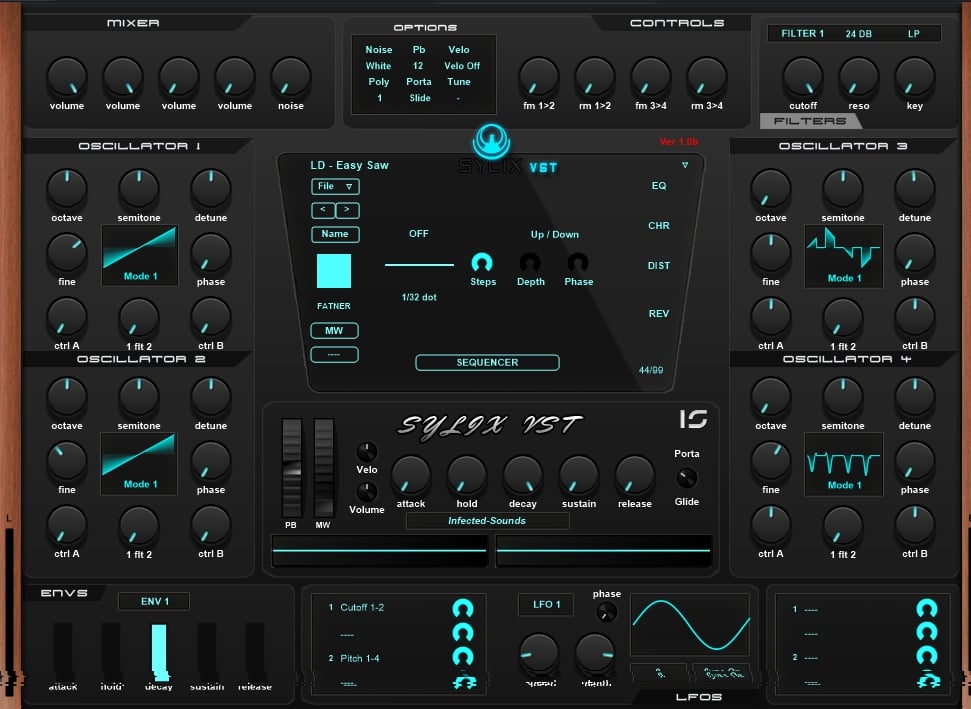 Sylix is a hybrid 16 step sequence synthesizer with FM and RM. There are 4 oscillators with 32 wave forms, 2 LFO's with phase and 20 shape and modulation options. There are 4 filters, 1 for each channel. double filters, 2 vowel filters and Portamento with slide mode. It also comes stocked with 99 presets as well as effects such as EQ, overdrive, distortion, decimator, reverb, and fatner. Whatever you could want a synth to do, it does.
Compatibility: 32 and 64 bit for Windows.
Download Sylix HERE.
KAIRATUNE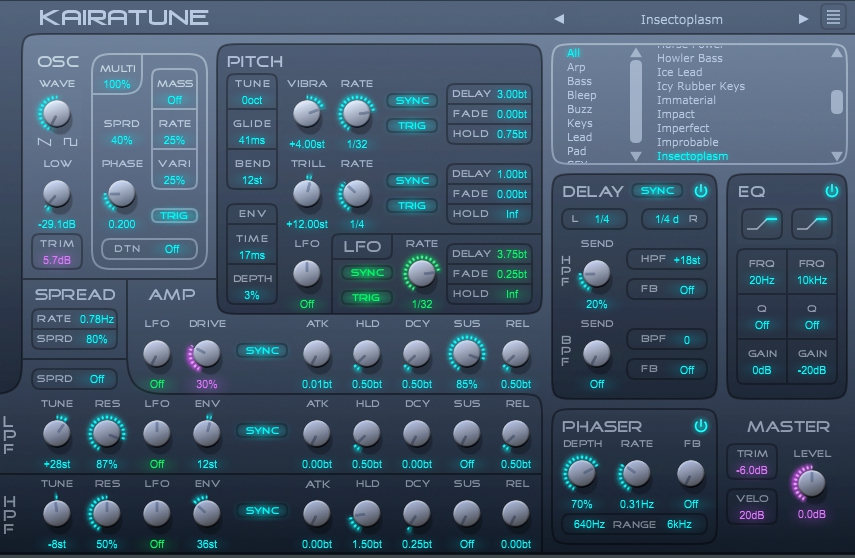 Kairatune is designed to produce crisp and tight electric sounds for electronic music production. Kairatune is engineered for the demanding producer who needs to push the sound to extremes without compromising audio quality. Easy to use with a nice interface. Low Pass, High Pass Filter, Delay, EQ, Phaser, with banks of leads, bass, pads, fx, arps and more. This synth was designed by a musician, not an engineer. It's ease of use and modification makes this plugin highly desirable when creating your own customized sounds. Turn those sounds into presets that you can save and import. With a right click on the preset you can apply edits and add details.
Compatibility: Mac and Windows
Download Kairatune HERE.
DEFIANT WT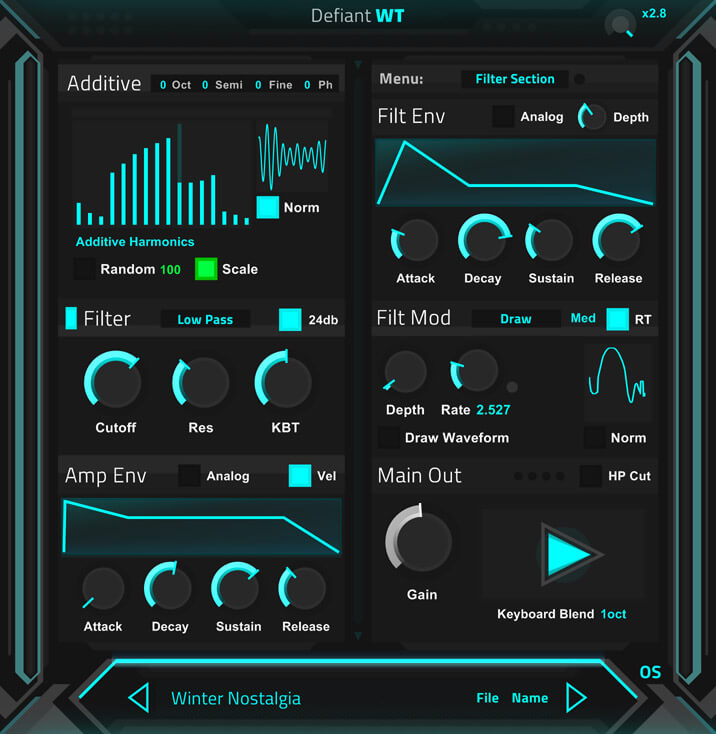 Defiant WT Synthesizer with Wave table, Subtractive and Additive Synthesis offers a slick and compact interface but packs a powerful punch and a host of advanced features. Providing wave table, additive and subtractive synthesis in an efficiently clever design with a unique modulation arsenal, Defiant WT is creative, grungy, intuitive, fun and to the point. The newest 2019 update includes a new dynamic preset system as well as the ability to save and load custom wave tables with presets and there is a user manual.
Compatibility: VSTi 32/64 Bit Windows
Download Defiant WT HERE.
It's hard to believe that back in the day there was no way you could get your hands on these kind of production tools for free. Now, with so much creativity and possibilities, new developers are popping up all over the world taking a shot at creating something that is capable of everything you could ever want and some things you never knew were possible. Keep in mind they spent a lot of time and energy on these creations. While they are free, if you do have some extra cash on hand don't hesitate to show your appreciation by donating. Your donations make it possible for them to keep creating.