Upon its original release in 1980, the Roland TR-808 allowed you to sequence your own beats rather than push a button and hear a pre-loaded sample. Despite its success today, when it was released and for the 2 years it was in production, the only die-hard fans of the TR- 808 were speaker manufacturers. One hit of that deep 808 sound blew consumer speakers all over the world. When the TR-808 was discontinued, and the cost of buying one used was significantly lower, it ended up being used by that generation of musicians. Its list price in 1980 was around $1200. Today you can find one(an original) used for around $4000.
Some of the first tracks you will hear the Roland TR 808 in action are:
Marvin Gaye - Sexual Healing
Arthur Baker - Planet Rock
Phil Collins - In the Air Tonight
Beastie Boys - Brass Monkey
Other artists that used the Roland TR-808 include 2 Live Crew, Public Enemy, Whitney Houston, Kanye West, Usher, NIN and it even helped shape the beginnings of the early Trap scene.
Today the famous 808 bass hit is the inspiration of EDM producers everywhere as they put their own spin on it. And just like its release in 1980, one thing still remains the same. The 808 is the number 1 reason why speakers are blown. To give props to this monumental electronic instrument and its iconic sound August 8th, 2015 was official declared 808Day. Not only because of the day being 8/08, this was also to celebrate the anniversary of its release.
The most requested, used and sought after audio sample is the 808. It is the most desired sound for bass. To fulfill your need of obtaining or creating that perfect 808, we present to you The Ultimate List of Free Roland 808 Bass Hits. This list includes everything from sample packs to plugin emulators.
FREE AUDIO SAMPLE PACKS by W. A. Production
Big EDM is proud to present this cutting-edge release "Hybrid Trap Crew".A massive mixture of the big festival sound with frenetic TRAP beats, speaker shaking subs and squelchy leads to easily flip any production upside down!
Download Hyrid Trap Crew HERE (15 808s included)
"What About: Free Trap Kicks & Drums" is chest-pumping pack loaded with the most dirty 808 trap kicks, claps, snares, percussion, vocal shouts and much more! In case you are looking for some ultimate trap sounds, don't miss this awesome freebie by W. A. Production. Inspired by the biggest trap names & bangers out there!
Download What About: Free Trap Kicks & Drums HERE (60 808s included)
"What About: FREE Hybrid Trap Drums" is a brand new huge FREE pack fully loaded with chest pumping drum samples and 808s. All perfectly crafted and ready to start shaking grounds and rocking your mixes! This pack is a true must-have for all dirty EDM producers.
Download What About: FREE Hybrid Trap Drums HERE (7 808s included)
FREE AUDIO SAMPLE PACKS
Whether you're making Hip Hop, Trap, Pop, Future Bass or EDM, these 808s will help you to add extra low-end to your mixes. The "808" pack features 50 key-labeled 808 bass samples produced with the Roland TR 808, Jomox MBase 01, Elektron Analog Rhythm, and then processed with Elektron Analog Heat's analog distortion, filter and EQ.
Download "808" by Abletunes HERE
Producers like TM88, Southside, Lex Luger are iconic figures in the Hip Hop world. All of them, along with the rest of the 808 Mafia team, have produced for heavyweight rappers like Gucci Mane, Future, Drake, and MANY more. Inspired by the 808 Mafia team and the incredible work they've done, we created the "808 Mob" Hip Hop Sample Pack: a memorable collection of drums, melody loops, 808s, MIDI files, and Serum presets that will take your beats to the next level.
Download "808 Mob" by Cymatics HERE
Everything you need to get started making 808 heavy trap, hip hop & future bass. Just add your favorite synths, Nexus, and sound fonts. Get creative and go beyond.
Download "Trapstep Pack Volume 1" by Trisamples HERE
808 Tape serves up over 300 drum samples from the classic TR-808 drum machine. All drums have been recorded directly to 1/4" analogue tape via a Studer A80 Mk1 tape machine with each sound boasting multiple saturation settings.
Download "808 Tape" by Wave Alchemy HERE
We made these while we were creating the hundreds of 808 samples we made for our Kontakt Sub/808 Library SUB ZERO 808. These are without a doubt some of the best free 808 sounds you will find on the net.
Download "808 Collection" by Echo Sound Works HERE
This sample pack has 15 custom-made 808s that you can use in all your beats. We've also included
the corresponding key for each 808 for easier use. Each 808 has been created from scratch, EQ'd,
and compressed giving it a really high-quality sound. Now you can give your beats that really low-end you've been looking for.
Download "Free 808 Samples" by Angelic Vibes HERE
107 free samples from Roland's famous TR-808 drum machine and processed via a Neve 1073 pre-amp.
Download "808 Samples" by Sample Magic HERE
15 all-new saturated, thick 808 sub-bass one-shots and 10 ready to build on 808 loops. All tagged
with key info and BPM. Essential for everything from Hip-Hop and Trap to Downtempo Electronica, Drum & Bass, EDM and more.
Download "808s" by Capsun Pro Audio HERE
Here's a treat for all you beginning producers out there that haven't got the odd +/- 3.000 euros lying around for a Roland classic, but still, want to make fat beats that sound like the real deal. The good people at Liveschool and Studios 301 got together late one night to record a Roland TR-808 drum machine through the $30,000 Fairchild 670 compressor.
Download the "TR-808 Pack" by Deep House Amsterdam HERE
10 amazing 808 kick samples by Freak Music distributed by 123 Creative.
Download "Trap 808 Kicks" by Freak Music/123 Creative HERE
This is a massive collection of sampled sounds from the Roland TR-808.
Download "Roland TR-808 Rhythm Composer" by Drum Collector HERE
These samples were taken _DIRECTLY_ from a Roland TR-808 Rhythm Composer (SERIAL NO. 103852). They are _NOT_ samples of samples (i.e. sampled from a recent drum machine, such as the Boss DR-660, Roland R-8, R-8MkII, etc…) In other words, these samples were taken from a REAL TR-808. All samples were recorded from the individual sound outputs (I did NOT use the "HI" or "LO" "LEVEL" "MASTER OUT" puts!). While being recorded, each sound (on the TR-808) was at highest volume level (with all other volume levels set to the lowest possible setting), and the master volume (on the TR-808) was always at the lowest setting. All samples were made using SoundEdit 16 1.0.0 on a Macintosh Quadra 660AV.
Download "TR808" by Micheal Fischer of Technopolis HERE
What About: Free Trap Kicks & Drums is a chest-pumping pack loaded with the dirtiest 808 trap kicks.
Download "What About: Free Trap Kicks & Drums" by W. A. Production HERE
The FREE Warm 808 Bass Samples pack contains 500 royalty-free 808 sounds giving you everything you need to be able to make smooth Hip Hop, Future Bass, Trap and more.
Download "Warm 808 Bass Samples" Your Local Musician HERE
FREE EMULATION PLUGINS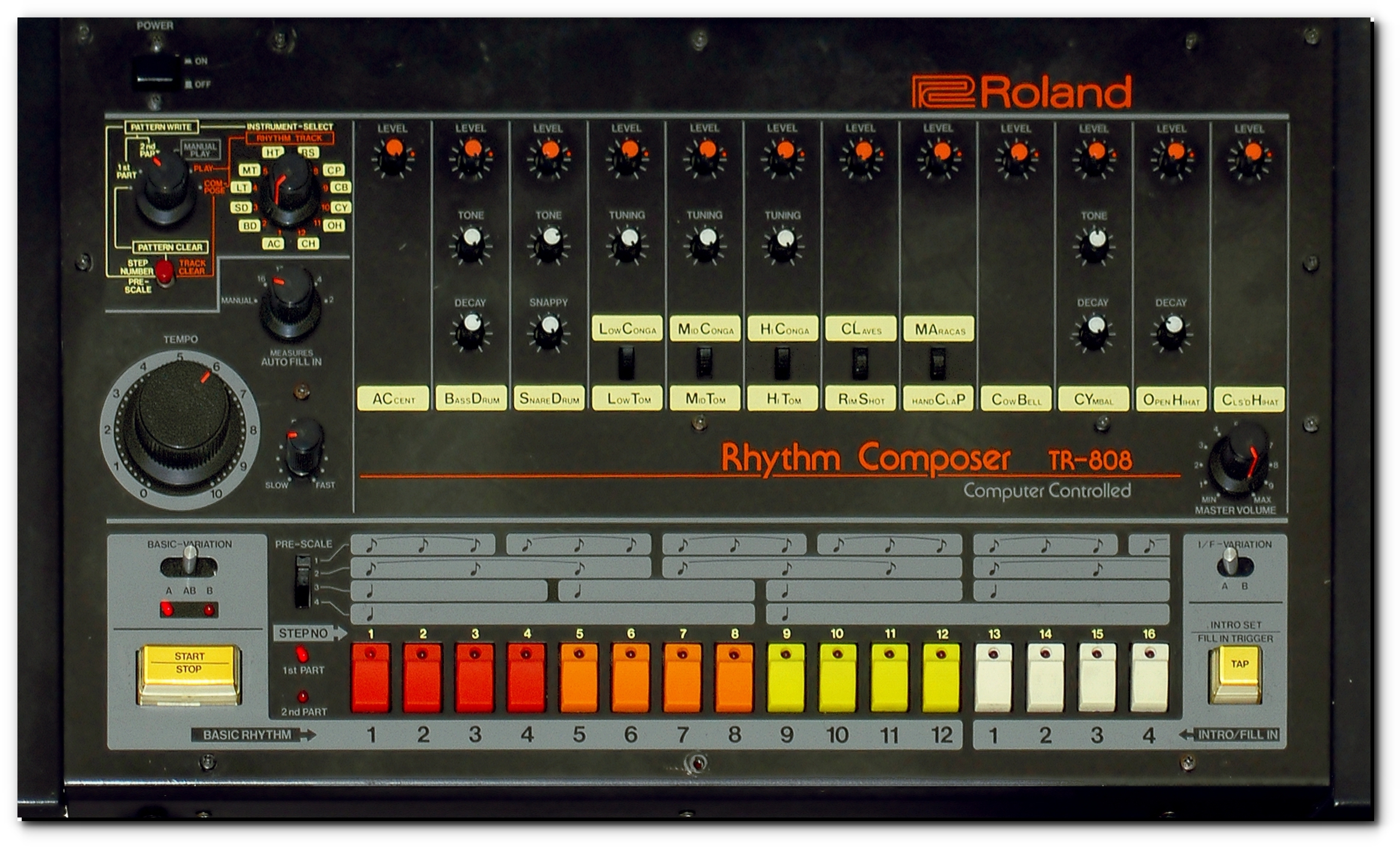 Emulation plugins can be modeled after, sampled from, or inspired by an actual instrument. In this selection you will find some of the best TR-808 emulators. Please visit the links provided to view the format, version, and verify compatibility of each one to ensure it will work with your software.
TS-808 by TACTILE SOUNDS
The TS-808 is a software emulation (VSTi plugin) of the Roland TR-808. The TR-808 service notes provide full schematics for each voice. I used them to make SPICE simulations of the circuits. I also analyzed the best samples I could find (The Tape808, by Goldbaby), and tweaked the sounds until the wave forms and spectral content were as close as possible to the real thing. Most of the voices have more parameters and a greater range than their hardware predecessor.
Download the TS-808 by Tactile Sounds HERE
VR-08 by ALIPAPA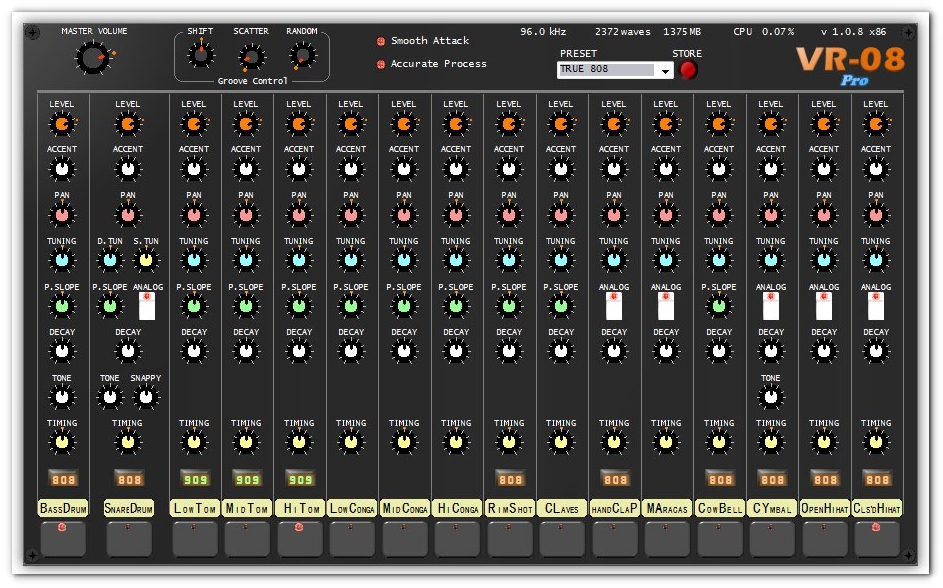 VR-08 is equipped with a waveform of 2,134 Total number of sampling was carried out carefully in 24-bit/96kHz while parameters change little by little, the sound of all instruments of actual TR-808. From that, sound is pronounced by selecting / re-synthesis the best one according to the note-on velocity value and position of the knob of the VR-08.
Download the VR-08 by Alipapa HERE
RVK-808 by ELECTRONIK SOUND LAB
RVK-808 is a VST/AU drum machine ROMpler inspired by the classic Roland TR-808.
Download the RVK-808 by Electronik Sound Lab HERE
TROMINE GT by MARVIN PAVILLION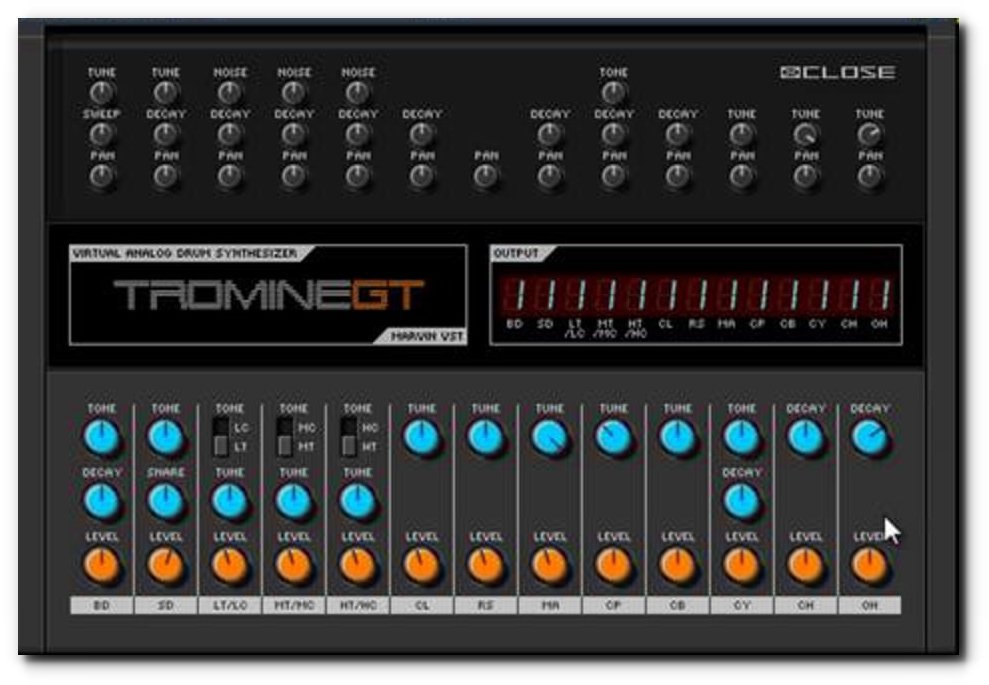 Tromine GT is a TR-808-style analog drum synthesizer.
Download the Tromine GT by Marvin Pavillion HERE
BD-808 by SYNSONIC INSTRUMENTS
The Synsonic Instruments BD-808 Software-Plugin is useful for creating 808-style Bass Drum Sounds. The underlying signal processing is based on a detailed analysis of the original 808 Bass Drum circuit. With the MIDI-Control it is also possible to use the plugin as a Bass Synthesizer.
Download the BS-808 by Synsonic Instruments HERE

Now that you have the tools, its time to put the bass in its place.