We have covered so many resources to help processes, mix, and master your audio. What about your vocals? When adding vocals there are a few ways to go about it. You can record it yourself, record someone else, or program the vocal line to be sung or spoken by a machine.
Think you can't record a good vocal track on a cheap mic or even a phone? No, it isn't ideal. When you are starting out though, you do what you have to do. Believe me, there are major name recording artists who look back upon those memories fondly. It is how you learn.
Plugins will allow you to make those vocal tracks come to life. Some can even help you get a sound as if you used a typical Shure SM58. Whether you have a good mic or bad mic, are in a studio or in your bedroom, below you will find some amazing plugins that will help you get the very best out of your vocal tracks.
MICROPHONE TOOLS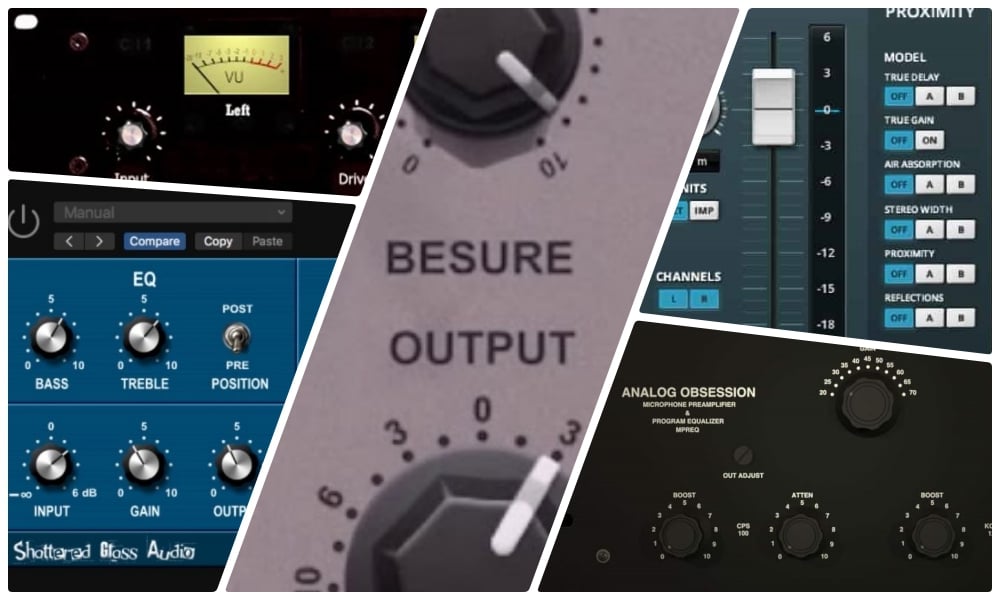 We will begin with how you capture your vocals. This covers a virtual microphone, pre-amp, and even simulating the recording environment for a more organic sound.
MICROPHONE EMULATION
Analog Obsession's BeSure N87 has been modeled after the famous vintage Type 87 condenser microphone. It is carefully crafted so it reproduces all the characteristics of the Type 87. Other features include:
Direct - Controls the original mic level.
Emulation - Controls the amount of emulation.
Output - Controls the plugin output level.
Available Format - Windows VST, Mac AU, VST, AAX.
Download Analog Obsession BeSure N87 HERE.
MICROPHONE PREAMP
Analog Obsession also offers a great mic preamp. MPReq is a vintage microphone preamp that is emulated from 1950's style tube amps. True component and circuit modeling gives you a fully emulated mic preamp, EQ, and gain control. Other features include:
Two band boost and cut.
Low band 100Hz and high band 12kHz.
Available Format - Windows 32 & 64-bit VST. Mac AU & VST.
Download Analog Obsession MPReq HERE.

Shattered Glass brings the authentic tone of a single channel vintage all tube mic preamp with the SGA1566. The whole circuit is simulated in real time using a high-performance circuit simulator to recreate every nuance of the preamp circuit, from subtle coloration to overdrive and distortion. Use SGA1566 to add warmth to a track, as a saturation compressor, or to add "dirt" with tube overdrive.

Available Format - Windows VST. Mac AU & VST.

Download Shattered Glass SGA1566 HERE.

MusiCrow Preamp Emulator emulates the way tube preamps behave and sound. It will add the typical saturation and warmth of real tubes to your digital tracks. Function controls include:
Input level.
Tube drive amount.
Tube type selection.
Output level and a power switch.
Available Format - 32-bit VST. See download link below for system requirements.
Download MusiCrow Preamp Emulator HERE.
MICROPHONE ENVIRONMENT
Proximity is a collaborative effort by Tokyo Dawn Labs and Vladg Sound. The plug-in is an easy to use distance "pan-pot" based on several psycho-acoustic models. The idea is to give you a reliable tool to manipulate the "depth" of several sound sources in a straight forward and convincing manner. Distance modulation options extend the creative possibilities even further.
Available Format - Windows 32 & 64-bit VST. Mac 32 & 64-bit VST, AU.
Download Tokyo Dawn Proximity HERE.
VOCODER & SPEECH SYNTH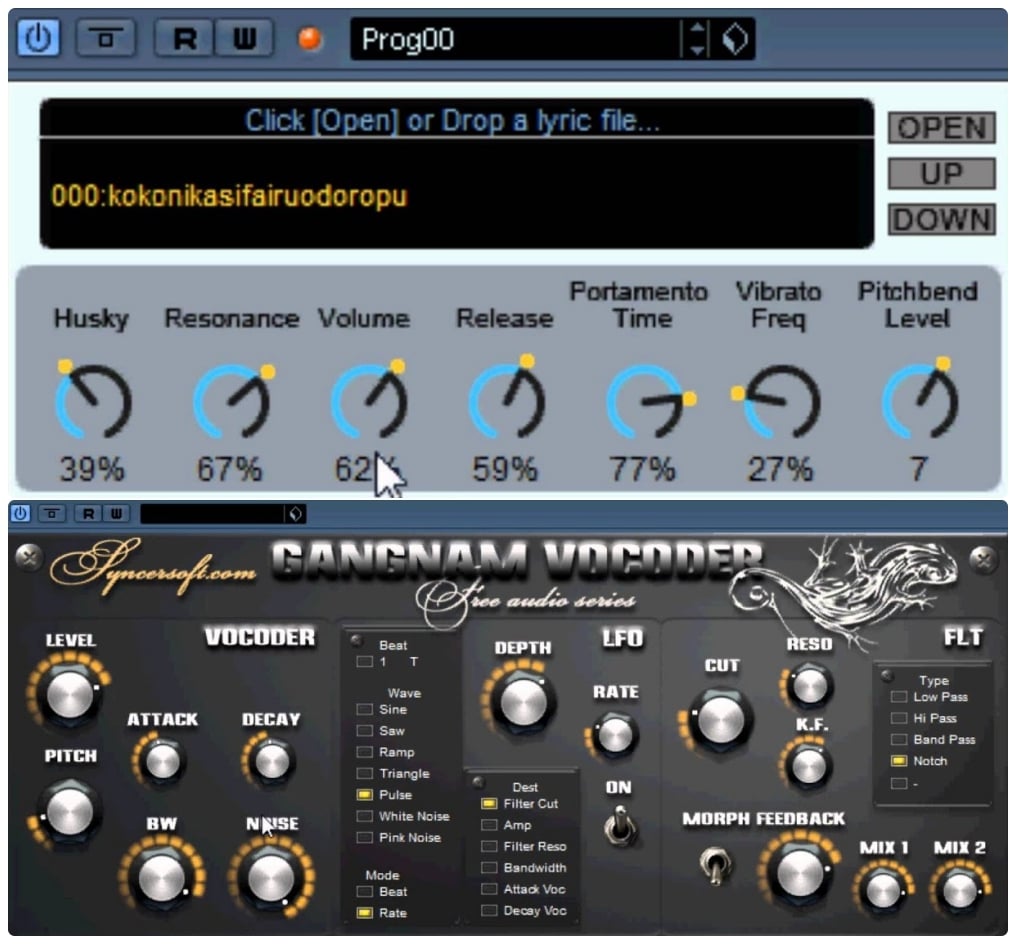 Vocoders are voice changers. Mostly used to give a mechanical or robotic style effect to vocals. Also used as speech synthesis, phrases can be typed as an input and then spoken and processed through the Vocoder.
VOCODER
Gangnam Vocoder from Syncersoft is a vintage style 10 band vocoder effect with extended possibilities of modulation. It has 4 types of analog style sounding filters and is good for the creation of synthetic voices. You can create phat and strange sounds with the help of the detune module as well.
Available Format - Windows Only.
Download Syncersoft Gangnam HERE.
SPEECH SYNTH
AquesTone2 is a vocal software synthesizer from Aquest. You can easily generate singing voices from MIDI information and text in real time. Read instructions in the manual carefully.
Available Format - Windows. Mac. See download link for system requirements.
Download Aquest AquesTone 2 HERE.

PITCH CORRECTION, SHIFTING & AUTOTUNE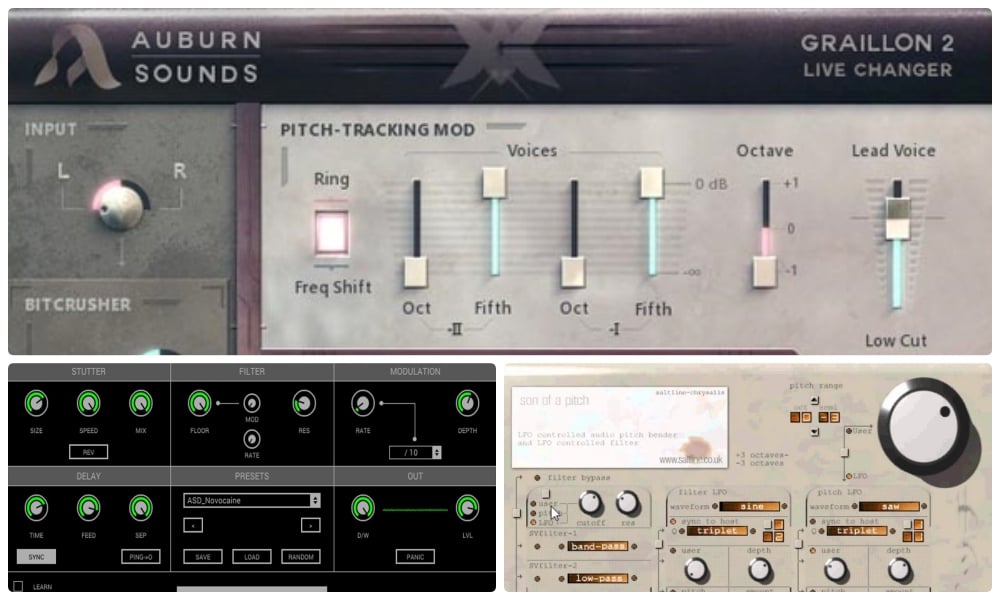 Graillon 2 is a Vocal Live Changer that brings a world of possibilities right into your DAW, with carefully designed features: The Pitch-Tracking Modulation, unique to Graillon, changes the type of speakers, generates throat sounds, creates choruses, make octave sounds, enriches a voice to make it more masculine. The Pitch Shifter cleanly transposes a voice up and down and has been optimized for voice. The Pitch Correction module brings an immediate robotic sound, while the Bitcrusher addition softly adds sparkles to the mix.
Available Format - Windows VST2 & VST3. MAC AAX & AU.
Download Auburn Sounds Graillon 2 HERE.
PITCH SHIFTING
Son of a pitch, from Saltline, is an audio pitch bend effect. The pitch of the incoming signal can be controlled by the pitch knob or by a sync to host LFO. The pitch knob ranges from +3 octaves to -3 octaves of the original pitch.
Available Format - Windows 32 bit.

Download Saltline Son on a Pitch HERE.
FOR FUN * BONUS*
Hysteresis, from Glitch Machines, features a delay effect with a stutter, a lowpass filter and modulation effects thrown into the feedback signal path. The stutter effect can be used to generate reverse delays, noisy pitch-shifting or raw granulation. The lowpass filter has an internal LFO to make the cutoff frequency oscillate, and the modulation processor can act as a subtle chorus or noisy modulator depending on the range of the modulation rate. And there are over 100 factory presets.
Available Format - Windows 32 & 64 bit VST. Mac 32 & 64 bit VST & AU.
Download Glitch Machines Hysteresis HERE.
SOUND FIXES

There are subtle things that can affect a vocal track. This would include hearing the "S" sounds and frequency issues. There are ways to smooth out all the rough edges and reveal the diamond beneath the rough.
DE-ESSER
Tonmann DeEsser is a basic high-frequency dynamic processor VST plugin, called a DeEsser because it's mainly designed to get rid of "stinging" sibilants that may occur on vocals after compression or adding a high boost. Other features include:
Look ahead feature for sibilants with short and sharp attacks.
"What you remove" listen mode, one actually hears what's going to be suppressed.
Fully adjustable center frequency and bandwidth of the detection range.
Available Format - Any VST2 host. See download link for system requirements.
Download Tonmann DeEsser HERE.
SOUND RECOVERY
Bitsonic Audio has a brilliant tool, sound recovery. Sound recovery offers you the ability to connect to split frequencies with the recovery option. Recovery sends the sign into overdrive. Use only when a significant repair is necessary, or when only higher frequency ranges need to be strengthened. Other features include:
Simple volume control, the maximum value uses the original value of the amplitude.
Set a narrow frequency range to get more harmonics from.
Denoiser Low/High: Filters the noise from the low/high-frequency range set by Split Freq.
Denoiser Low needs specific settings to function properly. For example, when the user would like to handle the low-frequency range while Recovery is at maximum and Split Freq modifies too high of a range.
Available Format - Windows & Mac 64 bit VST.
Download Bitsonic Audio Sound Recovery HERE.
REMOVE VOCALS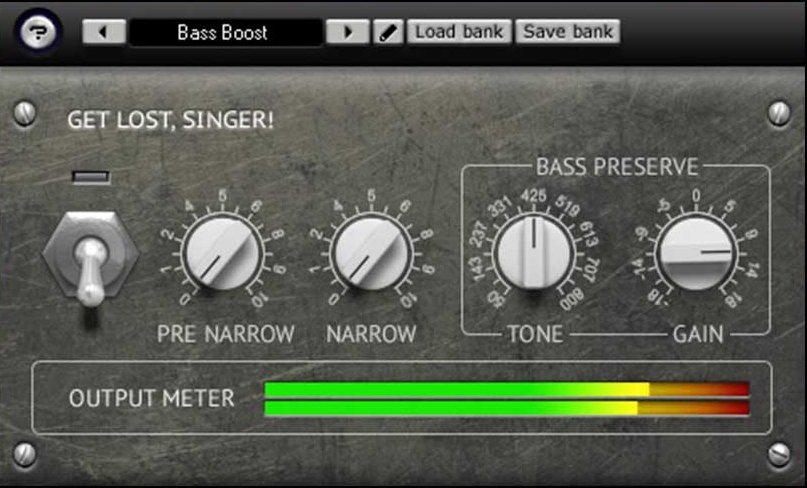 Tonebytes, Get Lost Singer, is a virtual effect plug-in which allows you to remove vocals from songs. It works on the principle of "central channel subtraction", where the singer's voice is usually located. In addition, the plug-in is able to preserve bass and drums, which are also often located in the center of the stereo space and may suffer along with the voice.
* From the Website *
"Do not expect magic. GLS! will remove not only the voice: some other musical instruments or sounds may also disappear or become corrupt, and the song loses stereo. But in some cases, the result is quite acceptable."
Available Format - VST2 Hosts. See download link for system requirements.
Download Tonebytes Get Lost Singer HERE.
You've got great sounding audio and now you have all the tools you need to shape great sounding vocal tracks. If you used any of the plugins on this list post a link to your results in the comment section below.