Welcome to the ultimate list of audio plugins for mixing and mastering.
Isn't it great to know you have this awesome talent to make music?
Your friends don't mind your rough and raw recordings. They can see the diamond in the rough.
A music fan, however, with their car stereo that costs more than the actual car, a club packed beyond capacity with people that paid a cover to get in and an outrageous amount on drinks.
These are the places where your mix cannot fail.
There are 2 reasons why people hit skip on a song within the first 30 seconds.
# 1. Because it just sucks and didn't grab attention.
# 2. Bad audio quality.
While the electronic music industry is known for pristine quality audio, I'm going to throw in an example that is far from electronic. This example will make all audio producers cringe, and its not because of the genre or who it is. This comes from a multi-million dollar band. They are pretty much a household name. Sad to say but Bob Rock produced it and in 2003, Elektra Records released it.
It's Metallica's St. Anger. Give that a listen. The most obvious problem, the snare.
Now that you have listened, that is proof that is doesn't matter who you are and how loyal your fan base is. People know crap when they hear it. The guitar sound was described as having undergone more processing than cat food. So keep that in mind every time you sit down to mix your tracks.
To keep your mix from sounding like that, we have searched high and low testing out the old, the new, the biggest and the smallest plugins for mixing and mastering that are 100% free.
WHAT IS THE DIFFERENCE BETWEEN MIXING AND MASTERING?
Mixing is the process of bringing together multiple tracks.
Mastering is the process of adjustments made to those tracks as a whole.
MIXING
When all of your tracks are complete you can then begin to solo each one individually and make any changes. Compression and limiting may need to be used on some tracks to help make them sound fuller and more consistent in their levels.
The best practice to determine this is to listen to the song as a whole on as many different devices that you can. Play it on a TV, on your phone, in your car, on a high-end stereo and even on a junky old boom box. You will find those subtle but damning things that need to be adjusted.
A good thing to keep in mind when mixing and mastering is frequency. Below is a reference guide of what should fall where.
| | |
| --- | --- |
| Frequency Range | Frequency Values |
| Sub-bass | 20 to 60 Hz |
| Bass | 60 to 250 Hz |
| Low mid-range | 250 to 500 Hz |
| Mid-range | 500 Hz to 2 kHz |
| Upper mid-range | 2 to 4 kHz |
| Presence | 4 to 6 kHz |
| Brilliance | 6 to 20 kHz |
All ready to start mixing? Let's get to the ultimate list of audio plugin for mixing and mastering.
Equalizers (EQ)
TDR Nova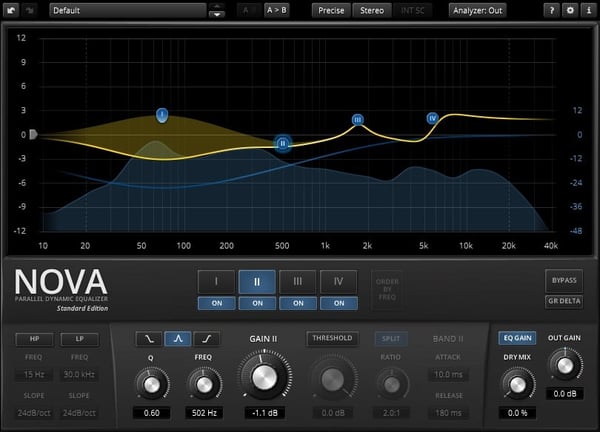 NOVA is a parallel dynamic equalizer. Appearing in the familiar layout of a parametric equalizer, each band also includes a full-featured dynamics section allowing the processor to cover an impressively wide range of applications. Be it a master lacking density, the drum bus asking for more crispiness, or a sibilance problem in your perfect take: NOVA has an elegant answer.
A user-friendly WYSIWYG drag and drop display paired with a classic "knob" interface gives quick and smooth access to the various parameters driving Nova's powerful processing capabilities. With its four dynamic EQ bands and additional high-pass and low-pass filter sections, NOVA can meet the most exotic demand. Intuitive equal loudness functions help to find the optimal setting without getting distracted by loudness differences.
System Requirements
Win XP SP2 or above.

Mac OS X 10.6.8 or above.
Formats
32 bit and 64 bit

VST, AU, AAX
Other
Users Manual in PDF
Blue Cat Triple EQ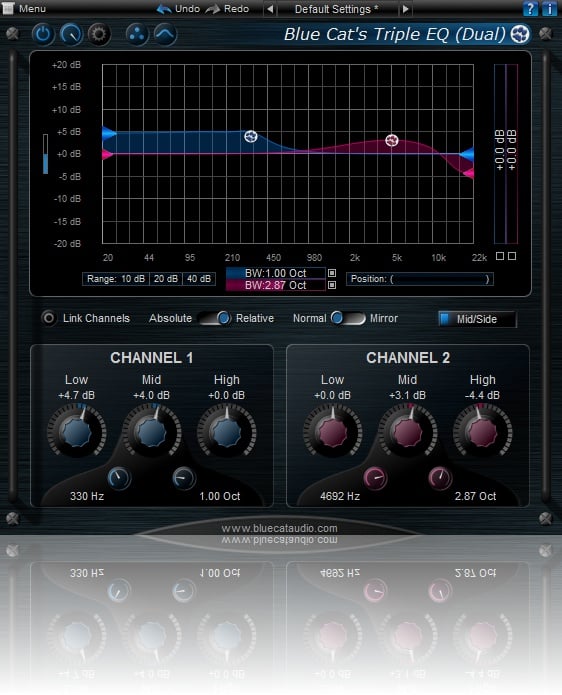 Blue Cat's Triple EQ is a 3 bands semi-parametric equalizer that can be controlled like a single filter with customizable shape. The graph shows the computed frequency response of the plug-in so that you can exactly know how your signal is processed. The controls are directly available on top of the filter graph, making the design of the filter shape even easier. This plugin boasts, no latency. And it's true.
The plug-in also offers a dual channels version, with independent left/right or mid/side equalization capabilities. Both channels can be linked together in many ways, letting you transform this plugin into a frequency-dependent panner and much more.
The plug-in can be controlled in real time with MIDI or automation: it is capable of absolutely zipper-free clean and continuous time-varying equalization with no latency. it is the ideal companion of our audio analysis tools for signal-dependent side chain filtering.
System Requirements
Win Microsoft Windows Vista, Windows 7, 8 or 10.

Mac Mac OS 10.5 or newer.
Formats
Mac-AAX, Mac-AU, Mac-RTAS, Mac-VST, Mac-VST3, Win-AAX, Win-DX, Win-RTAS, Win-VST, Win-VST3, Win x64-AAX, Win x64-DX, Win x64-VST, Win x64-VST3.
Tilt EQ

Tilt EQ is based on FIR filters that can be either linear or minimum phase. Traditional minimum phase shelving IIR filters also have been implemented in order to allow further adjustments. The tilt of the slope can be set by the linear tilt knob. The steepness of the slope is given in dB/oct.
System Requirements
Windows 7 or higher

MAC OS X
Formats
32 bit and 64 bit.

VST, AU.
Isol8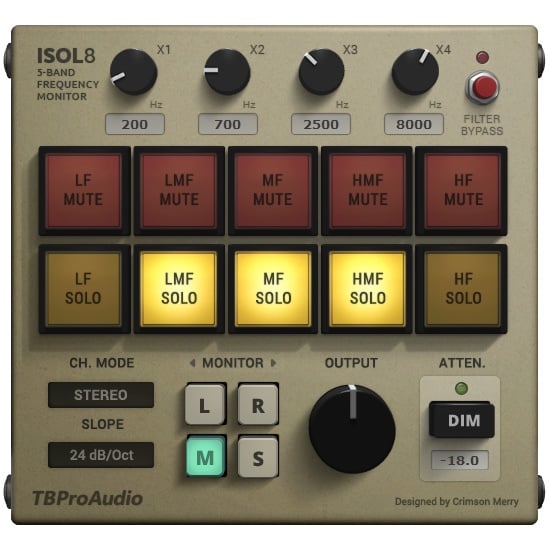 Isol8 is an advanced mix monitoring tool. It divides the frequency range into 5 bands.
These 5 bands can be soloed or muted individually. This will help you to concentrate on certain frequency ranges during the mixing and mastering process. Isol8 is originally designed to be used on the master track, but it can also be used on individual audio track buses.
System Requirements
Windows XP or newer

Mac OS X 10.5 or newer
Formats
32 bit and 64 bit.

VST, VST-3, RTAS, AAX, AU
Other
Tested with: Cockos Reaper, Steinberg Cubase/Nuendo/Wavelab 6/7/8/9, FL Studio 12.x, PT10/12, Reason 9.5
SONEQ

SonEQ is free equalizer plugin that takes parts from some vintage gear and combines them in one. SonEQ has 3 bands, bass, middle and treble. Also, SonEQ has a pre-amp section.SonEQ Pro is an enhanced version of SonEQ Free. SonEQ Pro is four-band equalizer inspired by various high-end analog equalizers. We've adapted and incorporated the best qualities from these hardware classics into a single cohesive, yet versatile software design. As such, SonEQ Pro aims to serve as a first choice equalizer for mixing engineers of all genres.
System Requirements
Mac OSX 10.6 or newer

Windows XP or newer
Formats
32 bit and 64 bit.

AU, VST 2.4, VST 3, AAX, RTAS.
Compression
ACQUA - Tan Free

Acustica is pleased to introduce the new CORE8 based TAN Compressor.
It's a very versatile classic analog VCA compressor which offers a lot of sound shaping options with a gorgeous graphical user interface. This plug-in has the usual parameters commonly found in dynamic processors, such as Attack, Release, Threshold, Ratio, Dry/Wet and Gain. These controls allow an extremely wide range of adjustments, yet we have decided to add an exciting new feature to the table: it's what we call "ShMod" (Shape Modulation). This is a shape control for the attack curve of the compressor: it allows you to fine-tune the attack shape so that you can really optimize the attack behavior for any kind of audio source!
System Requirements
Windows 7 or 10

MAC OS X 10.8 OS X 10.11
Formats
32 bit and 64 bit.

VST2, AAX, VST, AU
Other
Offers user manual
SAFE compressor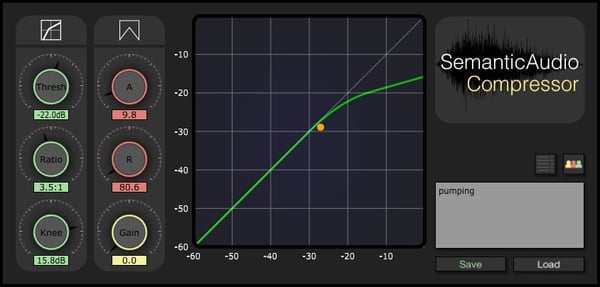 SAFECompressor is a semantic compressor, it can load settings by typing descriptive words.
The SAFE plug-ins are a series of audio plug-ins which allow the user to provide timbrel descriptions of the audio they are processing with them. The plug-in then analyses the audio and saves the data to the SAFE server. This data is collected from all the users and analyzed to give a general synopsis of what types of sound a given descriptor is used for. All this information can then be used to create a series of `semantic plug-in settings'. Users will be able to load plug-in settings by typing in descriptive words of how they want the audio to sound. The more people who upload descriptors to the server the better the downloaded plug-in settings will get.
System Requirements
Windows

Mac OS X 10.6 or higher

Linux
Formats
Other
Has user manual.
MJUC jr.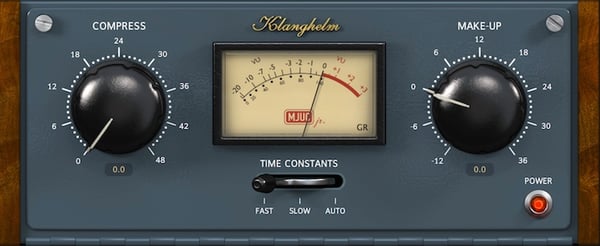 MJUC jr. is the little brother of the colorful MJUC. It's a variable-mu** design with lots of vibes. capable of smooth leveling but also heavy pumping effects. With its two gain stages and inter-stage transformer simulation, it offers a very deep and lively soundstage. The three-position timing switch not only controls the attack and release times of the unit, but also the slew rate of the transformers and the timing of the other parts of the circuitry, that are directly influencing the generated harmonics (saturation).
MJUC jr. is a mix of Mk1 and Mk2 of its big brother MJUC. It's combining very natural, dense compression characteristics of the early days of this type of compression with a more forward sounding approach and more harmonics creating of the variable-mu comps of the early 1960s.
System Requirements
Windows 7 SP 1 or higher

Mac OSX 10.9 or higher
Formats
32 bit and 64 bit.

VST, AU,RTAS
Other
Offers user manual.
Density mkIII

The mkIII version of this compressor introduces quite a lot and deep optimization of the compressor engine especially but not limited for its use in audio mastering situations. The transient response is spot on now over the entire spectrum and it creates sonic depth and dimension: It renders audio like a three-dimensional image. This feature is very much supported by stateful saturation, which is also included now and appears on the stage as a brand new developed "VCA color" model and can be dialed in to taste.
Density mkIII not only transients are managed in a musical and mastering grade fashion – but it also renders a three-dimensional audio image, which truly supports perceived depth and dimension.
System Requirements
Win32 compatible system with SSE2 instruction set support.

Tested and known to work in many VST compatible hosts.
Formats
FETISH

Fetish is a classic compressor/limiter. Track and mix with the legendary FET-Style Compressor.
Harness ultra-fast attack time on bass, guitars, vocals and more. Add color, character, and vibe to signals without using compression. Discrete design. Super-fast attack time. Input and output stage distortion. Improved input control. Select-able ratio. Sample Rate support up to 192 kHz.
System Requirements
Mac OS X 10.7 through 10.12

Windows 7 through 10
Formats
32 bit and 64 bit

VST,AU, AAX Native,VST2
FILTERS
bx_subfilter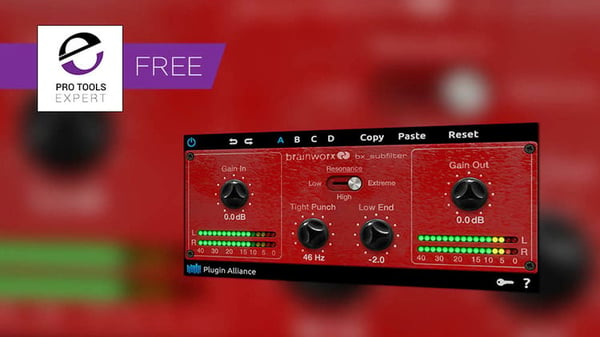 Polishing your mix's low end can be tricky. Bass DI tracks can sound mushy, and kick tracks can lose their "pop." Sometimes everything below 100Hz can become such an undifferentiated soup of noise that you just don't know where to start! Start here: The bx_subfilter is just the ticket for adding clarity and definition to tracks that have troublesome low frequencies. There are lots of expensive and complicated EQ plugins out there, but when it comes to shaping your low end, the bx_subfilter is unique for its ease and simplicity. With just a few quick adjustments to its four-knob interface, you can breathe new life into those 808s that have been muddying your mix.
The bx_subfilter is a free plugin that borrows from the "Filter" section of its larger counterpart, the bx_subsynth. It's the perfect plugin for anyone who loves the bx_subsynth's unique approach to low-end filtering but doesn't need the sub-harmonic synthesis. If you think that cleaning up your low end shouldn't break the bank or require twenty knobs, we've got a plugin for you.
System Requirements
Mac OS X 10.9 through 10.13

Windows 7 through 10
Formats
AAX DSP, AAX Native, AU, AAX Audio Suite, VST2, VST3
PHILTEROID

Philteroid is a dual filter effect, suitable for use on various type of rhythmic sounds (i.e. drums, bass, synth, guitar). Beside pure filter work, Philteroid is also capable of FM, AM, and saturation, and can transform plain sound to one with unique character and interesting texture. Various filter types, from basic (LP, BP, HP, BR) to uncommon ones, can be obtained with filter type blend control and parallel/serial routing of filters. Filters can be synced in eleven predefined harmonic offsets between filter frequencies and modulated internally by audio signal (FM), ADSR envelope, envelope follower, LFO; or through the external input. Philteroid is also armed with various amplitude modulation sources and can be used as envelope sharper, expander, noise gate, ring modulator.
System Requirements
Formats
Other
Link is Direct Download
LIMITER
easyLIMITER

easyLimiter for easy mastering. Output audio limiting, stereo link, a release of attenuation and few types of limiting. Show maximum attenuation. All that you need to clean disturbing sounds.
Made based on our research in the field of wave attenuation of the high peak that creates problems audition: rattles, crackling, distortions, and other unwanted sounds.
Thus we got some attenuation original procedures with stunning results:
clear and smooth sound, high volume with no unwanted sounds, continuous sound and very close to the original line, EXTREMELY low resources, UNIQUE in the area of audio limiters!
System Requirements
Windows 7 and up

Mac OS/X
Formats
32 bit and 64 bit.

VST,AU
FRONTIER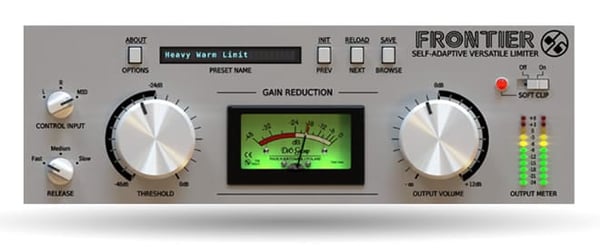 Quality and performance make Frontier a perfect tool for almost any studio situation. Its simple and clear interface in combination with excellent sound quality will surely be appreciated by any engineer looking for an efficient way of controlling dynamics of a channel, bus or even master output. Frontier can be used as very transparent mixing/mastering limiter (at certain settings) with just licking the loudest amplitude peaks, or can be utilized more creatively, as sound shape, when more extreme settings are at stake.
System Requirements
Win 7, Win 8, Win 10

OS X 10.7 or newer
Formats
32 bit and 64 bit.

VST, AAX, AU
STEREO ENHANCEMENT
Rescue MK2

Rescue MK2 is the major overhaul of the analog style modeled signal designer already introduced back in 2007. It is a sophisticated mid/side based transient processing device which not only allows detailed '3D' imaging control but also fancy transient compression and distortion with dynamics that remains vibrant and alive.
System Requirements
Formats
A1 Stereo Control
With the A1StereoControl plugin, you will be able to expand or limit the STEREO WIDTH of your tracks using only one single knob. This powerful technique can be used on single tracks or groups tracks while mixing or even on a master bus in final mastering situations. Additionally, A1StereoControl brings you the possibility to place your stereo signal inside the stereo field in a very intuitive way. Our Expert Mode features different "pan laws" (0db, -3db, -6db), different pan curves (linear, logarithmic, sin/cos) as well as classic "balance" mode or "dual panning".
System Requirements
Formats
32 bit and 64 bit

VST, AU
UP Stereo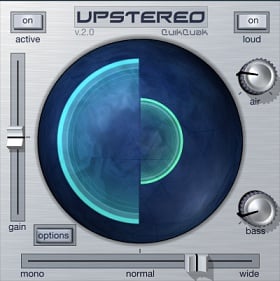 UpStereo is a simple, useful tool as it makes your mixes bigger, in stereo width and loudness.
Using three basic systems:
A fixed frequency EQ designed to lift the highest audio frequencies, and boost the bass.
A stereo width unit, for expanding stereo, sounds so they appear wider and fatter. At extreme levels, other characteristics are also brought out of the sound, so this can also be used as a tonal control for individual instruments. This also has a mono setting, useful for squashing up those aggressive samples that take over the mix.
A Loud switch that raises the waveform to the limits in a smooth curve. This saturation gives the mix a more perceived loudness, without clipping.There's also an option for over-driving this effect, distorting the waveform towards the maximum, and can be used to create a raw punch to the sound.
System Requirements
Windows 7 and up

MAC OS/X
Formats
32 bit and 64 bit.

VST, AU
ADDITIONAL TOOLS
Bitter Sweet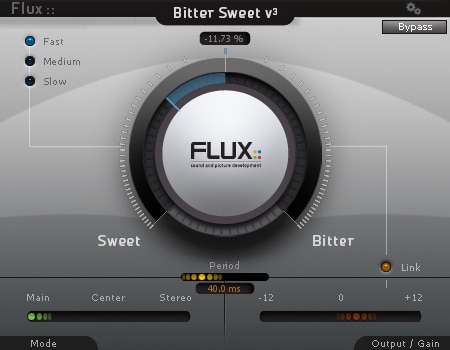 BitterSweet v3 is Flux:: acclaimed transient processor used by hundreds of thousands of users for audio transient management with the simple turn of a knob – Turning it to the Sweet side reduces the transients, and turning it to the Bitter side magnifies the transients.
True bypass control routing the incoming signal direct to the output for a smooth transition between clean and processed signal. Adjusting the Bitter/Sweet setting for decreasing or increasing the transients. Transient Integration, Provides three different modes of transient processing; Fast, Medium and Slow. Three different Operation Modes (Main, Center, Stereo) offering versatile transient processing. Open Sound Control Support
System Requirements
Mac OS X: OpenGL 2.0

Windows: If your computer has an ATi or NVidia graphics card, please assure the latest graphic drivers from the ATi or NVidia website are installed
Formats
Loud Max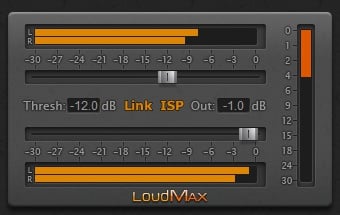 LoudMax is a Look-Ahead Brickwall Loudness Maximizer Plugin with a clean transparent sound. It is designed to retain the original character of the music as much as possible even at high compression levels. The higher the frequency, the greater the probability that the true peak will be between two digital audio samples. These true peak overshoots can be up to 3 dB for clean band-limited audio and even much more for pathological signals. This can become a problem not only with poor D/A converters, but also with subsequent sample rate conversions, e.g. from 44.1 to 48 kHz or vice versa, and the use of audio compression such as MP3 or AAC.
System Requirements
Windows 7 or higher

Mac O/S X

Linux
Formats
32 bit and 64 bit.

VST, AU, LADSPA
MVMeter 2

mvMeter2 is a multivariable meter including RMS, EBUR128, VU and PPM measurement. mvMeter2 is the successor of mvMeter and adds single/dual meter display, an adjustable reference level for all meter modes, adjustable meter delay, and preset management.
System Requirements
Windows XP or newer

Mac OS X 10.5 or newer
Formats
32 Bit and 64 Bit.

VST,VST3,RTAS, AAX, AU
Other
Tested with: Cockos Reaper, Steinberg Cubase/Nuendo/Wavelab 6/7/8, FL Studio 12.x, PT10/12, Reason 9.5
MASTERING
There is a true art to mastering. It takes time to program your ears for all of the subtle adjustments that need to be made. Always keep a back up version of the master aside from the one that you begin with. This way, if need be, you can scrap it and start over. This process does take some time to learn. Just like anything else in life, practice makes perfect.
In this process you will fine tune the mix as a whole. A good rule of thumb is to find a good reference track and attempt to match it.
Remember mixing is not mastering. You are not changing anything, you are simply polishing the end result.
While different producers have different mastering chains and it is always a debate on how to approach it, I have kept it basic. Some of the plugins above perform similar functions. So you can try them out and then decide what works best for your application. Out of all the the following functions, these are my top 3 picks of free audio plugins for mixing and mastering.
XFER - Over the Top Compression

TONED - EQ for Mastering

ATK Stereo Brick wall Limiter
XFER OTT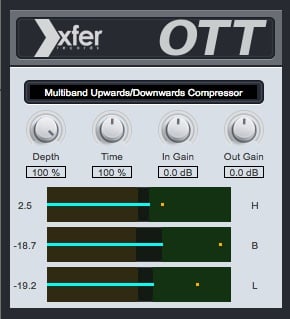 OTT, or Over the Top Compression, is the first plugin on the mastering chain. OTT is applied to normal multi-band compression to balance the sound and large amounts of upward compression to bring it up front and loud in the mix. Modern electronic music relies heavily on over-compressed sounds. Applying Steve Duda's OTT plugin at the beginning of the chain helps get this specific sound. Since the plugin is on the master channel, adding only a small amount of the effect goes a long way.
Keep the dry/wet knob down at 10% and turn the downward compression knob down to 90% to give it a little more presence and grit. Steve Duda's OTT plugin makes dialing in a gritty and present sound a breeze. Use the L, M, and H knobs for even more control over the sound.
System Requirements
Windows 7 or higher

Mac O/S X
Formats
TONED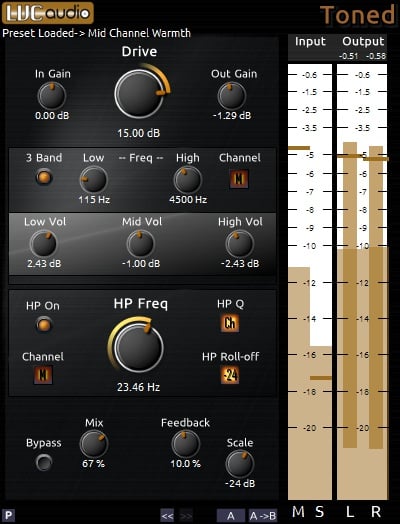 Toned is a specialized tone-shaping plugin with analog modeling. It is designed primarily for use in the mastering process or on two-track audio busses. Toned uses two distinct equalization processes: a three-band tone-shaping matrix, and a specially designed high pass (HP) filter.
The three-band tone-shaping matrix uses a crossover-style filter bank of first-order filters (-6dB per octave). This type of equalization produces very gentle and broad filtering, with minimal alteration of phase. Very wide boosts and cuts can be accomplished while still sounding natural. This style of equalization also mimics some of the interactions between frequency bands that are commonly found in passive analog EQs and analog tone controls. The tone-shaping matrix can be applied to stereo channels, or specifically to the mid or side channel. Additionally, Toned can be switched to use a two-band matrix.
System Requirements
Windows XP or higher.

OS X 10.5
Formats
Other
An iLok device is required to use the AAX format.
ATKStereoLimiter

This stereo plugin limits both channels by getting the max of the instantaneous power of them and applying a limiting gain function on them. There is no oversampling inside the plugin, so the output signal can overshoot.
System Requirements
Windows 7 or higher.

Mac OS 10.11 or higher.
Formats
32 bits and 64 bits.

VST2,VST3,AU,AUv3
That about wraps up the ultimate list of the best free audio plugins for mixing and mastering.. Hopefully, you have found some useful tools to help you shape your mix. We would love for you to share with us your end result. If you have used any of these plugins post a link to the track and the plugins you used in the comment section below.